Thinking pink
Durango marks Breast Cancer Awareness Month

SideStory: Breast Cancer Awareness Month at a glance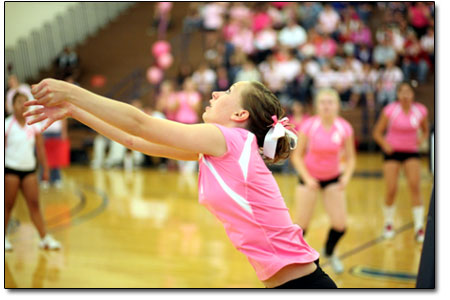 A player with the Ignacio High Schools girls volleyball team bumps the ball during the Pink Digs for the Cure event on Sept. 28. The event spotlighted Breast Cancer Awareness Month and raised more than $10,000 to fight the disease. Additional Pink Digs for the Cure games are set for Oct. 16 at Durango High School and Oct. 22 at Fort Lewis College./Courtesy photo
by Jen Reeder

Durango resident Abbey Flint was only 32 years old when she was diagnosed with aggressive breast cancer in January 2007. The married mom of two small boys was caught off guard since there was no history of breast cancer in her family.
"Cancer wasn't even on my radar," she says. "I didn't know people my age that had breast cancer."
After a mastectomy, Flint underwent 16 weeks of chemotherapy. Though she was often tired as a result, she and her husband, Ken, tried to keep things light for their sons Marcus, then 5, and Anthony, then 3.
"They watched as their daddy shaved my head when I started losing my hair. At the time, they thought it was pretty cool that mommy had no hair," Flint says.
Almost four years later, Flint is free and clear of cancer. Though the experience was "awful and debilitating at the time," she is grateful for the perspective she gained from it.
"I'm stronger because of it," Flint says. "I've been able to see the way a community can rally around people and come together – that's really an amazing thing."
Durango and communities across the country are rallying around breast cancer survivors by celebrating October as Breast Cancer Awareness Month. Mercy Medical Center kicked things off Oct. 2 with its Journey of Hope 5K, and there's no shortage of other "pink" events throughout the month.
Local women's volleyball teams are celebrating Breast Cancer Awareness Month with three Pink Digs for the Cure events. Teams dress in pink for the game, with ticket proceeds donated to the emergency fund for cancer patients of the Women's Health Coalition of Southwest Colorado. A pink gifting shop with T-shirts like "Real Men Wear Pink" also raises funds for the cause, as well as corporate sponsors and private donors who pledge to donate money for each dig a player makes during the game. And breast cancer survivors comprise the Pink Digs All-Star Survivors Team, which is honored at center court.
"It's emotional when these survivors are honored on center court because cancer is a deeply personal disease," says Terene Foutz, director of the Four Corners Volleyball Club. "Many of these patients suffer privately with their families, so when we put them on center court and they become our all stars, a lot of emotions flood – they've made it! "It's a moment when they realize just how far they've come and our community gets to acknowledge that."
A complimentary dessert party follows the game. Ignacio High School hosted Pink Digs on Sept. 28 (and raised more than $10,000); Durango High School will host Pink Digs on Sat., Oct. 16, at 11 a.m.; and Fort Lewis College hosts Pink Digs on Fri., Oct. 22, at 7 p.m.
Throughout the month of October, the Diamond Belle Saloon will host Bras Across the Belle. Through Oct. 29, the public can make a monetary donation of any size and donate a bra – plain or decorated in honor of someone – to be strung across the room in a chain. There will be pink drinks on hand for purchase, giveaways like pink arm bands, and a bustier into which supporters can stuff donations of dollar bills.
"We're just hoping people will open up their lingerie drawers and their pocketbooks and support this fun and worthy cause," says Suzan Lane, food service manager at the Diamond Belle Saloon.
Bras Across the Belle will conclude with a party open to the public on Fri., Oct. 29, from 4-6 p.m.
While one aspect of Breast Cancer Awareness Month involves fund-raising and honoring survivors, another important component is educating the public about resources, whether for women who have been recently diagnosed, or those concerned with early detection.
Ginna Harbison, quality of life manager at the Durango office of the American Cancer Society and a five-year breast cancer survivor, says prevention is key. Oone out of every seven women in Colorado will be diagnosed with breast cancer, she says, but the treatment and cure rate is high.
"We strongly advocate mammograms and/or self-breast exams and annual physical exams," Harbison says. "No woman needs to go without a mammogram. There are ways for women to get a free mammogram." Women also should pay attention to their bodies: "If something feels different, they need to follow up on that," she says.
The American Cancer Society's Durango Cancer Center, located inside Mercy Medical Plaza, served 85 women in 2009. The Cancer Center administers chemotherapy and provides free wigs, hats, scarves, rides to treatment and hotel lodging for women who travel to Durango for treatment. The office also has pamphlets available for cancer patients and their loved ones, so people can understand how to best provide support during treatments.
"Basically, a cancer patient just wants to be listened to," Harbison says. "Don't tell them any story about anybody else's cancer, whether they're good stories or bad. This person's cancer is theirs – it's so individual. Just be a good ear and a good friend."
With so many year-round resources, it's clear Durango is a supportive community. Flint says when she was first diagnosed, people would ask her if she would seek treatment outside of Durango.
"I was like, 'Why? We have amazing treatment right here.'"
And she's sharing her experiences with breast cancer treatment in Durango with other recently diagnosed women – she's a Reach to Recovery volunteer for the American Cancer Society, which pairs new patients with survivors for advice and support.
"It's something where you put your head down and say, 'OK, we're gonna do this. It's not always gonna be fun, but it's doable,'" Flint says. "Take one day at a time and keep a positive attitude." •
In this week's issue...
March 17, 2022

Lake Powell drops below threshold for the first time despite attempts to avoid it
March 17, 2022

Purgatory Resort set for expansion but still faces hurdles
March 10, 2022

New health care studio takes integrated approach to healing