Putting the pedal to Purgatory
Durango Mountain Resort plans cycling upgrades

SideStory: Short Track series returns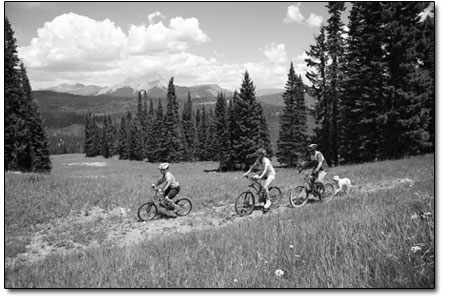 A family bikes at the top of Purgatoyr mountain. Druango Mountain Resort is kicking its mountain biking options into high gear this summer with a new bike park, which will include a short track and a pump track. The resort will also be making upgrades and improvments to its existing trails, including the notorious 1990 Worlds Course and host the Coca-Cola Triple Crown race series in conjunction with Durango DEVO./Courtesy photo
by Missy Votel

Twenty years after Purgatory hosted the World Championships, Durango Mountain Resort is getting the wheels rolling again on mountain biking.
"We are definitely emphasizing mountain biking for this summer," said DMR Director of Communications Beth Holland. "We are really working on expanding and offering a unique and diverse experience for all levels and abilities and working on getting more people up here mountain biking."
DMR will be working closely with Trails 2000 and Durango DEVO to make solid, well-rounded mountain biking a reality at the resort. For starters, a new "bike park," formally known as the Durango Coca Cola Bike Park, consisting of a pump track and a short track, is in the works. There are also plans to make improvements to existing trails, which have been somewhat neglected in recent years. In addition, DEVO will be hosting a short track races as the "Coca-Cola Triple Crown" throughout the summer, consisting of a circuit race, hill climb/super downhill, and a cross country race.
"DEVO is going to be a good partner for the race series and getting more locals up here," said Holland.
The bike park will be built with the help of Trails 2000 and Alpine Bike Parks, a well-known consulting company out of Whistler, B.C. The short track will be mostly visible from the base area for good spectating opportunities, Holland said. Mary Monroe, executive director of Trails 2000, said the course has been flagged and work should begin soon. She estimates it will take between 100 and 150 volunteer hours to build the track using both hand tools and machines.
The pump track, a relatively new phenomenon in the world of mountain biking, can be described as a gravity-assisted series of turns, berms and jumps. The attraction is that riders need only pedal once or twice to get going, letting gravity take over from there. Once riders have completed the course, they walk (or ride) and working on getting more people up here mountain biking.
"The goal is to get a long ride for a short walk," said DMR Marketing Director Sven Brunso. "I would say most people probably do five to 10 circuits before getting tired."

The latest changes to mountain bike offerings at DMR are part of a bigger trend among ski resorts looking to bolster summer visitors. Whistler was perhaps the first major ski area to capitalize on the trend, drawing destination riders from throughout the world to its extreme terrain and making a name for itself in the world of free riding. Today, resorts across the country, from Steamboat to Stowe, Vt., have joined in, with everything from lift-assisted downhill courses to dedicated cross country trails and bike parks.
For Durango, long a mecca for mountain biking, such an evolution only makes sense. According to Monroe, the bigger goal is to help create a "bike culture" at DMR. In addition to its own biking trails, DMR can serve as a "hub" for the area's high-country rides. "DMR is a great place to start or finish a ride," said Monroe. Several rides, including the popular Hermosa Creek Trail and Blackhawk loop are accessed by passing DMR. Monroe said one possibility being explored is having riders take Chair 4 to the top of the Hermosa Park Road and starting the ride from there, alleviating the need to drive to the top or to the trailhead. "When people think of riding Hermosa, they can meet at DMR and ride chair 4," she said. "It will mean less driving and be better all around."
Such collaboration, as well as dedicated visionaries, is the key to successful trail systems, said Monroe. "DMR has championed the cause, which has made it an effective partnership," she said. "They have a much more focused approach to what they want to do."
And with the 20th anniversary of the Mountain Bike Worlds and Trails 2000 also turning the big 2-0 this year, there is no better way to mark the occasion. "It's great all this is coming around," said Monroe, "especially for us locals. We've been waiting a long time." •