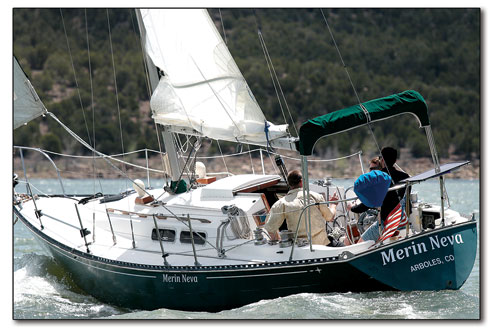 Aboard the S.S. Merin Neva, a 33-foot keel boat, with Scott Frazer and the Peaks & Tides staff. After a life on the water, kayaking, sailing and rafting, Frazer is making a go of his sailing school and charter service, based out of Navajo Reservoir./Photo by Jennaye Derge

Jibbing & jiving
Learning to dance on the water with Durango's new sailing school
by Jennaye Derge
I set out to Arboles on an as of late, unseasonably beautiful spring morning. I drove under puffy clouds that were rolling through the sky with a slight breeze, enough to feather the green grass I passed by.
"Perfect sailing weather," Scott Frazer, owner of Peaks & Tides, told me over the phone prior to our meeting.
Funny, because as a lifetime mountain and desert dweller, I've never once thought to equate outside conditions to "sailing weather." I don't even know what "sailing weather" is.
According to Frazer though, this particular Friday was perfect.
We met at the northern docks of Navajo Lake, an elongated reservoir that spans south from Arboles into New Mexico ending a few miles east of Farmington. With a recorded area of 24.38 square miles, it is vast enough to host many recreational visitors throughout the year – especially the warmer months.
Walking onto the northern marina, known as Two Rivers Marina, we saw signs of this. Boats that lined the docks were tied up to mooring buoys, and according to a fellow boatsman, there was already a wait list for seasonal mooring.
"(The lake) is warm; you can swim, wakeboard, paddleboard, all those fun things and it's only 45 minutes away," Frazer says of the reservoir. No wonder so many line up to spend summers playing in its waters.
Frazer was similarly summoned to the reservoir, but for a different reason. It started a few years ago when Frazer, a Durango native, and his now business partner/longtime girlfriend Katie James were living in Telluride. Things started to get a little murky when the two, along with Frazer's daughter and James' two sons, were bought out of the lease on their Telluride home and were pushed to move into their camper until they made a more permanent move back to Durango.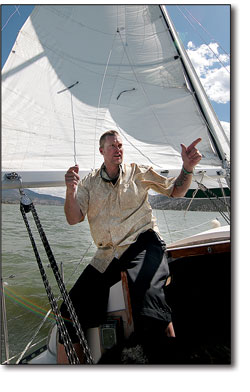 "They say, if you can sail on a lake, you can sail anywhere," says Frazer referencing the oft unpredictable and erratic mountain winds./Photo by Jennaye Derge
"And then a bear ate our camper," Frazer laughs "It went through one side and out the other. It took the fridge out and you could see all the condiments and everything else it ate in a row, and it finished with the Sriracha, so there was justice."
At that point, the family had a couple weeks before they could move back into Frazer's Durango home and were left with one option: his 33-foot Ranger Keelboat, Taboo. The time the family spent on the boat, watching the kids play pirate games, and teaching them little things here and there about sailing, that's when it clicked.
"'Let's start a sailing school,'" Frazer recalls telling Katie.
The dream was a few years in the making, but the process from serious idea to go-time was about six months, Frazer says. They started the permit process around springtime last year, and by October 2015, they had received permission from the State of Colorado and Navajo Lake to start a sailing school and sailing charters on the lake.
"It's not a new thing," Frazer says of sailing schools and charters, "but it's something new that we're bringing to our environment and to our community."
There are only three other sailing schools in Colorado, two of which are near Denver, and the third on Blue Mesa. Frazer thought it was about time to share his passion in an area he's so passionate about.
"Growing up in Durango and learning how to kayak at 10 down the Animas, you just have so much exposure to so many incredible activities and the outdoors," he said. "I can't think of any other place like this. Any place that I've lived. There's no place like Durango for that."
So far, he's had a lot of interest from everyone from locals to visitors, from nostalgic sailors wanting refreshers, to parents who love sailing and want to pass it on to their kids.
His goal is to start any aspiring beginner at step one and provide classes all the way up to sailing captains. And hopefully after this summer, Peaks & Tides will be able to make that possible. The company will be reviewed by the ASA (American Sailing Association) this June which will give Peaks & Tides the ability to ASA certify anyone who chooses to take all ASA courses: ASA101 - 104.
"That's our goal," Frazer says of becoming an ASA affiliated school. "We had to travel to get our certifications to teach; we couldn't find anything locally."
His ultimate vision is to make learning to sail easy and affordable for everyone. He equates his vision to Sarah Tescher and Chad Cheeney's creation of Devo, drawing upon his experiences teaching kayaking at 4Corners Riversports and raft guiding back in the day.
"It instills such confidence in the kids, I want to use what I've learned from that experience and put it into sailing school," Frazer says
His visions and goals for Peaks & Tides is limitless and he finds himself dreaming of taking students sailing in the ocean, to San Carlos, Mexico, for their final ASA 104 course. He already has housing in line to host students while taking the course. Until then, though, Peaks & Tides has plenty to offer for everyone. In addition to group and private lessons, this year's Summer Sailing Camp offers kids an opportunity to spend a week on the water, learning the beginning trades of sailing, topping it off with a chance to show their new skills to parents. Charters are also available with the choice of one of five boats for either a half day, full day or an overnighter, all in which lake related fun is encouraged.
It's as close to a Caribbean vacation us desert dwellers can get.
"There is the exotic level of going to places like the (British Virgin Islands) and learning to sail in nicer weather and stuff like that, but they say if you can sail on a lake, you can sail anywhere," said Frazer.
The mountains not only provide a picturesque, if not seemingly out of place, backdrop, they also create turbulence in the water. A boon for expert sailors trying to brush up on their tacking, but best avoided by beginners.
"It's a lot more active, it's a lot more fun, it's a lot more dynamic, and you get to bounce around through points of sail on lakes because you're constantly tacking or jibing to avoid other boats, shallow water, and the shore," Frazer said.
But, he added, it's also easy to keep the boat flat if need be and with a keel weighing in at 4,500 pounds of lead, the most common boat used for learning sailing won't ever tip over.
"The whole idea is to not scare people, to create a level of comfort and safety. That's why we're there: to ensure confidence with instruction," he said.
Perhaps the biggest lesson for a newbie sailor? Respect the weather, and pay attention to it, Frazer says. "The weather is a huge factor. You learn so much about weather in sailing."
And learn we did. After a morning turned afternoon of sailing with Frazer and his crew – including another Peaks & Tides instructor, a seasoned student and three sea-legged pups – I learned just what "perfect sailing weather" meant. I learned how liberating it is to turn off the motor and harness the wind; how to read the water for changes in wind direction; and how to perfectly orchestrate the moves to put the sails in just the right position. I also learned terms like "leeward" and "keel;" that "knots" aren't just made by tying strings together; and "jibbing" and "tacking" aren't dance moves. And after Frazer decided to trust me with steering the boat (he must be crazy), I learned just how powerful and sensitive each move can be, and how important it is to work together as a team. And most importantly, when the boat is "tacking" – or changing the position of the sails to the wind – it's time to duck. Because no one wants a "boom" to the noggin.
Frazer and his crew moved with such ease, almost dancing from one pulley to another, all while holding conversation, making jokes and throwing out interesting facts. It is easy to fall under a sailing spell while out on the open waters, and it is easy to understand where Frazer's passion comes from.
"It keeps me up at night." he said. "I have never been this excited about the next progression of my life."
For more info on Peaks & Tides, go to www.peaksandtides.com, call 970-759-3604, or email: info@peaksandtides.com.