---
Hog heaven, Cadillac Angels and TGIFF
by Chris Aaland
Share the road. It's not just motorists vs. bikers. Every day in my commute to and from Ignacio, I see countless deer lying on the side of the road and dozens of skunks and prairie dogs smashed into the pavement. Recent weeks have turned up a cornucopia of roadkill, including raccoons, porcupines even a duck and a beaver. Who the hell runs over a beaver?
But this tale is about a boy, his truck and a semi filled with hog slop. Two weeks ago, I was heading south on Colorado 172, a highway that waltzes at its own pace: oil rigs, tourists looking for the airport, and no shortage of farm machinery throw up an assortment of road blocks on the 35-minute drive. On this particular day, I was stuck in the low 50s. Near the airport turnoff, I noticed some odd-looking, mustard-colored goo covering the northbound, southbound and turn lanes. It looked like Gold King Mine refuse. Braking rapidly, the Tundra slowed down to about 30 MPH when I skated into the muck. The minivan in front of me sprayed my front end and windshields with the foul stuff as I instantly hit the wipers. By the time my 100-yard skid through the slime was over, the car was covered.
My arrival at KSUT was delayed, as I immediately drove to the Ignacio car wash. $9.01 later, the 10-year-old truck glistened like it was brand spanking new. But the stank lingered. It smelled like pig shit.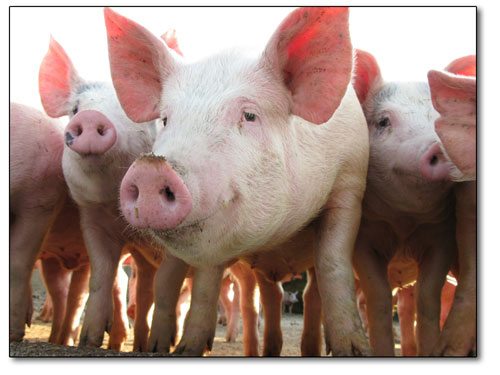 Further inspection to the grime clinging to the car wash grate confirmed it was some sort of grain – probably used to feed pigs. My pheasant hunting ventures into west-central Kansas have led me past a pig farm or two, and the scent is forever burned into my memory.
News reports within an hour confirmed the culprit: from fermented beer mash being delivered to a local farmer. My buddy Michael McCardell owns Durango Craft Spirits and sends his spent grains to a local pig farmer. The hogsman says the pigs go on hunger strike when they run out of the mash. Regular hog slop doesn't meet muster. These swine are connoisseurs.
I got to thinking: bacon and beer are two of my favorite things. I consider myself a world champion beer drinker. And bacon, ham, sausage, pork chops and carnitas are staples at my house. This time, though, the bacon and beer bit back.
Two weeks and $30-plus at car washes later, and the Tundra still smells like a baby diaper filled with Indian food.
The Cadillac Angels return to Crash Music in the Historic Aztec Theatre at 7:30 p.m. tonight (Thurs., May 26). Led by guitarist, singer and songwriter Ton Balbinot, the Angels forge rock & roll, country and both urban and Delta blues into an original, hard-driving stew. Balbinot was recently recognized by the Gretsch Guitar Co. and invited to perform at its 125th anniversary celebration, where he shared the stage with such legends as Dick Dale, Billy Gibbons and Jimmie Vaughan. His picture hangs in the Gretsch Hall of Fame in Scottsdale, Ariz., right between Chet Atkins and Brian Jones.
The Underground (beneath the Irish Embassy Pub) is launching weekly TGIFF! (Thank God It's F***ing Friday!) music events this week. The first one will be a mash-up of styles that will be represented each week. Typically, the first Friday of the month will be "Fresh Friday," featuring funk and future; the second, "Folk Friday" featuring world and Americana; the third, "Fender Friday" featuring loud & fast blues and rock; and the fourth, Femme Friday, by ladies and for ladies.
Local artists will also display their crafts. Music runs from 5 p.m. 'til 1 a.m. There's a $5 cover with free stuff while it lasts. The first week's lineup includes Power Tribe, the Cannondolls, Slow Draw, Bootyconda and Peter Robot.
Running Out of Road returns to the Balcony Bar & Grille at 5:30 p.m. Friday. The hard-working bluegrass quintet has a busy summer in store, including performances at the Palisade Roots Music Festival (June 10), Golden Music Festival (June 12) and Clear Creek Rapidgrass in Idaho Springs (June 25). They'll also try and capture the big prize at this summer's Telluride Bluegrass Band Competition.
Moe's madness this week includes Funked Up Fridays with the Kirk James Blues Band from 6 'til 9, followed by late night dancing to DJ Icite; and DJ Noonz from 9 'til close Saturday.
The busy James also plays solo blues at Dalton Ranch from 6-8 p.m. tonight, while he brings the full band to the Balcony Bar & Grill at 5:30 p.m. Saturday and the Hideaway Grill at Vallecito at 2 p.m. Sunday. The latter is part of a fundraiser for Jack Hardesty called Hogs & Horses Poker Run and Party. The event starts at 11 a.m.
The Pagosa Folk'n Bluegrass Festival just announced their late-night stage for Friday-Saturday, June 3-4. Highlights include Bay Area bluegrass band Steep Ravine at 10 p.m. Friday and the ever-popular Front Range pickers Finnders & Youngberg on Saturday. Of course, there are three full days of music featuring Rob Ickes & Trey Hensley, Eileen Ivers, Tony Furtado and Aoife O'Donovan. We'll dive into the full festival rundown in next week's Top Shelf.
Finally, the Durango Chamber of Commerce, the Durango Business Improvement District and the City of Durango are once again teaming up to coordinate the Downtown Clean Day this Friday. Volunteers willing to help sweep, pick up trash, clean sidewalks and more are asked to meet by 8:45 a.m. in the parking lot of Keller Williams Realty (just north of the intersection of 7th and Main). Work should be completed before noon.
In honor of the hog slop episode, this week's Top Shelf list points to my favorite pig products:
1. Ham steaks. Particularly the "Ham Cure" at the Diner.
2. Chicharrones & bean burritos. Tafolina's in Wheat Ridge does it right.
3. Cuban sandwiches. Ham, roasted pork, Swiss cheese, pickles & mustard, please!
4. Baby back ribs. Anywhere. Anytime.
5. Bacon. On everything.
6. Carnitas. The batch I made Sunday was slow roasted in pineapple-orange juice, Hop Ivy, chicken broth, onions, garlic, bay leaves, cumin, paprika, red chile powder, cinnamon, cloves, cilantro and oregano.
What they need's a damn good whacking? Email me at chrisa@gobrainstorm.net.