---
Don't fear the kohlrabi
by Ari LeVaux
If you even know what kohlrabi is, chances are you're German. You could be a spelling bee champ, but that would only mean you know how to spell it, not how to eat it. Maybe you're a local foods enthusiast, and when you first encountered kohlrabi at the farmers' market, you thought it was a turnip. Perhaps you ate it in some fancy restaurant, alongside whatever food that was the reason you ordered that dish.
This spherical veggie is the swollen stem of a plant in the mustard, aka cabbage, family (kohl means "cabbage" in German). Kohlrabi looks like a goiter in an otherwise healthy stalk, and has a tendency to accumulate in the refrigerators of rookie CSA members. For those who already find themselves overwhelmed with the amount of vegetables a CSA can yield, kohlrabi can become a chronic burden. It won't rot, so you can't just throw it away. It silently accumulates in your fridge. So inscrutably, intimidatingly earthy, vegetal and green, kohlrabi makes kale look like a gas station hot dog.
"We grow it because it does well here and it adds diversity to the weekly shares in late spring," says a farmer friend of mine who has a CSA. He admits that few of his customers fall in love with the scaly green orb at first sight. He compares it to kiwi, which nobody cared about when it was called Chinese gooseberry. "Kohlrabi needs a rebranding, better marketing, and a better name," he said. "Preferably a name that includes the word 'butter.'"
I recently read a funny little piece by Sarah Aswell in McSweeney's called "Your First CSA: A Month-By-Month Guide to Enjoying Your Farm Share." The recurring punchline was "kohlrabi."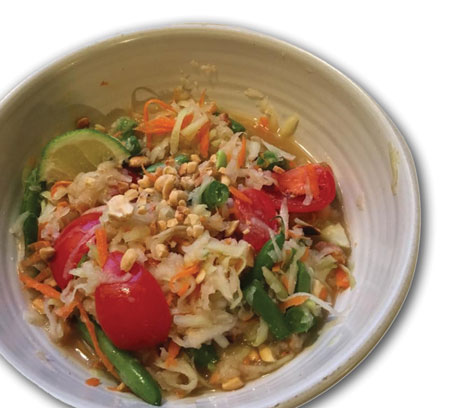 "It tastes like the part of broccoli that you throw away," she writes, and quotes a vegan who would rather eat pork. But the truth is, if one slices kohlrabi thinly and cooks it with bacon, it won't accumulate in the fridge with each CSA box. Cooking with pork, by the way, is my first suggestion for cooking kohlrabi. Rocket science, I know. It works with radishes too, btw.
Suggestion No. 2 comes from another farmer friend who learned, from a German customer, to bread and fry kohlrabi "like chicken-fried steak."
What you don't want to do is what Aswell admitted to have done: serve raw kohlrabi in thin slices with a bowl of dip at book club.
When you say to the world, "hey, eat this kohlrabi," you're setting it up to fail. Kohlrabi may not be a star, but it can be a solid supporting actor, and we need those. Would you bring onion slices to book club? Probably not. But that doesn't invalidate onions.
I compare kohlrabi to water chestnuts: crunchy, juicy, not too flavorful, and good in Chinese food. This would be serving suggestion No. 3. Add them to your favorite stir-fry. If you don't have one, fry some kohlrabi in oil (or bacon) with mushrooms, maybe some other vegetables, garlic and a bit of lime zest, and add a mixture of soy sauce, oyster sauce and rice vinegar. Serve with rice.
Continuing with the Asian theme, my favorite way to prepare kohlrabi is to substitute it for green papaya in the classic Laotian dish tam sum, aka green papaya salad. The name means something like "pounded sourness," and hat tip to my local Thai restaurant for the idea. A kohlrabi-based Thai version was on special. It was as good as the green papaya version, of which I could eat any amount. And just like that, the concept of too much kohlrabi was buried for good.
This, your fourth serving suggestion, is today's featured recipe.
Wholesome kohl som
1 baseball-sized kohlrabi, peeled and grated or shredded (about 5 cups)
Large handful of cherry tomatoes, sliced into quarters
Fistful of string beans, chopped into inch-lengths
1 medium carrot, grated
1 medium clove of garlic, minced
2 tablespoons peanuts, dry roasted in a pan
1 or more tablespoons fish sauce
2 tablespoons lime juice
1 or more thin-skinned chilies, like a Thai or serrano, de-seeded and thin-sliced (optional)
½ teaspoon sugar
¼ teaspoon salt
In a mortar/pestle or blender, convert the garlic, salt, sugar and chili peppers into a paste. Add peanuts and crush some more. Transfer the paste to a bowl and add the lime juice and fish sauce. Stir together, and add shredded carrot and kohlrabi. Lightly crush the tomato and string beans in the mortar and pestle, or with the side of a knife, and add them to the bowl. Toss.
The salt will pull moisture out of the kohlrabi, which can build up in the bowl. If that's an issue, drain it, or give it a toss right before serving. Sprinkle a few more crushed peanuts on top and serve. This dish is juicy, bright and refreshing, like tam som should be.
Admittedly, if you wish to follow this recipe in spring you will have to use non-local tomatoes and beans. If this is a sticking point, recite 50 Hail Michaels (as in Pollan), and you will be absolved. Or wait until fall (kohlrabi can be grown any time of the growing season), and make the whole damned som out of the garden or farmers market.
If you live near a farmer who grows the massive Cossack storage kohlrabi, which are harvested in fall and can weigh 10 pounds apiece, you may find yourself with a root cellar full of monster kohlrabi. So I'll leave you with a recipe to file away for then. Be warned, kohlrabi is the star of this dish, but by now you are an expert.
Peel the kohlrabi, chop it into inch-chunks, toss in olive oil and salt, and roast at 400 degrees. It will become rich and full bodied, instead of crunchy and juicy.
You now have five ways to cook kohlrabi, and exactly zero excuses to avoid doing so.