---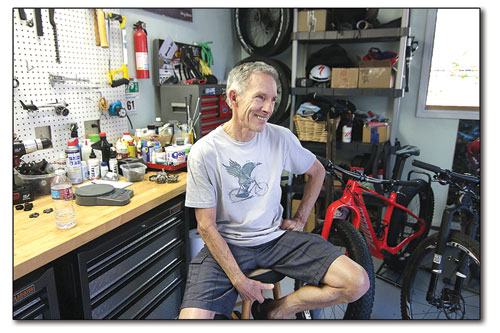 A relaxed Ned Overend dishes on everything from ebikes to wheel size in his Specialized stable. Come Saturday though, he'll have his game face on for what will be his 33rd Iron Horse (not counting the two years it was cancelled or cut short due to weather.)/Photo by Jennaye Derge
Still deadly after all these years
Catching up – or at least trying to – with Ned in the Strava age
by Missy Votel
There's an adage in Durango, or at least there should be: "Old bike racers never die, or fade away. They just keep kicking ass."
Because, if you're Ned Overend, slowing down is not in your vocabulary. Nor is "old."
So sorry, all you Strava junkies who thought when Ned hit 60 last August he would call it good, get his AARP card and hit the road in his Winnebago. Unfortunately, since he "retired" from pro racing in 1996, Ned has a lot of time on his hands, er legs. And if you were hoping he would quietly bow out of the local Stravasphere and let the rest of us mere mortals battle it out for top virtual honors, you've got another thing coming.
"Strava's been a great motivator for my training," said Overend. "You go out and go hard on certain segments. And when someone beats you, you better get back out there."
(As for the rest of you who are wondering "what the heck does a savory layered egg dish have to do with this?" don't worry your technologically unburdened heads. This Strava funny business is like crack for bike geeks. You're better off sticking with eggs.)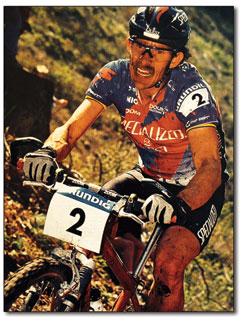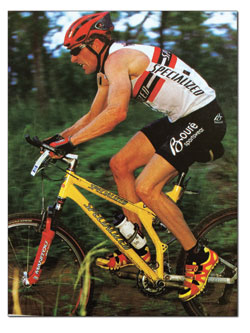 No story on Ned would be complete without the requisite spin down memory lane, including flashbacks to the 1994 Mountain Bike World Cup in Belgium (top) and the 1999 XTerra Championships in Maui (bottom)./Courtesy photos
So listen up Strava heads, you can stop sniveling about how Ned "is skewing the bell curve" or "doesn't work" and just rides his bike all day. Because he put the kibosh on both of those vicious rumors.
"I don't know if there's a bell curve on Strava," Overend responded when pressed hard by this intrepid reporter.
And as for the "doesn't have a real job" accusations – pashaw.
"I am a regular employee at Specialized doing research and marketing," he says, adding that racing bikes is not a "real job." Unless you happen to be Todd Wells or Howard Grotts (BTW, congrats, national marathon and XC champ, respectively.)
So now that we have the tough questions out of the way, it's time to get to know this icon of the local biking community and rolling ambassador for all things Durango. To do that, we'll start from the beginning.
Only kidding. It has been brought to my attention that a story on Ned is written roughly once every five minutes. Plus, he's already got his own Wikipedia page.
But have those writers ever been invited into Ned's stable? That glimmering utopia of carbon fiber and fresh rubber – the powder-coated temple of self-mechanized, two-wheeled worship?
Oh snap.
Let's just say that even for someone who doesn't know a derailleur from a derailer, it's easy to really nerd out in here. And drool – just a little.
A casual count reveals 13 steeds – although he admits a few belong to wife, Pam. But before you spout off "must be nice," remember Ned does this for a living. Every bike is picked, prodded, pushed and pedaled to the max, all in the name of R&D. (And maybe if you're lucky, and have the same inseam, when the new Specialized crop comes out, you'll score one of Ned's old ponies put out to pasture at the Devo swap.)
It may seem excessive, even by Durango standards. But when you consider the myriad genres and subgenres and sub-subgenres of biking, well, it'll make your head spin faster than a tricked-out carbon time trials wheel. (Which, by the?way, he used to clinch last year's IHBC omnium.) ?
"It's a confusing market," he said. "The biggest segment is trail bikes, but then you've got the 29ers, 650-plus, 650b, cross bikes, gravel grinders and fat bikes," he said, all of which comes in a dizzying array of wheel girths.
(In case you were wondering about ever getting money for that 26-er rusting in the garage, the death knell has officially rung. Nineteen-ninety-nine called and has plenty, so just go out and have fun. Who cares? It's not like you're Ned Overend or something.)
Speaking of fat bikes, the rumor mill ran amok in 2014 when Ned hopped on his fresh-out-of-Specialized-proto fat bike and won the Fat Bike Birkie, aka the National Championships. The twitterverse speculated he was coming out of retirement. Not so – he just won that one for fun. And research.
Another thing that likely won't be coming out of retirement soon is Ned's singlespeed. Hanging alone and sad in a corner, it was taken out of regular rotation after Durango's 2009 World Singlespeed Championships (in which Ned placed fourth or sixth. It's hard to keep track after a while.)
"It's got a flat, but I'd start riding it again if there was another singlespeeds event," he said, adding he was tempted to go to last year's in Japan.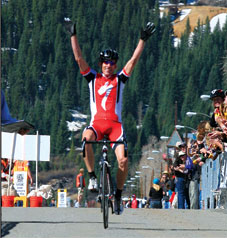 Ride like a champ
Chances are, if you're riding the Iron Horse this weekend, right now you're pleasantly tapering over a bowl of pasta after a hellish six months of spin classes, brutal April headwinds and an industrial tub of chamois butter.
If not, just continue to enjoy that Lazy Boy, because there's not a lot of hope at this point.
According to five-time IHBC champ Ned Overend, once you hit the 10-day countdown, you could ride your bike all day, every day, and it still won't help much. And will probably hurt. A lot.
"At 10 days out, any training isn't really going to benefit you," he said.
Instead, he recommends more of a straightforward approach that entails, well, riding. Lots of it. "If you want to ride the Iron Horse, you have to get out and ride the passes," he said.
But what if you've done none of that? Well, Iron Horse lore is full of people off the couch riding in tighty whities, pedaling cruiser bikes or wearing ski boots. But no one said it was fun.
And while the chafing heals, there's always next year. For those interested in training like Ned, it's only an app away. "If anyone wants to know, all of my training rides are on Strava," he says.
Yes, we realize some of you already know that.
– Missy Votel
In other words, if it's got two wheels and rolls, Ned will ride it. But – as we all know – he's good at mixing it up. For example, the day before we visited, he "tooled" around Coal Bank on his road bike; and that day – a "recovery" day – he took a spin up Lion's Den and the Rim Trail (and probably all of Horse Gulch) on his trusty cross country mountain bike.
It's safe to say, in the summer, these are his weapons of choice. Although he has a trail bike with 150mm of travel, he says he'll leave the new balls-out style, ala enduro racing, to the young bucks and buckettes.
For the clueless or slightly confused, Overend describes enduro as several downhill races in one day, linked by slower uphills. Sort of an "endurance downhill" if you will. He's done them, but not his forte, he admits.
"I'm not trying to speed up the aging process," he jokes. (Knock on wood, he's never so much as broken a bone riding, although he admits he's "lost a lot of skin.")
But whether he – or any of us old farts for that matter – are along for the ride, it's the way the sport is going, he says. And he offers a word of caution
"You gotta be careful out there, these bikes are so capable that they're building more and more technical trails." (Translated: Don't huck your meat on your 1998 StumpJumper just because all the kids are doing it. Likewise, 27.5-inch wheels and 10 feet of travel aren't carte blanche to think you're Super Man.) Even the recent World Cup XC race featured a gnarly rock garden section – something that would've been unthinkable even five years ago.
Another thing that may have been unthinkable: electric bikes. But like the martians invading Earth, Overend says they're out there. And not to be afraid.
"It's big in Europe," he says.
While the kneejerk of many who have spent years battling the top of Telegraph is to spit between gasps of air at these cheaters of the two-wheeled universe, Overend is characteristically Switzerland on the subject. (Probably because he knows he can still beat them. With one leg tied behind his back. On a strider bike.)
"It's interesting, there's a bunch of haters, but it's coming, we just need to figure out how to incorporate them," he says.
Although Durango recently passed a law banning them from public trails, Overend says in Europe they are allowed on mountain bike trails, and so far, the arrangement seems to be working.
For starters, e-bikes have governors that shut down the engines once they reach a certain speed – typically 30 mph – and despite preconceived notions, one cannot just sit there on his or her e-bike, and say, enjoy an e-cig.
"In order for the motor to work, you actually have to pedal," he says. And for those who take a certain perverse pleasure in their pain, not to worry: "You still get a workout," Ned assures.
The way he sees it – all these advancements conspire to work for the greater good: getting more people out on bikes and enjoying our trails and roadways. Sort of like a gateway drug to health, happiness, the outdoors and advocacy. "It opens up trails to people who otherwise wouldn't use trails," he says.
It's the same with the Iron Horse, says Ned, who will be lining up for this 33rd trip to Silverton on May 28. He's signed up for every one since 1982, but there were a few years when the race was cancelled for weather. (We're pretty sure this is some kind of record. Will someone give the guy an award already?)
"It's a big deal for this community, that's why I like supporting it as much as I can," he says. "I see all these people, they don't even ride bikes and they enter, go through the Iron Horse training and then get hooked. And cycling becomes a huge part of their life."
As for his prospects this year, Ned is humble (which, I discovered is a trait. Not once did he heckle me for having a beer holder on my handlebars or the fact that I barely made it up the hill to his house.)
"If my ride yesterday was any indication, I'm in trouble," he modestly dishes, admitting it may have something to do the three-week stint at Specialized HQ in San Jose he just returned from.
But coming from a five-time IHBC winner, this should be taken with a grain of salt. And a packet or two of Gu.
As for the weather, Overend says he expects … are you CRAZY?! We didn't go there. But he did talk about this year's competition, which he expects to come mostly from a field of 50 or so local riders. He was still awaiting word on whether hometown wunderkind Sepp Kuss, 22-year-old son of Dolph and Sabina, was planning on coming down from Boulder to race.
Fresh off a win in what is considered the hardest stage of the tour of the Redlands – "and he's not even a road rider!" – Sepp could be the biggest proverbial stick in the spokes for Ned this weekend.
"Sepp keeps beating my times on Strava," Ned says in his own defense.
As for the rest of you Strava freaks not named Sepp, Ned doesn't play golf – maybe there's an app for that? Otherwise, just between you and me, the self-described night owl admits to not being a morning person. Guess you'll just have to get up pretty early to beat him.