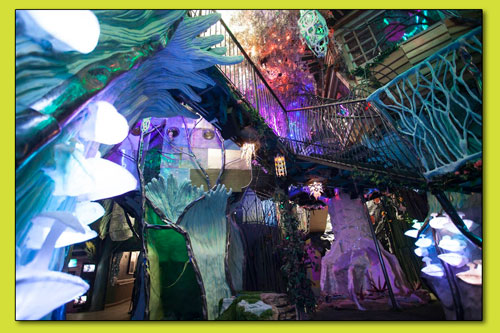 The enchanted forest at Meow Wolf, a technicolor fairytale dreamscape. That and other psychedelic and space-age wonders for the eyes and mind await those who visit the 20,000-square-foot space in Santa Fe./Courtesy photo
Wild cats & dogs
Former FLC student's collective shakes up stodgy Santa Fe art scene
by Dan Groth
Santa Fe, N.M., has the second-largest art market in America – one that is primarily geared toward tourists and dominated by Southwestern and high-end minimalist art. The newest addition to the scene, however, sticks out like the finest, loveliest sore thumb. Meow Wolf, a Santa Fe artist collective formed in 2008, is responsible for creating an enormous permanent installation, "The House of Eternal Return," located within a former bowling alley. It is a stupendous achievement for this bunch of youngish art weirdos, who conceived and built it along with the help of other Santa Fe artists and donors.
One of six co-owners (and designer of the logo) is 31-year-old former Fort Lewis College art/media arts major and KDUR DJ, Emily Montoya.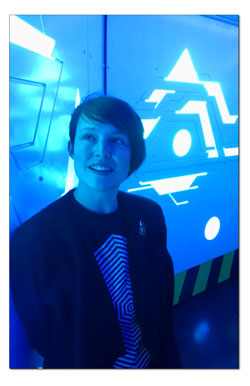 Emily Montoya under the black light./Courtesy photo
Growing up in Santa Fe, with its older population, was a bit of a challenge for the young art misfit.
"As my friends and I were hitting high school, we found that we had to exercise every ounce of creativity to entertain ourselves" says Montoya. "(We had) a desire to transcend our surroundings, but at the same time learned we had the power to transform the environment around us into a place we wanted it to be."
(As an aside, I met Montoya in 2002 through KDUR, where she was known as DJ Galaga and had a fine radio show. Her and I quickly bonded over similar artistic inclinations and love of music, even forming musical supergroup Warrior, which captivated audiences at numerous KDUR cover nights. She credits KDUR with broadening her musical horizons and also appreciated the surprising amount of quality culture in Durango. And for the record, Durango appreciated her as well.)
After leaving Durango in 2004, Montoya went to Japan, before returning to Santa Fe in 2005. She realized that most of her friends had moved away to chase opportunities in cities like Portland, Austin and Brooklyn. She, too, felt the pull. But she stayed in her hometown, where she positioned herself to pursue a career as a translator or in the art world. However, plans changed in 2008 when she met up with a group of 10 like-minded early-twentysomethings to conceive of a new space for art and music. At their first meeting, the new collective chose the name "Meow Wolf" by voting on the best combination of random words they'd written down.
Soon, the group procured a space in a former hair salon. "(We) started doing these shows where we'd use every square inch of the space from floor to ceiling. It was a reaction against everything we saw in the Santa Fe art scene," says Montoya. The group even named this new genre, calling it "Multimedia Immersive Maximalist Art."
The artists would often use found objects, more due to lack of funds than a desire to create recycled art, but the overall aesthetic allowed for them to do whatever they wanted in their own style. The new space had an open-door mentality – anyone could come in any time to work on creative endeavors.
On a personal level, the process of collaborating in a somewhat "hive mind" collective both helped Montoya broaden her style and expand her own creative boundaries. "Being inspired by and even reacting against what my friends were making really pushed me to hone my personal aesthetic," she said. Montoya became the graphic design/web person for Meow Wolf, and her deeper involvement in the collective allowed her to let go of the notion that she'd need an art degree – she was already doing the things that school would have trained her for.
Meow Wolf soon expanded its ambitions, doing numerous installations of ever greater size and scope in Santa Fe and beyond. However, in 2013, a planned installation in a Chicago warehouse fell through due to a loss of financial backing, but many themes and ideas remained. In 2014, the group began to float ideas for a permanent installation in Santa Fe, which would center around a house at the moment of space/time collapse, along with numerous concepts from the thwarted Chicago show. A long-abandoned bowling alley caught their eye and they began mapping out a blueprint, going so far as to meet with a real estate agent. The key opening came when Meow Wolf member Vince Kadlubek approached local author George R.R. Martin (he of "Game of Thrones" fame) about their ideas. Martin was excited, but wanted to see them bring in other investors and develop a more solid business plan.
That fall, they participated in an art-business incubator, which paired them with mentors and taught them how to create a good pitch for investors. The group received a $25,000 loan after winning the prize for the best pitch, which became the catalyst for Martin. In January 2015, he bought and renovated the bowling alley at a cost of about $3 million. With this go-ahead, the collective worked with an architect to design the 20,000 sq. ft installation. More than 100 artists, mostly from the Santa Fe/Albuquerque/ Taos area, became involved with the project, which was completed through additional funds provided by Martin and other donors.
The new Meow Wolf complex, with the House of Eternal Return as its centerpiece, opened March 17, and the results are mind-blowingly impressive.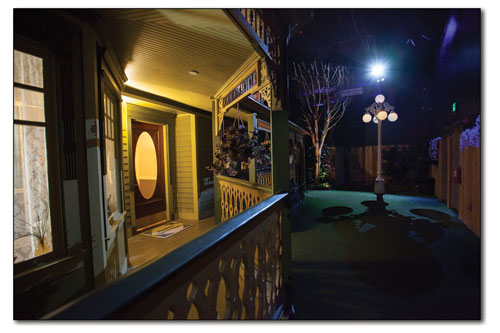 The eternally creepy "House of Eternal Return."/Courtesy photo
The installation consists of two main parts. The front is occupied by the titular custom-built two-story house, apparently occupied, but possibly abandoned, by a family whose photos and personal belongings lay in-situ. Mysterious clues abound, and strange aberrations appear regularly – all with remarkable attention to the smallest detail. Behind the house is a vast psychedelic feast of weirdness, like a dreamland Chuck E. Cheese gone awry, or Black Bart's Hideout (from Denver's Casa Bonita) as if designed by an omnipotent demigod. Technicolor forests, a fossilized mammoth, a vintage arcade, a foggy room with a laser harp – these and much more can be discovered in the labyrinthine space. Anchoring the back is a music venue, which has already hosted such indie acts as Coco Rosie, with more to come. The entire installation is quite kid friendly – encouraging exploration, touch and interaction. One could spend hours wandering through and not see everything ... words do little justice.
For a collective that began using mostly found materials, it was a dream come true to realize their ideas using a large pool of money to hire professional artisans, fabricators and builders. To give an example, Montoya and artist Benji Geary collaborated on "Portals Bermuda," a malfunctioning interdimensional travel agency based in a gleaming white, neon-lit octagonal room, accessed through the house's refrigerator. They worked with plastic fabricators to create the shiny white walls, but in the process learned the complexities and limitations of a medium few have given much thought to. Indeed, the entire installation is filled with complicated process stories, and it couldn't have been done without the "hive mind," the support of the local community, and the will and passion of the artists themselves.
Now that Meow Wolf is an "official" part of the Santa Fe scene, it will be interesting to see how it influences local culture. Montoya has already heard amazing feedback from locals, saying how the art complex makes them proud to be from Santa Fe. "It's been a huge motivating factor ... We want to show the world an aspect and possibility of our town," she said. "We don't want to erase our history and traditions as Santa Feans, we just want to expand the narrative to include the next generation of artists, hopefully compelling more young creative people to stay here."
One final point regarding the future of Meow Wolf: the House of Eternal Return is not their endpoint. The projected loan payoff is a remarkably short 10 years, and they will continue to do various community outreach programs with schools and other local artists. More installations and art projects will be in the works soon enough ... which is good news, indeed. n
Meow Wolf is open 10 a.m. – 8 p.m. Wed. – Mon., at 1352 Rufina Circle, Santa Fe. For info, go to meowwolf.com.