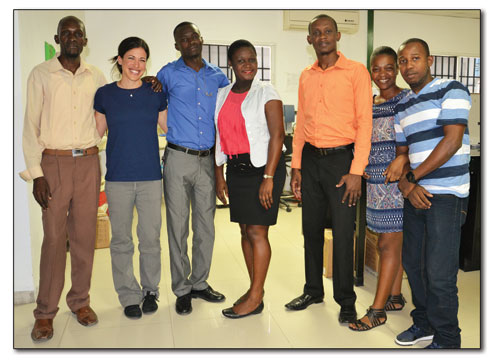 Durango resident Nichole Baker, second from left, stands with lab techs and her translator during a recent trip to Haiti. A pathologists' assistant, she went there expecting to train them on equipment to diagnose disease, but what she found was a major struggle just navigating day to day life in the impoverished nation. "I expected to spend most of my time teaching science," laughs Baker. "It was definitely more teaching adaptations to having lack of infrastructure there. I spent a lot of time writing manuals about what to do if the power fails."/ Courtesy photo
Pathology in paradise
Local medical professional recounts harrowing trip to Haiti
by Joy Martin
When Christopher Columbus stumbled onto the balmy shores of Hispaniola in the turquoise waters of the Caribbean, he thought he'd landed in Asia or India. Triumphant, he raised the Spanish flag and thus began a tumultuous saga of colonization, disease, slavery, deforestation and government angst for an island ultimately split in two: the Dominican Republic to the east and Haiti, three-eighths of the west.
While the Dominican Republic became a classic cruise and vacation destination, Haiti currently claims the title of poorest country in the western world – and one of the poorest on the planet.
When Durangoan Nichole Baker flew to Cap-Haitien, Haiti (near the same site Columbus ran the Santa Maria aground in 1492) this spring, she pictured volunteering her time and talents with a developing nation of eager doctors and needy patients. She'd packed an 80-pound suitcase full of medical supplies, books for downtime and her iconic smile full of hope and bright promise.
What she encountered instead were two weeks of practice in expectation management and about a thousand mosquito bites. Okay, more like 50.
"I couldn't keep them away," bemoaned Baker. "They're little but mighty."
The 30-year-old pathologists' assistant first heard about the volunteer position with Equal House International (EHI) while reading a cytology journal one blustery day in March. She's worked at Mercy Regional Medical Center since early 2014 and was looking for a bit of adventure. So she applied.
"You don't want to go somewhere to take up a country's resources just to make yourself feel better," says Baker. "So I was looking for an opportunity where I could actually help people."
The job, as she understood, was to train laboratory personnel to perform pathological dissections and basic histology tests using equipment brought from the U.S.
(I know, so many big words. Cytology is the study of cells; histology is the study of tissues; and pathology is the science of diseases. For this story's purposes, that's all you need to know for now.)
The goal of the program is to enable local techs to properly diagnose cancers and other diseases so patients don't have to commute to Port-au-Prince (the capital, a six-hour drive away on a good day).
"It's basically just a fancy, slide-scanning, remote pathology lab," says the semi-pro mountain biker and part-time model.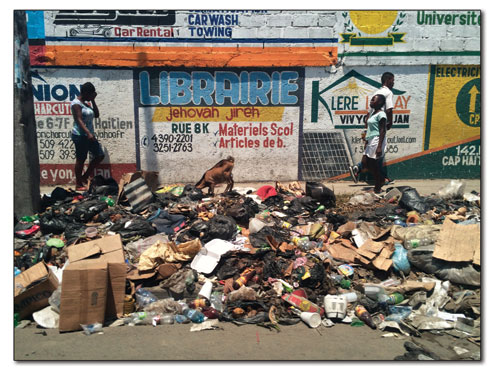 A typical street scene in Haiti, which was ravaged by earthquakes in 2010. "There was a lot of damage still," says Baker of post-earthquake conditions. "But what I noticed the most is that there's no waste collection. It's all on the streets. Anywhere you walk, there's garbage up to your ankles."/ Courtesy photo
In early April, the director of EHI contacted Baker, saying the equipment should arrive three weeks before she did. And so in May, Baker set off for the Pearl of the Antilles, her first ever Third-World experience.
"When I arrived in Cap-Haitien, the teeny-tiny lab room was completely full of outdated medical equipment and garbage," says Baker. "No running water. Broken windows. No air conditioning." (Temps must be regulated in order for paraffin wax to set; if it's too hot or humid, you can't make slides).
Besides the dysfunctional workspace, the equipment hadn't arrived yet, apparently hung up in customs. So while she waited, Baker cleaned out the room and hired people to fix the windows, install air conditioning and a water heater, and fix the water. She also taught basic histology to med techs using Google translator.
"The whole country speaks Haitian Creole," says Baker. "School is expensive, so only one person from each family is sent at a time, and all schooling is in French."
If a Haitian speaks conversational English, says Baker, they can be hired as a professional translator.
But her translator couldn't grasp a lick of Baker's English and would just say "okay, I understand" to avoid losing his job.
"I wasted so much time just tracking down a garbage can," says Baker. "I started asking him to repeat what I said back to me. But in Haiti, there's not a lot of respect for women, so he felt like I was being emasculating."
While she was busy navigating chauvinism and a language barrier, a torrential storm blew ashore, killing half a dozen people.
"The roads aren't that great to start with," says Baker, who had a driver during her stay. "So when the rains came, there was immediate flash flooding. At points, we were driving through waist-high water and got in a collision after falling into a pothole."
Baker realized this is how a lot of people get infections. "People die because of the rain," says Baker. "Most Haitians travel by scooters or tap-taps. If you tip over on your scooter and have an injury, you've got this nasty water contaminated with garbage and whatever else. And there's no access to antibiotics or clean water.*"
(*After the 2010 earthquake that killed nearly 160,000 people, the U.N. arrived for a relief project. Its port-a-potties contaminated a tributary of the Artibonite River, which is thought to have started a nationwide outbreak of cholera, says Baker.)
While the bad weather came and went, the political upheaval that sets the tone for Haiti raged on – just in time for the equipment arrival.
"The people overthrew their president awhile back," explains Baker. "And the interim president isn't respected by the population, so there's a lot of tension. The day the equipment arrived, the president tried to leave his house, which caused huge rioting. The streets were blocked by people and armed officers and craziness."
While her driver was waiting to get gas, Baker watched a guy "get clocked in the head with a rifle" by an armed gas station attendant for trying to flee without paying.
"It didn't even phase my driver," says Baker. "She just drove to another gas station."
In the midst of all of this, all medical residents across the country went on strike.
Besides getting paid less than $100 a month, Haitian doctors also don't have internet access or reliable power, considering the country runs on public electricity that only turns on at 9 p.m. During surgery, if the power cuts out, patients die from lack of oxygen.
"It's not uncommon for residents to operate under an iphone light when the power is lost in the middle of a surgery," says Baker.
The EHI lab equipment, which requires continuous power, was supposed to be calibrated by two engineers who had left the country early, fed up with the waiting.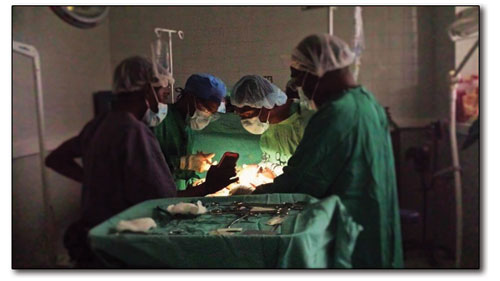 It's not uncommom for doctors and nurses to work under the glow of an iphone during surgery when the power goes out - as if oten does - in Haiti./Courtesy photo
"The night the reps left, I almost had a breakdown," says Baker. "It was raining. I returned to the house I was staying at and took a shower, which is really cold rain-collection water. I got out and was stumbling around the room, in the dark, covered in mosquitoes, trying to find the DEET and just started sweating again. By the time I'd covered myself in bug spray, I was exhausted. I should've just skipped the shower. I guess they left because they weren't there to experience Haiti."
With the help of manuals, Baker got the equipment set up and was finally able to demonstrate to the techs how to use it properly and make slides.
So in her two weeks of volunteer work, Baker was happy to celebrate this small success – something not everyone can say after a stint in Haiti.
"I talked to a podiatrist down there," says Baker. "He and his wife were leaving after only three days. He said, 'We can't do it. We've got people coming to us with gunshot wounds, or they've got some huge abscess on their butt. I'm a podiatrist. But they don't care who takes care of it. They just need help.'"
Although organizations beg people to come, promising help, conditions are just plain dangerous. "There's no proper way to sterilize, so doctors sometimes feel they are doing more damage than good," she says.
Baker says before going she was told, when doing Third-World work, not to expect accomplishing everything you set out to do. "I expected this to be a result of running out of time – not, 'oh, there's a flood ... or corrupt customs officials ... or political riots' – all happening concurrently with a nationwide medical strike. Could there be any other barriers?"
And to do it alone? For a first trip? "I would recommend going with one other human who speaks your language," she advises.
Overall, though, she says the experience was positive. "I loved connecting with the people," says Baker. "But … after being there, I realized they don't have the infrastructure for cancer diagnostics. These people need toilets. They need food."
But mostly it gave her an appreciation for exhaustion and the amount of time and energy needed to get things done in that tiny part of the world. "I was exhausted. I'd brought all these books thinking, 'I'm gonna learn to meditate.' But anytime I tried to meditate, I'd just fall asleep."
That's probably how Columbus felt upon landing on this idyllic island in the Caribbean: paradise found. Sort of.