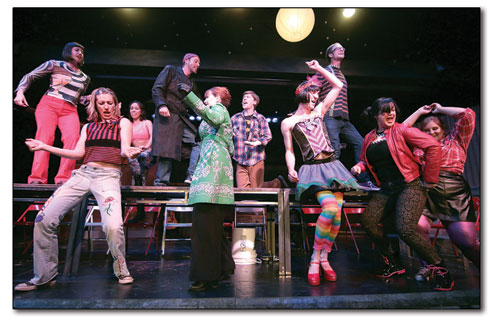 Last year's Durango Arts Center production of "Rent" was a big winner in BroadwayWorld's peoples choice awards, including Dave Mensch for Best Actor; Scotty Howard (rainbow tights) as Best Supporting Actor; Suzy DiSanto for Best Choreography; and Eric Bulrice for Best Set Design. Merely Players was also recognized for "Much Ado About Nothing" and "Mary Poppins."/ Photo by Jennaye Derge.

Hitting it big
Local talent lands a dozen awards from BroadwayWorld
by Stew Mosberg
When it comes to amenities, from restaurants to recreation, Durango enjoys an embarrassment of riches. And now, there's one more thing to add to the list: theatrical accolades.
BroadwayWorld, a national online magazine devoted to theatrical arts, recently bestowed upon local cast and crew members an impressive 12 regional awards for the 2015 season.
The Durango Arts Center's stellar production of "Rent" garnered four major awards in the musical category: Dave Mensch for Best Actor; Scotty Howard as Best Supporting Actor; Suzy DiSanto for Best Choreography; and Eric Bulrice for Best Set Design. Sarah Syverson's original play "Growing" also was duly noted, with the local comedienne and writer taking home Best Actress and Best Dramatic Play honors. Merely Players' production of "Much Ado About Nothing" collected Best Set Design for co-founder Charles Ford and was given the nod for Best Shakespearean Play. However, the honors didn't stop there – their delightful rendition of "Mary Poppins" was also recognized for Best Supporting Actress in a Musical going to Mandy Gardner and Best Costume Design to JoAnn Nevils.
Additionally, Durango Lively Arts Co. was also lauded for "Play On!" as Best Comedic Play, and Best Costume Design went to Gail Beach.
For the past 12 years, BroadwayWorld.com has honored productions and performers throughout the United States with its annual awards based on popular votes. Boasting the largest theatre database on the internet, BroadwayWorld includes a spectrum of theaters in more than 150 cities. Hundreds of thousands of theatergoers and fans weigh in each year, making it the largest and most popular online fan polling site of its kind.
With Durango being home to a handful of remarkable theater groups, it may come as no surprise that the awards recognized our abundance of talent. What is most extraordinary was the sheer number of awards bestowed. But for those involved in the local theatre community, it is only the tip of the iceberg of talent.
"These (awards) always generate mixed feelings, because so many deserving people from our season weren't nominated," Merely Players co-founder Mona Wood-Patterson commented. "On the other hand, all of those who were nominated, and who won, are certainly deserving, and we appreciate the exposure that the award brought both to them and to our company. We are grateful to all of our kind fans who voted for us."
Wood-Patterson also credited the cohesiveness and cooperation among the different companies and productions for fostering a stronger overall scene. "A strength in this theatrical community is that we choose to support one another, rather than compete with one another, so it was great to see representation across the board to keep our little town on the Colorado theatre map."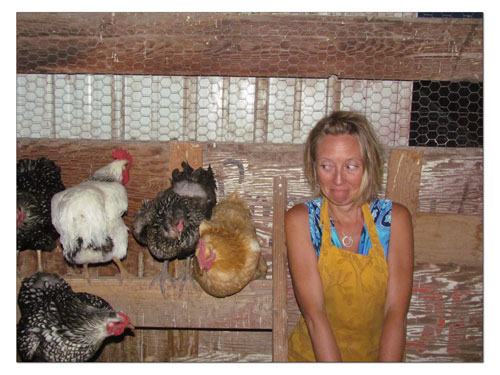 Local writer and actress Sarah Syverson won Best Actress and Best Dramatic Play honors for her second full-length play, "Growing."/ Courtesy photo
Syverson has been involved in the Durango theater community for more than 12 years, and "Growing" is the second full-length play she has written and performed in. Additionally, she co-wrote a historical musical satire with the Strater Hotel's Rod Barker. The playwright/actress spent her formative years in Montana, where she developed her thirst for theater. "It was magical for me," she recalled. "I loved the smell of the old theater, the lights, the sets, and how I could transform into an entirely new person with each performance."
Reacting to his Best Supporting Actor award for his role as Angel, a transvestite with AIDS, in "Rent," Howard said this is the first time he's ever won such an award. "It felt great to be nominated and then recognized as the winner," he said. "The show was a blessing and the response from the town was immensely positive. Everyone felt that it was a special show, so I feel it deserves the spotlight, as do the others who were nominated and won."
The award-winners also acknowledged the role of the community, which is a strong supporter of the arts. "I think it was Durango pride that got us so many wins, and I love that!" supporting actress Gardner, who played Winifred Banks in "Mary Poppins," said. "I love how much the Durango community cares about the arts!"
DiSanto, who won for her choreography in "Rent," agreed. "I realize that it is based on a popular vote, but that only showed me how supportive the town is, and I felt really appreciated by this community," she said. "I think we have an amazing theater town, very supportive and very open."
Although he is best known as a singer/songwriter, Mensch had minimal acting experience when he hesitantly accepted his lead role in "Rent."
"I hadn't done any acting since I was a teen-ager and was just happy to be a part of such an amazing show, cast and crew," he said. For him, winning was just the icing on the cake. "Being a part of the 'Rent' production was already a life-changing event," he said. "It opened my eyes to even more beauty that the curves and challenges of life have to offer."
Syverson may very well speak for all the winners when she recently reflected on the benefits of being part of the local theater scene. "It is a way to see our humanity, to have a sense of collective humor about our challenges and some kind of light to help us find our way; whatever that light is for each of us and collectively for all of us," she said. "That, to me, is the greatest use of my time here."
If the BroadwayWorld fans' acknowledgments, accolades and high praise are any indication, it appears Durango's theater lights will remain on and the curtains will continue to rise for years to come. Applause, please!