---
3 Springsapalooza, MazzFest & best of Bluegrass
by Chris Aaland
We came. We saw. And the high-altitude heat kicked our asses. The 43rd annual Telluride Bluegrass Festival rolled through Town Park last week with nary a raindrop. Beer flowed. Water flowed. And the nonstop music flowed. On the drive home from my 20th straight Telluride, I bid spring goodbye.
Now we can settle into summer in our humble little burg. Traffic, tourists and wildfires be damned. Summer means tubing, firing up the barbecue and mixing fruity cocktails on my deck. In a few weeks, I'll even be able to string up my fly rod and head to the creeks. And the patios and outdoor stages are filled with song.
Three Springs and Mercy Medical Center celebrate their 10th anniversary Saturday with a festival from 1-7 p.m. Matt Hires headlines the affair, with local acts the Afrobeatniks and Carute Roma appearing earlier. Hires is a pop-rock singer-songwriter who scored a hit in 2010 with "Honey, Let Me Sing You a Song," which was featured in the 2010 movie, "When in Rome." He's toured extensively since 2008, opening for such acts as Matchbox Twenty, the Goo Goo Dolls and Paolo Nutini. Let KSUT fill your cup with handcrafted ales from BREW Pub & Kitchen, cocktails from Durango Craft Spirits and Guy Drew wines. There will also be family activities and food. Children 10 & under get in free and kids born at the new Mercy from 2006-16 will get a free gift and a chance to shine onstage during Carute Roma's "Hokey Pokey."
Tonight's (Thurs., June 23) free Concert in the Park features the After Midnight Jazz Band in Buckley Park from 5:30-7:30. The Denver-area group plays refreshing, infectious and hard-driving swing in the spirit of Benny Goodman. The sextet, organized in 1997 by award-winning clarinetist Roger Campbell, incorporates music from Artie Shaw, Lionel Hampton, Nat King Cole, Frank Sinatra and Tony Bennett. Food will be available for purchase and picnics are encouraged.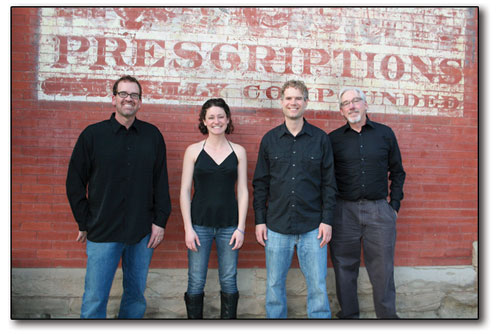 Lawn Chair Kings (and Queen) play the Balcony this Friday./Photo by Khara Wolf
3rd Ave. Arts presents The Best Brass of Summer at 7 p.m. Saturday at St. Mark's Episcopal Church. Eleven brass players come from as far away as Denver, Albuquerque and Santa Fe to join local musicians from Durango and Farmington.
Ska Brewing hosts MazzFest from 3-8 p.m. Saturday, benefiting 13-year-old Mazzy Fortier, who has been diagnosed with stage 4 kidney failure and is on dialysis until she can accept a transplant. A host of local musicians will perform, including the Cannondolls, the Outskirts, Dave Mensch and the Mountain Top Pocket Pickers. There will also be a silent auction.
The Lawn Chair Kings always seem to bring a torrential downpour when they play the Balcony. This Friday, probably not. The weather report calls for a high of 91 and just a 20 percent chance of rain. In other words, expect the lines to be long to get a cold beer. Perfect for the new lineup, which features Alissa Wolf's fiddle complimenting the Nord, Dan and Pat.
The Mancos Valley Distillery presents The Lindells and Otis Davis at 8 p.m. Saturday. The Lindells are no strangers to Four Corners audiences. They play a self-described "deep-rooted, organic, intoxicating, panoramic, indie folk-rock," which seems a pretty accurate description. Otis Davis is the duo of guitarist Larry Otis and songwriter Stan Davis. The former brings a blues and R&B edge to their music and has toured with Ike & Tina Turner while doing studio work for Commander Cody, Sly & the Family Stone and Bobby Womack. The latter is steeped in country and gospel in the vein of Guy Clark and Townes Van Zandt.
Season ticket renewals for the San Juan Symphony began this past Monday, and seat upgrades are available. The public won't be able to buy individual tickets until July 25, giving season ticket holders a four-week window to renew. This year's season will be the first under new music director Thomas Heuser. To buy, call the Concert Hall ticket office at 247-7657 or at the Durango Welcome Center at 8th and Main.
If you're heading to Telluride, the free Wednesday shows in Mountain Village have kicked off. June 29 features bluesman Albert Cummings, who has seven albums to his credit and has played alongside B.B. King, Buddy Guy and Johnny Winter. Shows start at 6 p.m. and food and beverages are available from adjacent businesses. Upcoming acts include Pimps of Joytime, Split Lip Rayfield and the Samples. It's mid-week, but a great time up in the village.
In drinking news, BREW Pub & Kitchen hosts a summer beer dinner at 6:30 p.m. Sunday. $60 gets you six courses, each paired with a summer brew. Reservations are required and seating is limited. New offerings at the closest pub to the train includes Scarlett, a German-style amber weiss; Echo, an American pale ale; and the return of Keller, a Bohemian-style pilsner.
Finally, the Kirk James Blues Band plays James Ranch's Burgers & a Band at 5 p.m. tonight and at Vallecito's Hideaway Grill at 6 p.m. Saturday.
This week's Top Shelf recalls highlights and surprises from last weekend's Telluride Bluegrass Festival:
1. Pokey LaFarge's retro rockabilly/swing/jump blues/country revival on Sunday afternoon.
2. The always-stunning set by David Rawlings & Gillian Welch, this year in the form of the Dave Rawlings Machine.
3. The Del McCoury Band. No 77-year-old commands a crowd of 10,000 like Del.
4. The Infamous Stringdusters & Nicki Bluhm channeling Grace Slick on "Somebody to Love."
5. Neil Finn's spirited tweener set paying homage to David Bowie with "Kooks" and "Starman."
6. Sierra Hull following suit two days later with "1999" and "Purple Rain" in honor of Prince.
7. The aforementioned 'Dusters making Ryan Adams seem downright cordial when they backed him for a folksy set.
8. The Oh Hellos – where the hell did they get that energy?
9. The Lil' Smokies and Balsam Range. Traditional bluegrass bands on the rise.
10. De Temps Antan. Who knew traditional music from Quebec could be so downright sexy?
Heading for the local dive? Email me at chrisa@gobrainstorm.net.