---
New normals and old traditions
by Chris Aaland
My emotions ranged from shock to grief to anger when I first heard the news of the mass shooting that left 49 innocent people dead at Orlando's Pulse nightclub. The reaction was similar to my feelings after the Paris terrorist attack at the Bataclan Theatre during an Eagles of Death Metal concert last November and the July 2012 mass shooting at the Century 16 movie theatre in Aurora. In each case, more than a dozen people were senselessly murdered while they were simply having fun.
The rhetoric that followed in each case was equally frustrating. In the Orlando attack, we may never know whether this was a terrorist inspired by ISIS, a hate crime against the LGBT community, the act of a psychotic gunman battling his internal demons over his own conflicted views about sexuality and religion, or a combination of the three.
Like any parent, when I pack up my two small children for a vacation, safety is a concern. One of us always has to be with 2-year-old Rosie because, well, she's 2. She has no fear. If she can climb it, she will, no matter how high it is. If she can wade out into it, she will. If she can put it in her mouth, she will. That's what toddlers do, consequences be damned.
As someone who dabbles in live music production, I know that planning includes the safety of the masses. Whenever concerts or festivals are organized, the safety of the attendees is a concern. EMTs and police must be booked. Exit plans must be considered. Weather contingencies made.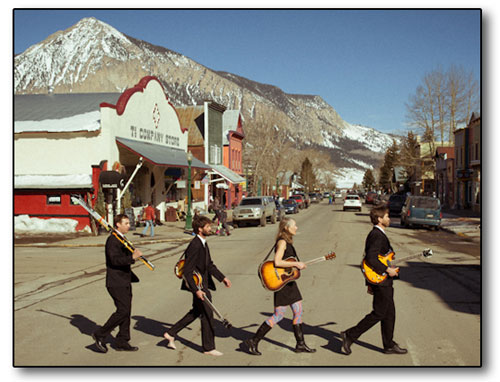 Crested Butte Beatles cover band, Dr. Robert, plays Buckley Park tonight, June 16.
I shouldn't have to worry as a festivarian about the easiest escape route if shots ring out. I also shouldn't have to worry after I drop my kids off at school. But, sadly, in this day and age, it's in the back of my mind. Maybe I'm hyper-paranoid because I've already buried one child. But I realize bad people do bad things, and usually choose the path of least resistance.
So I'll pack up the clan for our annual trek to Town Park for the 43rd annual Telluride Bluegrass Festival. For the record, it's my 20th straight Bluegrass. I'll sit on the tarp and drink New Belgium in the 85-degree heat at 8,750 feet above sea level and listen to Sam Bush, Tim O'Brien and Jerry Douglas work their magic. I'll revel that the mix of people in the crowd of 10,000 includes a diverse group of races, religions, genders, sexual orientations and political beliefs. I'll dance. I'll sing. I may even paint my toenails. But I'll be tired and sore from chasing Rosie and Otto all over the festival grounds, one distrusting eye always on the lookout for trouble. And that makes me sad.
For the next seven weeks, the Community Concert Hall and Alpine Bank present the free Concerts in the Park series from 5:30-7:30 p.m. Thursdays in Buckley Park. The series kicks off tonight (June 16) with Dr. Robert, a Beatles cover band. Based out of Crested Butte, they tackle more than 100 of the Fab Four's classic songs, ranging from the early pop of "Please Please Me" to the sophisticated, latter material from "Abbey Road." The four members – Casey Falter (guitar, vocals), Ben Wright (drums), Karen Janssen (vocals, percussion, guitar, mandolin, piano, bass) and Kevin Reinert (bass, guitar, vocals) – are schooled in such eclectic styles as jazz, bluegrass, funk and classical. Future Concerts in the Park will delve into jazz, outlaw country, world music, rock, R&B and more. As always, concertgoers are asked to bring their own chairs or blankets. Food will be available for purchase, and picnics are encouraged.
This week's Top Shelf list includes 10 things I'm looking forward to at Telluride Bluegrass:
1. Pokey LaFarge brings early jazz, country blues, western swing and ragtime to the stage on Sunday afternoon. I've fallen in love with his music the past five years.
2. De Temps Antan. I know little of the trio that plays traditional Quebec music. In fact, I know even less about what tradition Quebec music even is.
3. John Prine. In a year when we're losing music legends on a seemingly monthly basis, and given Prine's past bouts with cancer, you never know how many more chances you'll get to hear the 69-year-old "Singing Mailman" deliver.
4. Ryan Adams. His past year includes a cover of Taylor Swift's 2014 album "1989" and a deluxe reissue of his 2000 solo debut "Heartbreaker." Later this summer, he's rumored to be doing shows with the Infamous Stringdusters and Nicki Bluhm. The possibilities for Saturday evening's set in Telluride are endless.
5. Del McCoury Band. The 77-year-old has become one of bluegrass music's most beloved elder statesmen. His latest project, "Del and Woody," pits Woody Guthrie lyrics to original music by Del … much like Billy Bragg & Wilco did back in '98 with "Mermaid Avenue."
6. The original Béla Fleck & the Flecktones. I've seen the Flecktones numerous times, but never with original harmonica/keyboard player Howard Levy. Their three albums together – the eponymous release, "Flight of the Cosmic Hippo" and "UFO Tofu" – set the tone for blending funk, jazz and R&B with Fleck's avant-garde banjo stylings.
7. The Lil' Smokies. Last year's band contest winners are among the fastest-rising young acts in bluegrass. The Montanans just won over the crowd at Pagosa Folk'n Bluegrass with their blistering set; let's see what they do in front of 10,000 festivarians Saturday morning.
8. The Dave Rawlings Machine – primarily Dave Rawlings and his musical partner, Gillian Welch, they have done more for American roots music than any couple since Gram and Emmylou (the latter of which will also be in Town Park).
9. Sara Watkins. The occasional fiddling singer of Nickel Creek stretches into rock territory on her third solo album and kicks off Friday morning's fare.
10. Father's Day Brunch. The Spencer/Aaland tarp pulls out all the stops. 2016's theme is Asian fusion, giving me cause to break out my pheasant green chile egg rolls.
But fortunately I have the key to escape reality? Email me at chrisa@gobrainstorm.net.