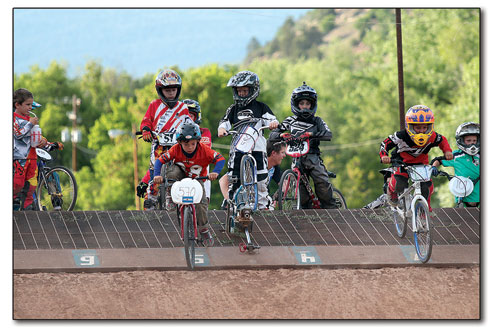 Riders come out of the gate during Friday night races recently. From little ones on strider bikes to adults, all ages and skill levels are welcome to join Durango BMX events. There's even a loaner bike program for those without equipment./Photo by Jennaye Derge
Ramp it up
City, community work together to give BMX program a boost
by Tracy Chamberlin
His son had never been on a bicycle before, let alone raced around a BMX track. But during a summer trip to Durango, Mark Anderson signed the eight-year-old up for camp with
Durango BMX anyway.
Keeping track
What: Olympic Day, hosted by Durango BMX
When: 6:30 p.m. Fri., June 17
Where: BMX track at Cundiff Park
For info.: BMX 101 Clinic, 3-5 p.m.; registration and practice 5-6 p.m.; racing begins, 6:30 p.m.

There are lots of little things to know before jumping on a BMX bike, like wearing long pants, long sleeves and a helmet. To find out more about getting started, contact Jordan Rupe at 749-7969; check out DurangoBMX.com or Facebook.com/DurangoBMX; or email: DurangoBMX@gmail.com.
After spending a month with the coach and other riders, his son told his father what he'd learned. "It's about sportsmanship, not just winning," he said.
That was all it took.
Anderson and his family moved from Florida to Durango for good and, after just one year, his son has taken home first place titles here, in Cortez, Denver and Albuquerque. The person he credits most is Durango BMX's coach Jordan Rupe.
"He's the most humble guy I've ever met," Anderson said. "We are very lucky to have him."
Rupe, who's also the track operator and a former state BMX champ and Fort Lewis College BMX coach, has racing in his blood. Both his parents raced, and his father, Rob, is in the USA BMX Hall of Fame.
"Cycling was very much a part of my life," he said.
In his role as program coordinator, Rupe hopes to not just bring BMX back to life in Durango, but to set it up for permanent success.
It's a road his riders, their families and the community think he's already on.
Finding new life
Just past 4 Corners River Sports on South Camino del Rio, sits an unassuming wooden sign. It reads "Durango BMX." Turn onto the gravel road and follow it down the hill around the back of the mall to see the parking area, track, bleachers and concession stand that now make up the revitalized BMX program.
Since the track was first built 14 years ago by a group of volunteers, Durango's participation in the sport has waxed and waned. Some years it thrived. In others, it was a struggle just to maintain the track, which sits on city-owned land as a part of Cundiff Park.
Because of the ups and downs, the local BMX community approached the city about three years ago to suggest the Parks and Recreation department take the lead. The city agreed, and the first summer camps and races were held last year under the Parks and Rec flag with Rupe at the helm.
Since then, participation in both the day camps and Friday night races has doubled, even tripled in some cases. The program, though, might be growing faster than the facilities can handle.
Rupe said the track alone takes a lot of effort to maintain. The jumps, hills and other structures aren't permanent, and since the track is exposed to the public, it sometimes gets damaged.
According to Parks and Recreation Director Cathy Metz, there's no plan to upgrade the track or facilities. The city is, however, looking at improvements to Cundiff Park as a whole, and the BMX track is a part of that.
If the city can't make it happen this year, it will look at including it in next year's budget, she said.
The city isn't the only entity backing up BMX. The program also has community support in the form of BMX of Durango, a nonprofit that grew out of the local group that kept the track going in the beginning.
Gregg Dubit, who serves as the nonprofit's board president, likened it to a booster club, helping with things like a loaner bike program, scholarships and community outreach.
Dubit's son has been involved with BMX for about 12 years, and Dubit has seen his share of programs in that time. "I think we're on the path to have a really exceptional program," he said.
Come one, come all
Although Durango BMX is sanctioned by USA BMX, participants don't have to be USA BMX members to give it a try.
"It really is a family sport," Rupe said. "Anyone can grab a bike and get out there."
In order to help everyone take a turn on two wheels, the nonprofit put together a loaner bike program. There are a couple bikes in various sizes available, as well as helmets. Anyone from 3 years old and up can give it a try free of charge.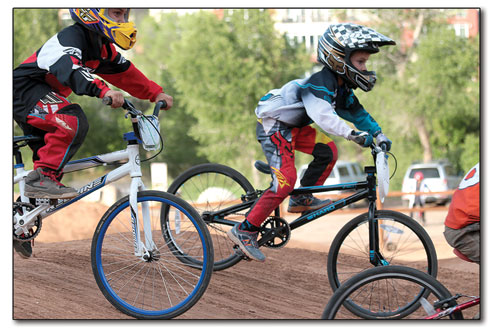 In less than a month, Durango BMX plays host to a round of state competition. Riders from all over Colorado will descend on Durango for the Gold Cup qualifier, starting at 10 a.m. Sun., July 10./Photo by Jennaye Derge
If the rider gets bitten by the BMX bug, there's always opportunities to get more involved with events in Durango, Cortez, statewide, nationwide or internationally.
Dubit has participated in the "Dads" class, which is affectionately referred to as the "mid-life crisis" class. "Anyone of any age who has considered it – come on down," he added.
Every week, Durango BMX hosts Friday night races. Dubit described it as a celebration of the sport.
The format of the races are set up on a point system that allows everyone to race in every round. The riders accumulate points with each round and each finishing position, so it remains competitive while at the same time keeping it inclusive and fun.
That's the thing about the program and the sport, it's whatever the rider wants it to be – a fun Friday night activity for the family or a highly competitive sport.
Shayla Blackmore, who helps Rupe out with the day camps, has been all over the world competing in BMX events, traveling to countries like Columbia, Holland and New Zealand. Currently, she rides for a top team in the sport, Factory Haro-Promax. "It's amazing and an honor to be on the team," she said.
The Durango High senior won her first national honor when she just 13. Now 17, she hopes to turn pro later this year after recovering from some recent injuries. Four years from now, though, she'd like to compete on the Olympic stage. BMX has been a part of the Summer Games for more than a decade.
For Blackmore, though, it's even more than an Olympic dream.
"You're so focused on this, you don't really think about the craziness going on in the world," she said. "If it wasn't for BMX, I don't know where I'd be."