---
The Greatest, bayou Americana and Brew Train

by Chris Aaland
Sitting back in camp at Pagosa Folk'n Bluegrass last Friday night, my buddies and I were ready to roll. The main stage had long shut down, the auction booth I'd been running was all locked up, and beers were starting to flow. I checked my phone for baseball and hockey scores, and saw the news that Muhammad Ali had died. Old men openly cried.
I'm old enough to remember hearing radio broadcasts of some of Ali's fights in the 1970s. At the time, he was a polarizing figure. Flag wavers knocked him as a draft dodger, apparently unable to grasp the difference between draft dodging and conscientious objection. Others mocked his conversion to Islam and his corresponding name change.
To me, Ali was The Greatest. At the time, he was an icon, dwarfing the likes of Dr. J., Pete Rose and O.J. Simpson. One could argue that in the '80s and '90s Michael Jordan eclipsed his star … But Air Jordan never made a stand. Ali's stance against civil injustice and war – whether you agreed with him or not – was from the heart. He sacrificed three years of his prime to stand up for his beliefs.
Ali's grace will be missed as much as his bravado. Rest in peace, Champ.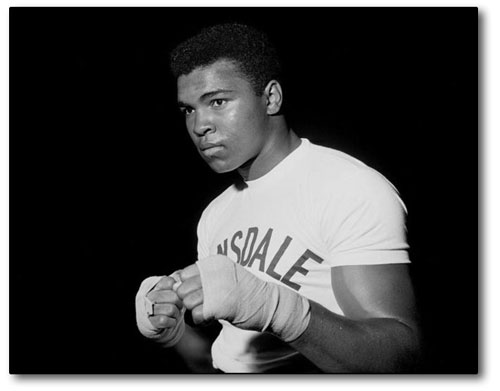 The 11th annual Dolores River Festival takes place Saturday at Joe Rowell Park. Eleven bands will perform on two stages, including headliners, Honey Island Swamp Band from New Orleans. These self-proclaimed musical vagabonds play bayou Americana … think The Band's "Big Pink" album with a splash of musical hot sauce of Little Feat's "Willin'" and you're on the right track. Their new record, "Demolition Day," was produced by Luther Dickinson of North Mississippi Allstars and packs plenty stanky punch. Gates open at 10 a.m. and the bill includes such local favorites as SkyPilot, Farmington Hill and Last Nickel. Raft rides, river parade, kid zone, camping, arts, food and drink are also part of the festivities. This one's as affordable as it gets. Advance tickets cost $20 at doloresriverfestival.org or pay $5 more at the gate.
The 13th annual Men Who Grill is back in Buckley Park from 11 a.m. 'til 2:30 p.m. Saturday for all-you-can-eat grilled creations, beer from Steamworks and live music from the Kirk James Blues Band. Grill teams will compete for the coveted People's Choice Award to see whose cuisine reigns supreme. Past creations have included sushi, shrimp skewers, pulled pork sliders, Mexican roasted corn and bourbon meatballs. All proceeds benefit the Women's Resource Center.
All aboard the Durango Brew Train on Sunday! All six local breweries will pour en route from the Durango Depot to Cascade Wye. Upon arriving in Cascade, there will be two hours of fun, including more beer tastings, Bavarian food from Nortons and music from Dustin Burley. Boarding time is 9:30 a.m. and the brew train returns to the Durango Depot at 4:40 p.m. Dessert and coffee will be served on the return trip. Durangotrain.com has tickets and information.
For you winos, there's also Wine and Rails featuring four regional wineries – Sutcliffe from Cortez, Four Leaves from Durango, Garrett Estates from Olathe and 5680 from Paonia – on Saturday. The drill is much the same – tastings en route to the Cascade Wye, a complimentary pour in a souvenir glass, eats from Norton's and tunes from Jeff Solon.
I can hear Vince Herman shouting now … Festivaaaaaal! The 43rd annual Telluride Bluegrass Festival officially kicks off with the free FirstGrass at 5 p.m. Wednesday at Sunset Plaza in Mountain Village.
The acoustic duo Mandolin Orange kicks things off, followed by Balsam Range, former IBMA Entertainers of the Year and Durango Bluegrass Meltdown alumni. And, if you're among the chosen ones, you already have your tickets to Yonder Mountain String Band's sold-out show at the Telluride Conference Center on Wednesday night. If not, hold up one of those "miracle" signs at the front.
Steamworks will close this Saturday after the 2 p.m. lunch seating for the private memorial for fallen Marine Capt. Jeff Kuss. "Capt. Kuss is a fallen hero and a native son," said Steamworks co-founder Kris Oyler. "Typically we would not completely close the restaurant and inconvenience our patrons who make Steamworks a destination, especially on the weekend, but we felt it important to support those who serve and who sacrifice so much for this country." Kuss, 32, was a Blue Angels pilot who died June 2 when his jet crashed during rehearsal for an air show in Tennessee. He was born and raised in Durango and graduated from Durango High and Fort Lewis College.
Moe's madness this week includes Funked Up Fridays with Oblee from 6-9 followed by DJ Icite from 9 'til close. Saturday Live features the Cannondolls from 6-9 and DJ Noonz 9 'til close.
This week's Ska-B-Q is extra jammy with the jazzy funk of SkyPilot. The weekend always starts at day early from 5-8 each Thursday at the World Headquarters in Bodo Park.
The Durango Cowboy Poetry Gathering holds its second annual barn dance and picnic fundraiser featuring the Tim Sullivan Band with special guest cowboy poet Lindy Simmons from 5-8 p.m. Sunday at the River Bend Ranch. You can either bring your own picnic or purchase food at the event.
Tickets went on sale Monday for Ska Brewing's 21st Anniversary and Brewer's Invitational. This time around, legendary ska bands Fishbone and The Toasters will play. The shindig sells out quickly. This year's bash takes place on Sat., Sept. 10.
Elsewhere: Kirk James goes solo at the Kennebec Café from 5:30-7:30 p.m. tonight and at Serious Texas BBQ South from 5-8 p.m. Saturday; Pete Giuliani plays a solo set at the Lake House at Vallecito Lake from 6-10 p.m. Friday; Farmington Hill brings the noise to the Balcony Backstage at 9:30 p.m. Friday; and the Black Velvet duo plays the Animas River Café in the Doubletree from 5-9 p.m. Saturday and the Cyprus Café from 6-9 p.m. Sunday.
No VietCong ever called me a (*bleep!)? Email me at chrisa@gobrainstorm.net.