---
Ear to the ground:
"I thought he said 'go left,' but he said 'certain death.'"
– Dolores River boater discussing mixed signals from a boating companion
---
Angel's wings
While family and friends of Jeff Kuss gather for a memorial Saturday at Steamworks (which will be closed to the public starting at 2 p.m.) plans are under way to ensure his memory lives on.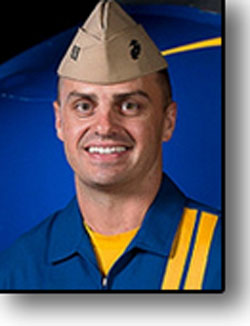 The Jeff Kuss Memorial Scholarship has been set up at Fort Lewis College, Kuss' alma mater. A native of Durango, Kuss – a member of the Navy's Blue Angels – was killed during a training flight June 2 in Tennessee.
The scholarship is available to veterans returning to school as well as children of active military families.
"There is a great need for scholarships for veterans … about 150 students are registered as veterans and about 30 of those are children of veterans," FLC Foundation's Sandy Jameson said. "Most likely there are more out there who don't register but need the assistance."
Criteria for the scholarship is still being worked out with the family, and it is hoped there should be enough money in the funds starting next year, if not sooner.
"We would like to create something permanent to remember Jeff and help those men and women who have, like Jeff, given precious years serving their country," Kuss' uncle, Jeff Byrd, said via email Wednesday.
To donate, go to: apps.fortlewis.edu/makeagift
---
N. Main makeover
North Main will be coming under the microscope as the City of Durango hosts a community visioning workshop at the Rec Center tonight. Property and business owners along North Main are invited to attend starting at 4:30 p.m. with all other interested community members invited to join in starting at 6:15 p.m. The workshop will kick off with a short presentation followed by public comment and discussion.
The workshop is part of the City's "Durango Districts" initiative, a communitywide effort to guide the development and revitalization of Durango's mixed-use and commercial districts.
"Durango has fought hard over the years to stay unique, and the Durango Districts initiative is designed to make sure Durango remains a well-planned, safe and beautiful place," stated City Planning Manager Scott Shine.
Last year, the City and CDOT completed a mobility study for North Main, which recommended improvements to create a "safer and more pleasant experience." The recommendations will be implemented in coming years.
Building on this study, the City is now seeking input on other actions to improve North Main. In addition to the workshop, the City has released a short online survey. To learn more about Durango Districts initiative or take the survey, go to: districts.durangogov.org.
For questions about the workshop, contact Shine at (970) 375-4858 or scott.shine@durangogov.org