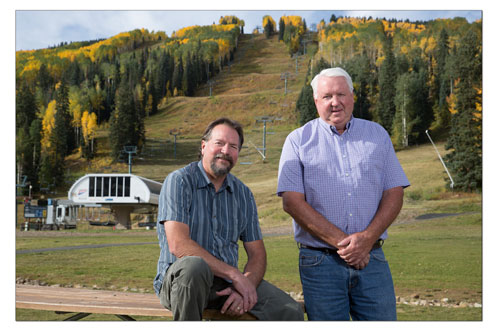 What Jim "Hoody" Hards, right, said he'll miss most about Mike McCormack, left, is the working relationship. After 34 years as friends and colleagues, McCormack was someone he could always turn to. "So many people leaned on him," Hards said. "There's definitely going to be a void."/Photo courtesy Purgatory Resort.
From liftie to legend
After more than three decades at Purgatory, Mike McCormack retires
by Tracy Chamberlin
It was supposed to last just one season, a month or so over the winter of 1982. Then he planned to head off to a school for aircraft mechanics. He wanted to work on planes.
With a background in auto mechanics and a father who was a career pilot with TWA, it made perfect sense for the Miller Middle and Durango High alumnus to become an airplane mechanic.
But before taking off for a career in the clouds, Mike McCormack decided to spend one year as a ski bum at Purgatory.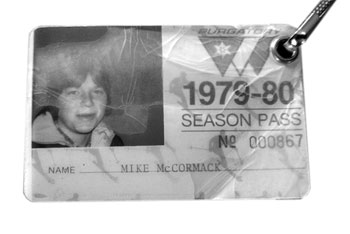 McCormack's first season pass from 1979./Photo courtesy Mike McCormack
It was November, and Jim "Hoody" Hards waited to interview his next applicant for lift operator and ticket checker in a modular building behind the old Eagle's Nest offices at the base area.
Hards had heard good things about the McCormack family, so he wasn't surprised when the oldest of the four siblings arrived on time and well-dressed. But what really sold him was that the teen-ager lived just up the road.
He and his family had been card-carrying pass-holders since they moved into a house off Lime Creek Road in the mid-1970s. McCormack, who also spent time on the ski team, said he could see the slopes of Purgatory from his living room window.
For Hards, it meant his new hire would have no problem getting to work. "I said, 'Bingo,'" he recalled. And, McCormack got the job.
When the winter came to a close, McCormack stayed on to help out with some lift maintenance and trail work. Once he got around those lifts, though, it was over.
He decided to pull the plug on aircraft mechanics school. Instead, he spent the next 34 years on the mountain, moving up through the ranks from liftie to Senior Vice President of Mountain Operations.
"That place has definitely made me the person I am – driven, passionate, respectful and thankful to have put my mark on it," said McCormack, who announced his
retirement earlier this spring.
Brave new world
McCormack's first day at Purgatory was very different from his last. Not just in title, but in every aspect of the
industry.
Only four lifts were running when he started, and the backside was mostly virgin territory. A handshake had more weight than a federal agency's environmental impact statement, and sustainability was just another word in the dictionary. Snowmaking, snowboarding, and mountain biking were all in their infancy, and the skis were straight, skinny and long.
According to friends and coworkers, McCormack not only witnessed the changes, he helped Purgatory flourish in the wake of those changes.
Something his coworkers and friends appreciate most about him is his knowledge and steel-trap memory. From understanding the microclimates to the way the haul rope hugs the bull wheel, McCormack knows the mountain.
After all, he's been in the trenches for most of his tenure.
In those first years, as McCormack moved from liftie to lift mechanic, he worked with many of the people on Purgatory's founding team, including Chet Anderson, the Duncan family, Ruel "Major" Lefebvre, Duane Bottoms, Keith Blackburn and Don "Boudreaux" Miller.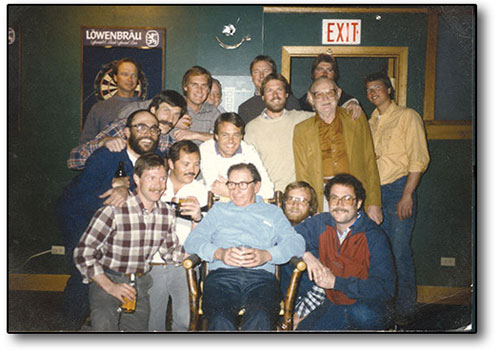 Keith Blackburn, seated center, was the resort's first lift supervisor. Mike McCormack, far right, attended his retirement party in 1985 along with Jim Hards, top row center, and Walter Miller, seated to the right of Blackburn, both colleagues for more than 30 years./Photo courtesy Center of Southwest Studies
He never missed the chance to soak up everything he could from those pioneers, particularly Boudreaux, who not only led the mountain team for decades but helped bring snowmaking to the area. "I took every opportunity to pick his brain and learn from him," McCormack said.
He recalled one season when only 20 inches fell on the slopes and the ski area was open for just 40 days. It wasn't long after that when snowmaking became
essential, not just to Purgatory, but throughout the industry. McCormack, along with Boudreaux and others, developed the ski area's current system.
Today, the resort has a fleet of snowmaking guns and snowcats, water contracts to supply the key ingredient and the infrastructure to get it all where it needs to go.
Hards said his mechanical know-how, incredible grasp of information and ability to remember anything were key to McCormack's success. "He was just smart to talk to," he added.
As the old guard was leaving or retiring in the late 1980s and early 90s, McCormack moved up through the ranks to manager of lift maintenance, then director of lift maintenance and lift operations.
By the 2000s, he was Vice President of Mountain Operations, even doing a stint as General Manager and eventually he earned the title he held until his last day, Senior Vice President of Mountain Operations.
Terry James, who's known McCormack as a friend and colleague for almost four decades, said even when he held upper management positions, he never lost touch with the day-to-day operations.
"Even though he was a boss, he was a friend," added James, who still works for ski patrol. "It's rare you can keep that relationship."
Legends and legacies
Purgatory's pioneers all have runs named after them on the backside, like Boudreaux's, Ray's Ridge, Chet's, Sally's Run, Blackburn Bash and more.
Another one of those legendary tracks is McCormack's Maze, a gladed run right next to Hoody's on the edge of the ski area's boundary. The run earned Purgatory a Golden Eagle award from the National Ski Area Association for its design.
It's not the first time McCormack has been singled out for his knowledge and efforts. He served two terms on the Colorado Passenger Tramway Safety Board (three years as chairman) and has spent the past seven years on the board of Colorado Ski Country USA, a position he'll be honored for this week at the organization's annual meeting.
James said something people might not know about McCormack is that he took deep pride in his work. "He cares about the mountain," he explained. "What happens on the mountain is a reflection of him."
Today that mountain is flourishing because of the care and hard work he put in over his career. A trend likely to continue with improvements already mapped out in the Mountain Master Plan.
The regulatory hurdles cleared and collaborations McCormack spearheaded during that seven-year process will continue to serve the mountain for years to come.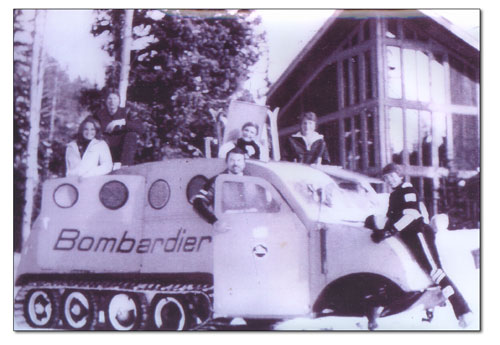 The McCormack family truckster./Photo courtesy Mike McCormack
"He was basically the boat captain steering that plan," explained Hards, who now serves as Purgatory's Vice President of Base Operations.
One example his coworkers refer to is the new Lift 8.
When the opportunity came to install the new Legends Lift ahead of the resort's 50th anniversary last season, the paperwork was already in place. They had approval from the U.S. Forest Service and other stakeholders. Conservation groups were reassured the resort would care for the wildlife and the environment. Even the locals were ready.
McCormack said he'll definitely miss firing up the mountain every ski season and tackling the challenges that come his way. What he'll miss most, though, is the people.
On the final day of each season, the ski area hosts Employee Ski Day. It's a time to celebrate the season, say goodbye to coworkers and hit the slopes together without being on the job.
This year, it was a little different. News of McCormack's retirement had made its way around the mountain, so when he showed up to The Beach to join in the festivities, the crowd erupted in cheers.
"The applause I got was unbelievable," McCormack said. "I'll never forget that."
The decision to retire was difficult and emotional for McCormack, but he said it was time to pass the torch and open the door for others to have the opportunities he did. "I think it was time to start a new chapter in my life," he added.
What made McCormack so loved and respected by his peers during his 34 years at Purgatory is also what made it so hard for many of them to see the empty office at Mountain Ops.
McCormack isn't really going anywhere, though. Durango is his home. His family is here. His friends are here. And, the one thing he's planning on this winter is to rack up 100 days on his ski pass.
"I know he's looking forward to just skiing and enjoying himself," James said. "And, he deserves it."