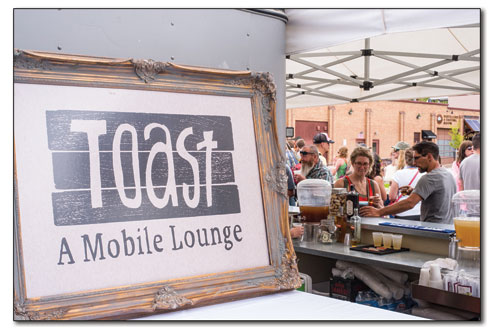 What is believed to be Durango's first official roving lounge, at Taste of Durango. Toast's next mobile public venture will be at Animas River Days, this weekend./Photo by Katie McCranie

Toast-ess with the mostest
Mobile bar car brings party to you
by Joy Martin
From the Quesadilla Mobilla to #vanlife, very few things out West rival coolness like a roving taco stand or a quasi-tiny home that settles in wherever the sun shines. And finally, all that was missing from this moveable feast of fun-on-wheels has arrived: a voguish, portable saloon that rolls into all sorts of wide open spaces and comes replete with handsome bartenders, a couple of keg coolers, and the classiest of cocktail recipes. Raise a glass to Toast, Southwest Colorado's first official mobile lounge.
Toast touts that they'll bring the party to wherever, "from ranch to river's edge and all points in between."
"Anywhere, any type, anytime," says Carol Clark, founder of Toast. "We love bringing fun to people."
With over 20 years of experience in event planning, including launching the Durango Farmers Market, Clark is always looking for ways to create community. Her inspiration for Toast came from a desire to move away from "the same eight-foot banquet table setup" toward a stylish design that invites folks at a party, wedding or festival to hang out for a while, sip something tasty, and get the similar intimate feel of an indoor bar – but in the great outdoors.
"Originally, I bought a 20-foot-long big bread box truck and called it Truck Re-Public," says Clark. "I drove it around to events for a year and a half, but it kept breaking down – and I'm no mechanic."
So she created the trailer concept, hauling Toast behind her Chevy truck. The 12-foot trailer transforms into a full lounge with the nifty engineering of custom-made fixtures that bring a "comfortable chic" feel to any event. The centerpiece is the Pub Box, which showcases two tap handles for beers of choice, a flatscreen TV and video system for displaying logos, screening movies or playing Wii.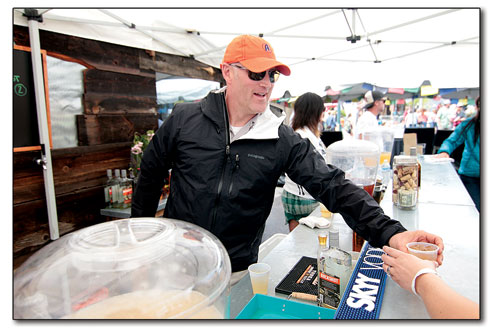 Toast bartender TJ Green serves up something cold./Photo by Jennaye Derge
Besides nature's soundtrack of birds chirping and rivers rushing, Toast also comes with a sound system to crank Clair de Lune, Phil Collins or whatever hip-hop revelers desire. As well, an optional amenity and wise investment is Toast's photo booth, called Cheese (cheesemobilephoto.com). Cheese costs $950 for four hours and comes with props and the ability to stream photos on the flatscreen, something Clark says can be "addicting" for partiers.
"We come with an experience," says Clark. "It's not about the table anymore. It's about how people can engage with who's working there and with one another."
As if being mobile wasn't hip enough already, Toast might also unofficially be America's only off-the-grid, sun-powered ambulatory lounge.
"We have a sustainable initiative and a philosophy to maintain little waste," says Clark.
Besides using compostable cups and locally sourced booze when requested, Toast also boasts a 5Kw solar-powered roof that keeps the sound system jamming and the keg cooler chilling.
"The key thing is to never, ever have your beer get warm," says Clark. "We do whatever it takes to keep it that way."
Of course, that means if it rains, Toast has no problem resorting to the generator should the sun no longer charge those batteries. As well, two custom-built mini-bars can easily be brought indoors.
"Let's say someone has a fancy rehearsal dinner at their house," says Clark. "If they don't have a bar setup, we can set the mini bar up inside and offer the same service."
The process for hiring Toast is simple, based on four questions: how many people are expected, where will the event be, how long is the event, and what kind of bar are we talking here? Depending on these factors, the price for Toast ranges from $500 to $2,000.
What kind of bar determines what kind of bartender, says Clark. If they're just serving beer and wine, a server will suffice, but if cocktails are on the menu, a skilled mixologist will be employed.
Clark takes great pride in her highly experienced, hand-selected staff. Two such guys she's known "for a ton of years" are yoga instructor and bartender Josh Rosenthal and Brian "Beezer" Lynagh, who's been a bartender for as long as he can remember. These two and the rest of Clark's top-notch crew are TIPS-certified, which means they won't serve guests who are absolutely sloshed or underage.
Beezer says he prefers working the mobile lounge scene not only for the remarkable scenery but also for the good spirits of partakers.
"The dark side of bartending is that people come to your bar to get away," says Beezer, whose preferred drink is a margarita made with good tequila. "But wherever Toast is, everybody's there to have a good time."
Just don't ask him to make "anything that goes in a blender – like a piña colada." He hates that.
Clark, on the other hand, has no bartending experience.
"It's funny I own a bar," says Clark, who says she's a plain and simple vodka-tonic girl. "I'm learning, but I'm better with the behind-the-scenes coordination, like making sure the bride is getting what she wants out of the day, for instance."
"When people throw a party, they think of the caterer for food," says Beezer. "When you think of Toast, you're thinking of the bartender as the caterer, too."
Toast typically hosts parties for 125 to 200, but at festivals like Taste of Durango, Toast can serve close to 1,800 people.
The only thing the cost doesn't include is the actual booze, but that's not because Clark is lame. It's a mere technicality in legality. It's impossible for a caterer to get a liquor license, says Clark.
"No money can change hands between me and the person drinking," says Clark, who gets dollars from the client before the event and orders the alcohol from a local store. "There's technically no such thing as a mobile distributer or mobile bar."
While Toast doesn't have a license to sell alcohol, the lounge holds a liquor liability policy. With that in place, Clark takes the order, adds 10 percent for the just-in-case-you-didn't-order-enough scenario and starts prepping for whatever party of the millennium has been scheduled.
"I pick it up, pour, and whatever I don't use, I take back to the store," says Clark. "We always plan to have more than necessary."
Clark says she started adding more to the order than requested after a near catastrophe when she realized the booze was flowing faster than planned. She had to run out and grab more in the middle of a party, and when you're in the mountains or desert, that's not always easy. "If we run out, it'll make us look bad and it'll make the party look bad," says Clark.
And looking bad is not an option for Toast, who also donates their services to high-volume, nonprofit events like Music in the Mountains and Animas River Days (ARD). Last year, Toast sold refreshing vodka lemonades and raised $1,500 for ARD. This weekend, they're looking forward to surpassing that record at the 2016 ARD festivities.
"How often do you get a bar that just pops up in the middle of a field?" asks Clark. "With that ability, we add the icing to the cake."
So as the Toast folks open every event, "Here's to peace, love and happiness and Moscow Mules." We look forward to seeing you on the road, Toast.