---
The best little fest in the West

by Chris Aaland
Pack up your tent, sleeping back, coolers and guitars for the coziest camping/music festival in the region. The 11th annual Pagosa Folk'n Bluegrass Festival takes place Friday through Sunday on Reservoir Hill. This year's artists range from folk to bluegrass and from Gypsy to Celtic. Here's the rundown on my favorites.
- Rob Ickes & Trey Hensley stole the show at the Durango Bluegrass Meltdown a few months ago, and they'll return to the region for a 4:30 p.m. Sunday set. Mere days after the passing of country legend Merle Haggard, Ickes & Hensley memorialized him with a 45-minute set at the Hank in April. Their debut record, "Before the Sun Goes Down," features three Hag tunes. The late country crooner is the perfect vehicle for 25-year-old guitar wiz Hensley, whose whiskey-smooth voice is only outshined by his pyrotechnics on the acoustic guitar.
- Tony Furtado is certainly no stranger to festivarians. A dual threat on banjo and slide guitar, Furtado's latest record, "The Bell," is the latest in his lengthy catalog that dabbles in bluegrass, rootsy blues and jam. He'll play at 5:30 Saturday afternoon and will surely turn up at a late-night pick.
- Caravan of Thieves is a Connecticut-based quartet that plays sexy, Gypsy swing, jazz and folk. They're just fun … and there's no problem with that. Catch them 8:30 p.m. Friday and 3 p.m. Sunday.
- The Jon Stickley Trio has become Four Corners mainstays. Stickley's flatpicking is among the best you'll ever hear, and Lyndsay Pruett's fiddling ranges from wild to refined. Drummer Patrick Armitage keeps the groove going. Their new album, "Lost at Last," was among my favorites last year. They'll play at 4 p.m. Saturday, right about the time your Breckenridge beer buzz will thoroughly kick in.
- Eileen Ivers, the daughter of Irish immigrants who grew up in the Bronx, has played high energy Celtic music to festival and concert hall audiences in the Four Corners for years. Her latest record, "Beyond the Bog Road," is this week's feature CD on KSUT. She'll shut down the main stage at 7 p.m. Saturday.
- Aoife O'Donovan. Say "EE-fah" … Perhaps the most mispronounced name in folk music. She's best known as the lead singer for Crooked Still, her two solo records are outstanding.
Those represent just the tip of the iceberg. Two Front Range favorites, Finnders & Youngberg and the Railsplitters, are back, as are Bay Area bluegrassers Steep Ravine (they played the Balcony last Sunday) and Melody Walker & Jacob Groopman (members of Front Country). The Robin Davis Duo, which features the ever-present local guitar god and his bass-slapping girlfriend, Jimi Giles, opens the festival. And the Lil' Smokies – winners of the 2015 Telluride Bluegrass Festival's band competition – come down from Montana. Rounding out the lineup are the Lonely Heartstring Band (a New England new acoustic quintet) and Tallgrass (a dark, alt-countryish trio).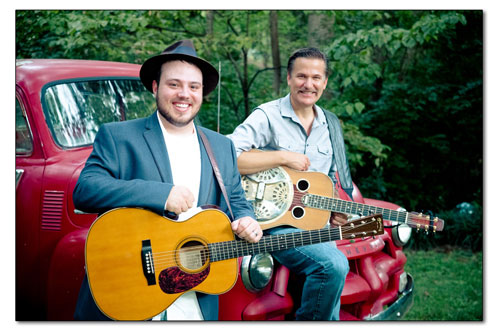 Trey Hensley and Rob Ickes rock Reservoir Hill on Sunday at the Pagosa Folk'n Bluegrass Festival.
But what makes this fester spectacular is what happens after the main stage shuts down. The late night stage features many of the main acts, only with guests sitting in. The intimacy of the small tent make for rousing, beer-fueled forays that often stretch well past midnight.
The other highlight is that many of the regular, scruffy faces you see at happy hour will be there, concocting Friday afternoon margaritas, Saturday morning Bloody Marys and some of the best campground grub you'll ever eat.
The best part? It's both affordable and spacious. There's no tarp rush like in Telluride. You can walk underneath the tent and find a seat. Rain, snow or blazing heat won't bother you. And your camp is just a few minutes' walk from the main gate.
A late addition to this week's musical offerings is one of Colorado's newest jam bands, Coral Creek. Led by Bill McKay, former Leftover Salmon keyboardist, and fiddling sensation Luke Bulla, they'll play the Balcony Backstage at 8 p.m. tonight (Thurs., June 2). Bulla comes to Coral Creek via Lyle Lovett's Large Band, the Jerry Douglas Band and Ricky Skaggs & Kentucky Thunder. Their eponymous debut album is a collection of Americana, country rock and jamgrass.
You snooze, you lose. The Durango Blues Train, which features the Ben Miller Band, Moreland & Arbuckle, Eagle Eye Williamson and others, sold out for both Friday and Saturday. Fret not, my friend. They'll offer more trains Aug. 12-13, featuring the Hazel Miller Band, JW-Jones, Reverend Deadeye and more. Visit durangobluestrain.com for tickets.
It's Firkin Friday this week! This time around, Steamworks taps Hopricot at 3 p.m. "For the firkin, we used our Colorado Kölsch as the base and added our signature chili blend ... plus an apricot puree. The result is a pleasantly sweet and spicy, balanced light beer," said director of brewing Ken Martin.
Elsewhere: the Pete Giuliani Band plays at James Ranch for Burger & a Band Night from 5-8 p.m. tonight; the Black Velvet duo swings at Dalton Ranch at 6 p.m. tonight, while the trio returns to the Balcony at 4 p.m. Sunday; Hello Dollface rocks Moe's from 6-9, while DJ Icite follows at 9; the Animas River Days After Rinse Party takes place at 9 p.m. Saturday at the Balcony Backstage and features Krunkle Tom and Mountain Menace; and DJ Noonz returns to Moe's at 9 p.m. Saturday.
This week's Top Shelf list is my checklist for Pagosa Folk'n Bluegrass:
1. Soiled Doves Vodka and Bloody Maria mix
2. A well-stocked beer cooler with Mexican Logger, Rudie and Hop Ivy, among others
3. Frozen quarts of my turkey green chile posole for late-night grub and quail-stuffed jalapeño poppers
4. Rain gear
5. Sunscreen
6. Cash for the kettle corn!
7. My lucky pink Elvis koozies
8. Camping gear
9. The wife & kids
10. My sidekick, Miller
Standing on the corner when I heard my bulldog bark? Email me at chrisa@gobrainstorm.net.