---
Politicalypse, Purg Jam and Sneaky Pete
by Chris Aaland
(Note to the reader: This is satire. If I offend you, I hope you'll at least question your own beliefs as much as I have lately. I realize that most of us are set in our ways.)
It used to be that Republicans had a monopoly on Clown Cars. They careened down the road during primary season making dick jokes, offending nearly every minority group imaginable and touting the virtues of the Bible and the gun. They did their best to convince white America that their dark-skinned brothers were out to rob, rape, torture and murder them.
Trouble is, the Democrats wanted in on the act. In one corner, you had Crazy Bernie offering up freebies to anyone looking for a handout. In the other, you had Crooked Hillary in bed with Wall Street and the old boy network.
Regardless of whichever message you subscribe to, it's downright disgusting to watch. Reality TV has created an America that reads 140 characters or less and demands the most intolerant remarks possible. The fact that you're reading this right now in an actual newspaper means you're one of the educated ones.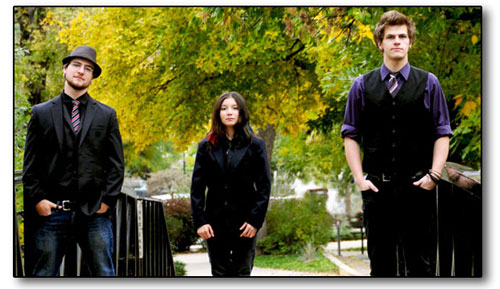 Boulder's Jaden Carlson headlines Purg Jam this Saturday.
At last week's Republican National Convention, Heir Drumpf paraded out one botoxed and fake-baked family member after another, interspersed with bad sitcom actors (did anybody really watch "Joanie Loves Chachi" ... ever?) and mixed martial arts promoters. The discourse on the policy side was light. The name-calling was heavy. The imagery of the Third Reich's rise to power in Germany was startling. Orwell had it right … all except for the year.
All the Dems had to do was not screw this up. But that task proved impossible. It should surprise no one that the national party leaders were busy shooting themselves in the foot by floating emails back and forth about sabotaging Crazy Bernie's campaign. And that these emails were likely hacked by the Russians. And that Heir Drumpf holds draconian leaders like Putin, Hitler and Saddam in high regard. And that these emails were magically leaked the day before the DNC. And that the Bernie-or-Bust bandwagoners would act like 2-year-olds who had their toys taken away from them. And that Crooked Hillary and the luddites in the DNC would appear, once again, to not only lack knowledge of cyber security, but good, old-fashioned decency and common sense.
It's going to be a long three-plus months. Your next president is responsible for appointing the Supreme Court justices who will be seated for decades. That president will also help determine whether or not we choose equality or exclusion.
It's a simple question: Align yourself with the dollar, the gun and the good book; or align yourself with the peace sign, the flower and The Tao of Pooh. A or B. Hint: There is no C.
This is the Mother of All Shit Shows, and we've all got a front-row seat for the Decline of American Civilization. I sure hope Penelope Spheeris has her cameras rolling.
meloD holds an album release party for his debut, "Brain Spiders," at 8 p.m. Friday at the Animas City Theatre. In 2013, Dakota Myers created meloD in his bedroom … "high-energy, electronic music, designed to let the listener escape their reality," as he puts it. Soul Atomic and The Monogahela are also on the bill.
Purgatory and Mike's Hard Lemonade present five bands in the Purg Jam on Saturday from 1-8 p.m. For just $10, you get to groove to the Jaden Carlson Band (the youngest artist to have ever played Red Rocks), Elder Grown, Chava People, Little Wilderness and the Jade Robbins Duo. Your ticket gets you your first Mike's Hard Lemonade for free (assuming you're 21+). Buy early; ticket will cost $15 at the gate.
The free Concerts in the Park series that the Community Concert Hall and Alpine Bank has presented in Buckley Park concludes at 5:30 p.m. tonight (Thurs., July 28) when the Jackson Hole outfit Sneaky Pete & the Secret Weapons return for the third year in a row. The sextet meshes a variety of genres, the type of stuff you might hear in downtown jazz clubs, New Orleans street parades, exotic Latin ballrooms and late-night, laser-filled clubs. Founded in 2011, the lineup is a rock & roll whirlwind complete with guitar, bass, keyboards, trumpet and drums. As always, bring your picnic dinners, blankets and chairs, or purchase grub from Fired Up Pizzeria and Schlotzsky's. Sneaky Pete also plays the Balcony Backstage at 9 p.m. following the free Buckley gig.
Also of note: Today's weekly Acoustic Lunchtime Café at the Smiley Building features Sky Pilot/Durango Funk All Stars keyboardist Ryan McCurry from 11:30 a.m.-1 p.m.; the Pete Giuliani Band rocks the James Ranch Burger & a Band Night from 5-8 p.m. tonight and the Balcony from 5-9 p.m. Friday; Kirk James brings the full band to the Billy Goat Saloon in downtown Gem Village at 8:30 p.m. Friday and the Vallecito Resort at 7 p.m. Wednesday; Decker plays the Balcony Backstage at 9:30 p.m. Friday; and the Hooten Hollers have a Balcony doubleheader, playing the inside on the Backstage at 9:30 p.m. Saturday and outside on the Balcony at 5 p.m. Saturday.
You've probably determined I'm a grumpy old man. This week's Top Shelf list recalls four simple things that will get me through:
1. Otto's second year of football started yesterday. Watching the Little Demons beat up on Bayfield, Cortez and Aztec always puts a smile on my face.
2. With DBC back online, we once again have six brewpubs and tasting rooms in town. Factor in Durango Craft Spirits and there's one for each day of the week. At an average of eight beers.
3. Green chile roasting is merely weeks away.
4. Neil Young tickets went on sale to the masses at 11 a.m. today. If you've lived in a cave the past week, then revel in the fact that the legend will rock Telluride Town Park on Friday and Saturday, Sept. 30-Oct. 1. $200 for two nights of rock & roll rage.
5. Footwear. Shelly found my lost brown Croc underneath Otto's bed last week. It had been missing for nearly a year.
Mindless drifter on the road? Email me at chrisa@gobrainstorm.net.