---
Ear to the ground:
"Don't try this kids. I've gone to the special school of knee driving."
– Classic motherly roadtrip wisdom
---
The offspring
If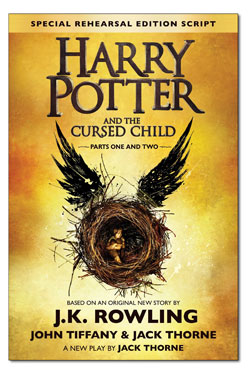 you've been drowning your sorrows in your butterbeer for the last nine years, it's time to grab your Marauder's Map and head over to Maria's Bookshop.
This Sun., July 31, at 9 a.m., the independent book purveyor is throwing open its doors for the release of the eighth installment in the Potter series, Harry Potter and the Cursed Child.
(For you mere muggles out there, Cursed Child is the script from the newly opened play of the same name currently storming London. Although not written by J.K. Rowling herself, it was written with her input and based on a story she wrote along with the playwright Jack Thorne and John Tiffany.)
OK – back to the plotline. To refresh Pot-heads' memories, Cursed Child picks up 19 years after Harry Potter and the Deathly Hallows left off, with the death of Voldemort at Harry's hands. In the play, Harry, who now works at the Ministry of Magic, is married to Ginny Weasley and the father of three children. The story centers on Albus, Harry's youngest son, as he is sent off to Hogwarts in his father's footsteps to face the family's legacy. (Cue dramatic music.)
Reserve your copy at Maria's by July 30 and receive a free Harry Potter swag bag. To reserve your copy, call Maria's at 970-247-1438 or stop by the store, 960 Main Ave.
---
Upstream battle
If you've been around Durango long enough, you know what a powerful force the river can be. Three years ago, longtime local Shane Nelson started a nonprofit, Rafting for Recovery, to harness that power to help people overcome addiction. "We serve people in all stages of recovery, from the 'old timers' to those who are brand new and looking for a foothold in sobriety," says Nelson.
The gist of the program is a seven-day trip down Cataract Canyon, in conjunction with various behavioral and solution-based therapies. "We provide skills, tools and resources that are truly transferable once they return to their lives," he says.
The previous trips have been financed by the Mercury Gives program and Wounded Warrior Project. This year, however, those programs were cut, and Nelson is scrambling to raise $8,000 in time for the Aug. 7 trip. "I am honestly afraid this trip will not happen this year without help," he says.
To reach his goal, Nelson has set up a crowdfunding site at www.indiegogo.com/projects/rafting-4-recovery-iii-2016#/. For more on the program, go to: www.rafting4recovery.com.