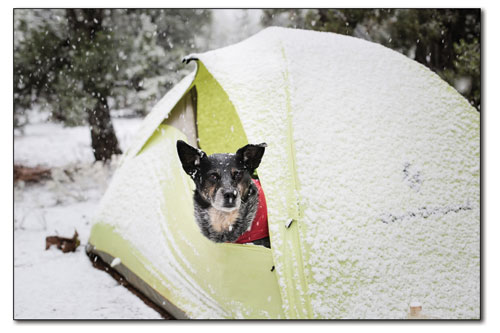 Genghis, the blue heeler of Telluride photographer Ave Kvale, peaks out from his tent during a recent outdoor adventure. The two are featured in "Ace and the Desert Dog," a new short film that follows Kvale and Genghis on a 60-day, 400-mile, door-to-door tour of Utah's canyon country. The film will be featured in the Bow Wow Film Festival, July 28 at the Durango Arts Center./Photo by Ave Kvale
Move over Sundance
Bow Wow Film Festival returns to benefit Humane Society
by Jen Reeder
Just the Facts
What: Bow Wow Film Festival, a fundraiser for the La Plata County Humane Society
When: 7 p.m. Thurs, July 28. Doors at 6:30 p.m.
Where: Durango Arts Center, 802 E. Second Ave.
Tickets: $12 advance/$15 at door. Children under 12, $7. Buy at www.bowwowfilmfest.com or at La Plata County Humane Society
Durango must be one of the best places in the country to have (or be) a dog. We have so many trails to explore – not to mention a 23.6-acre dog park with the Animas River running alongside it. Many businesses around town not only welcome canine shoppers but keep doggie treats behind the counter. We have top-notch veterinary hospitals, trainers, pet stores, groomers, sporting clubs and rescue organizations. Our community of dog lovers is strong.
Next Thursday, that community can celebrate life with dogs when the Bow Wow Film Festival returns to the Durango Arts Center to benefit the La Plata County Humane Society. The event features 90 minutes of short films about dogs, as well as door prizes (a.k.a. doggy bags), raffles and of course, adoptable dogs.
The festival is the brainchild of Susan Kelley, a Boulder resident who started the traveling film festival last year as a way to help animal shelters. That first year, the event raised over $40,000 for animal welfare groups across the country.
Kelley says she's been amazed by the response. An elderly woman from California even emailed her afterward to say attending the festival was "life-changing" and she'd finally overcome her fear of dogs.
"Our films tell wonderful stories of pups and their people, how we find delight, joy and solace with them," Kelley says. "I have been thrilled at how much fun people have at this event as well as how much it moves people."
This year's selection features entirely new films, with subjects as varied as a puppy learning to ski; a doggie drill team in Maryland; an adventure in the Utah desert to celebrate a milestone; Frank, a canine social media star with an advice column; and the moving story of a dog who helped a young man with autism. There should be something for everyone.
"For the Durango crowd, we have a fantastic movie about a girl, a dog and a bike," she notes.
Kelley says she is excited to bring the Bow Wow Film Festival back to Durango.
"We had a great time last year. The La Plata County Humane Society was fantastic to work with, and the Durango crowd was off-the-charts fun, cheering and clapping and whooping. It was a blast," she said. "And there's great community support. Alpine Bank and Zuke's both came on board to support the event."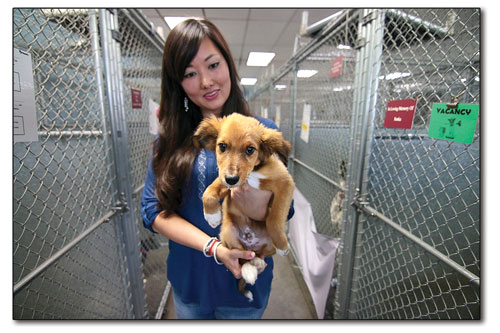 La Plata County Humane Society's Jonelle Jones holds 2-month old Australian Shepard puppy Tecate on Monday morning at the shelter. In its first year, the Bow Wow Film Festival raised more than $40,000 for animal welfare programs across the country, including the LPCHS./ Photos by Jennaye Derge
Stacy Johnson, sponsorships and events manager at Zuke's, says the Bow Wow Film Festival is in line with the company's values, from the social responsibility that comes with a pet to highlighting the loving bond between people and pets and encouraging an active, healthy life for both.
"A dog-centric film festival in our very own hometown? How could we not offer our support and sponsorship? We are so grateful to the La Plata County Humane Society for all they do for the animals in our community and look to support them in any way we can," Johnson says.
The La Plata County Humane Society (LPCHS) has started a number of initiatives to increase animal adoptions, from building a canine play yard to teaching young people at our juvenile detention center to train dogs in basic obedience. As a result, LPCHS hasn't had to euthanize a dog for space in more than eight years.
Chris Nelson, director of animal services at the LPCHS, was immediately interested in partnering with the Bow Wow Film Festival when Kelley approached him last year. The festival's production team also produces a fly fishing festival that Nelson, an avid fisherman, "always" attends, so he figured the dog films would also be high caliber. His instincts were right.
"We're a very dog-friendly community, and the chance to come out and watch a bunch of cool movies about dogs was really exciting," Nelson said. "I think we all like to celebrate dogs."
The festival also offers a chance to raise awareness about the dogs at the shelter. Nelson invites everyone to come to the Bow Wow Film Festival to meet some of the available dogs and learn more about different shelter animals looking for forever homes.
"We're always looking for people to adopt our animals. We've got a lot of great dogs and cats up for adoption right now," Nelson says. "Come on down and see us at the film festival. And more importantly, come on down and see us at the shelter and check out some animals."