---
A mentor and a friend, Old Blue Eyes & Split Lips
by Chris Aaland
One of Durango's most influential citizens died last Wednesday when brain cancer took Fort Lewis College President Emeritus Joel M. Jones from us. He was 78 and battled the disease for the past 18 months.
I first met Joel in 1988 when he became president of the college. I was assistant editor of the FLC Independent and was tasked with interviewing him. The college's mood at the time was cynical, as it had just emerged from a financial crisis. Joel quickly quieted that by guiding "The Fort" through a series of academic and administrative successes.
During my undergraduate years, I was involved in an assortment of activities, from student government to KDUR to the Indy to the freshman orientation program. Joel's door was always open and we were on a first name basis. He was like that with students – no "Dr." formalities necessary. Joel earned respect the old-fashioned way: through his deeds, words and leadership.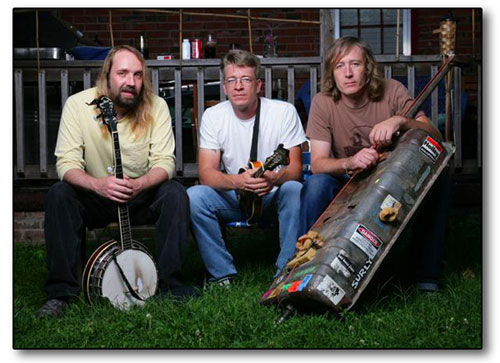 Godfathers of Kansas insurgent Bluegrass, Split Lip Rayfield, play the Balcony Backstage on Tuesday at 8 p.m.
For six years starting in 1992, I called Joel my boss. At the time, I was sports information director and assistant director of college relations. The old PR office was upstairs in Berndt Hall, right next to the President's Office. The nature of college athletics, with its evening and weekend games, forced me to work long, odd hours. Joel often worked those same hours. He'd occasionally drop off dinner or cookies or simply tell me to go home. He told me on more than one occasion that work should take a back seat to family.
I also saw Joel's wrath. As a 22-year-old starting my professional career, I was certainly naïve. Fort Lewis scheduled a home football game in Farmington that fall. When the Farmington Times interviewed me as to why we were moving a home date from Durango to Farmington, I mentioned the obvious reasons: that there are a lot of potential boosters and prospective students in San Juan County. The exposure might lead to fundraising opportunities down the road. Although his face was red and I could see anger in his eyes, Joel calmly told me that my quotes made us look like mercenaries. I never made that mistake again, and we continued to play the occasional San Juan County football or basketball game for the next 10 years or so.
Mostly, I was rewarded with my mentor's friendship for nearly 30 years. In times of personal crisis, Joel was quick to call with help and advice. He seemed like a coach checking up on the well-being of a former player. That made sense: Joel was the son of a football coach. On one occasion, I saw him chase football refs off the field. On another, I saw him scold a visiting soccer coach whose colorful language was a bit too blue for the youth soccer players sitting in the stands. "Who the f*** are you, old man?" yelled the coach. "I'm the f****** president of this college!" Joel shouted back. That Monday morning, Joel received apologies from the coach, athletic director and president of the rival university. Respect.
Joel also loved the fine arts. He was a writer and a poet. He appreciated painted and sculpted works. And he was particularly fond of music. The Community Concert Hall, Music in the Mountains, the FLC Music Department and public and community radio all benefitted from his leadership.
We all lost a teacher, a mentor and a friend, whether we knew Joel or not. His vision will live on in Durango for decades to come.
In addition to a host of classical fare, this week's Music in the Mountains schedule pays homage to Ol' Blue Eyes as vocalist Steve Lippia croons such Sinatra classics as "That's Life," "Luck Be a Lady," "My Way" and "Come Fly with Me," backed by a Pops Night orchestra. The benefit event starts at 5:30 p.m. Friday with a multi-course dinner, wine and a silent auction under the Purgatory festival tent. Music follows.
The godfathers of Kansas insurgent bluegrass, Split Lip Rayfield, play the Balcony Backstage at 8 p.m. Tuesday. Consisting of mandolin player Wayne Gottstine, banjo player Eric Mardis and bassist Jeff Eaton, the group has been largely quiet since 2008, when it released its last record, "I'll Be Around," shortly after the passing of guitarist Kirk Rundstrom. They're currently touring extensively, while also writing and recording a new album. Between 1998-08, they released five studio albums and a pair of live sets. Here's hoping one of my favorite bands returns to its past glory.
World beat comes to Buckley Park tonight (Thurs., July 21) in the latest free Alpine Bank/Community Concert Hall Concert in the Park. Ghana's most artistic drummer, The Groove Master Paa Kow, is set to perform from 5:30-7:30. Paa Kow entwines the rhythm and artistry of Ghana and jazz and Afropop, with lyrics in both his native language, Frante, as well as English. Raised near Cape Coast in Ghana, West Africa, he began playing music and touring with his family band at an early age. He's since been a guest artist and teacher at the University of Colorado.
The Jon Stickley Trio plays Crash Music in the historic Aztec Theatre at 7:30 p.m. tonight. Stickley's latest effort, "Lost at Last," blends bluegrass, jazz and assorted world music styles to form a contemporary newgrass classic.
Stillwater Music has teamed with the Smiley Café to present acoustic lunches from 11:30 a.m. – 1 p.m. each Thursday. Located inside the Smiley Building, the Café serves up lunch while Stillwater students, faculty, mentors and friends perform. Today features Stillwater student Katie Austin, who will sing her original tunes.
Elsewhere: the Six Dollar String Band brings old-time music to the Animas City Theatre at 9 p.m. tonight in the ACT's Thursdays at the Theatre series; Kirk James plays solo at Serious Texas BBQ South from 5-8 Saturday and at the Balcony from 5-9 p.m. Monday; and the Pete Giuliani Band plays Trimble Hot Springs from 1-4 Sunday afternoon.
This week's Top Shelf column is dedicated to the memory of Joel M. Jones with one simple word: Respect.
Sock it to me? Email me at chrisa@gobrainstorm.net.