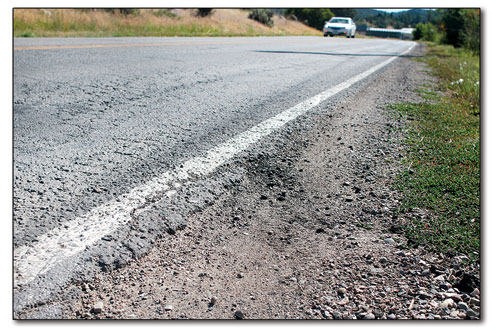 One of the projects La Plata County officials would include in the list funded by a road and bridge tax is on 32nd Street, north of town. The county plans to widen and reconstruct a portion of the roadway from Holly Avenue to County Road 250 at a cost of $1 million./Telegraph file photo
Doubling down
County returns with road and bridge tax, adds airport tax to November ballot
by Tracy Chamberlin
Election season is heating up with one national party convention under way, and the other starting next week. Things are also moving fast in Southwest Colorado.
La Plata County's Board of Commissioners has already voted to include a road and bridge tax on the upcoming ballot and this week officially announced it would also be adding an airport tax. Only one of these measures, though, was approved by everyone on the board.
On the road again
It's the second attempt for the road and bridge tax, which failed to pass last November. Less than one-third of La Plata County voters participated with 48 percent voting for the tax and 52 percent against it.
This time around the details are the same, and all three county commissioners approved adding the measure to this year's ballot.
It would be a property tax increase of 2.4 mills set to expire in 10 years. One mill is equal to about $1 on every $1,000 of assessed property value. This means the annual taxes for a home valued at $400,000 would go up $76. Commercial properties would see a bigger increase, paying an additional $300 each year for a property worth $400,000.
You've got mail: 2016 ballots go out in mid-October
It's the first one with a presidential candidate. Since the Voter Access and Modernized Elections Act passed the State Legislature in 2013, the new voting laws have turned the typical Election Day polling station into a thing of the past.
Now, all elections are via mail-in ballot. Instead of polling stations, Colorado has voter-service and polling centers. Instead of a long sheet sent through the scanner, voters get a ballot in the mailbox weeks before the big day.
La Plata County Clerk and Recorder Tiffany Parker said in an email the new laws have streamlined the process, made it more convenient for voters and are already saving the county money.
According to a study from Pew Charitable Trusts, the parent company of the Pew Research Center, this new way of voting has reduced costs for communities across Colorado by an average of 40 percent.
Turnout, however, is something researchers couldn't measure. Since the law passed, there has been only one congressional election in 2014. This year would be the first time the White House is up for grabs under the new system.
Parker said, though, 72 percent of Colorado voters actually voted by mail in the 2012 presidential election, instead of going to a polling station.
If going to the polls and picking up an "I Voted" sticker is what residents are looking for, they still have that option. The polling centers will be open before and on Election Day, Tues., Nov. 8.
Ballots go out to voters three weeks before, on Oct. 17. They can either stamp them and mail them back, take them to one of several 24-hour, drop-off locations, or head to the polling center. All the ballots, though, must be received by 7 p.m. on Election Day. Postmarks do not count.
For more information, visit www.GoVoteColorado.com, www.laplatacountyclerk.org or call the County Clerk's office at 970-382-6296.
– Tracy Chamberlin
"I know I pay more than $76 a month to have phone and internet service at my home," Commissioner Gwen Lachelt said in a statement. "This is a modest increase, and I think it's critically important that we act now."
That kind of critical messaging is also much the same as it was last November.
County officials have long pointed to the backlog of maintenance and improvement projects on its roads and bridges.
Since the decline of oil and gas revenues, which make up a major portion of the county's budget, they've struggled to keep up with these types of infrastructure projects. The revenues taken in from this tax would be used exclusively for roads and bridges and monitored by a citizen advisory council, something else that was a part of the original plan.
On the county's website they've listed the specific projects the tax would be used to address over its 10-year term.
These include 12 reconstruction jobs, 12 paving projects, three intersection realignments, and eight bridge design and upgrade projects. The cost of each one is available on the website, along with photos and locations, so citizens can see exactly what they're voting for – or against.
On the fly
The airport tax is another matter.
For the past several years, city and county officials have been clear in their belief that the Durango-La Plata County Airport is also in need of some help.
It was built about 30 years ago, long before wi-fi was a necessity and when La Plata County had about half as many people as it does today.
Most of the facilities are outdated and aging. Every nook and cranny is crammed with equipment, personnel or both. And the terminal, which services the entire Four Corners region, bursts at the seams during peak hours.
The plan is to build a new terminal on the east side of the runway, opposite its current location, and repurpose the existing one. Plans also call for adding a new taxiway and other facilities.
The price tag for all this is about $80-$85 million, half of which the Federal Aviation Administration is likely to pitch in. In order to secure any funding from the FAA, however, the county needs to prove it can pay the other half.
Here's where the tax comes in.
Although the details and ballot language are not official, the county is looking at asking voters to approve a bond debt of $40-$45 million. It would be a property tax increase and the number being discussed is 1.59 mills. For a home worth $400,000, that would mean an increase in property taxes of $50 each year.
The ballot language is also likely to include an expiration date, something City Councilor Sweetie Marbury specifically asked for when county and city officials discussed the issue at a meeting Tuesday.
"I believe La Plata people want to know … when it sunsets," she said during discussions.
Much of the debate Tuesday was on the wording of the ballot measure. How much should they ask voters to approve? How should they word the ballot measure so it could be both honest and understandable?
After all, funding a new terminal isn't without some confusion.
For example, one of the keys to all of this is the money coming from the FAA. The federal agency would supply its half of the $80-$85 million project in small grants over many years. It would not be a lump sum the county could deposit in a local bank.
Also, it's a federal agency. The grant funding would be dependent on Congress approving the FAA's annual budget, which then would allow the Durango-La Plata County Airport to apply for those grants.
The FAA has been clear that it intends on helping with the project; and, county and city officials said they feel secure in their relationship with the FAA and that it will come through with the funds.
But, it's just one more complicated talking point for an already complicated issue.
All the councilors and commissioners agree that a new airport is needed. Not everyone, though, thinks now is the time to ask voters for the funds.
"I'll continue to be worried about moving forward with a property tax," La Plata County Commissioner Julie Westendorff said ahead of Tuesday's vote to get the airport tax on the ballot. "I just feel like we have not left ourselves enough time."
The county commissioners ultimately voted to move forward, 2-1. Lachelt and Commissioner Brad Blake voted to put the measure on the ballot; Westendorff voted against it.
"I think there's a need to stay with the momentum," Lachelt said ahead of the vote. "If it doesn't pass this year, it will have an even greater chance of passing in 2017."
County staff will come back to the commissioners Aug. 2 with the official language for the measure. If it's approved, they would have just over two months to make their case and convince county residents to approve the tax. Ballots go out to voters Oct. 17.