---
Party in the Park and blues by the river
by Chris Aaland
Rudyard Kipling wrote in his classic poem, "The Ballad of East and West," that never the twain shall meet. He was describing a battle between the English and Scots. But in the years since, the phrase has been used to analyze everything from sports to philosophical differences.
KSUT and Music in the Mountains are making sure the twain shall meet, at least musically, this Saturday when they present their annual Party in the Park. Five bands will perform, ranging from classical and chamber to funk and jazz with a smattering of mariachi and flamenco thrown in for good measure. Gates open at 1 p.m., with music running until 9.
As you may already know, MITM has brought classical music to Southwest Colorado for 30 years. And KSUT, the region's NPR affiliate, is celebrating its 40th anniversary this year. Rock, funk, jazz and world music has received heavy airplay on the station for nearly as long.
The rocking, funky, jazzy side is represented by the headliners, the Stooges Brass Band from New Orleans. The undercard includes the mariachi and flamenco sounds of Jarabe Mexicano, a traditional group from Mexico now based in San Diego, as well as our own Durango Funk All-Stars. In the classical corner, the Cézanne Quartet (four young musicians from Southern Methodist University) and the Southwest Civic Winds bring chamber, classical and pops.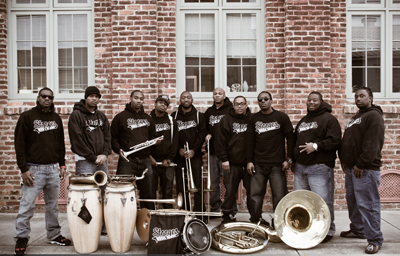 Nola's Stooges Brass Band storms Buckley Park this Saturday.
The Stooges have earned a reputation among the elite brass bands in the Crescent City, blending fat brass sounds with contemporary jazz, funk and hip-hop. They emerged on the New Orleans scene in 1996 – a scene already populated by the likes of Preservation Hall and Dirty Dozen. They quickly gained notoriety as a full-blown musical party and have since shared the stage with Black Star (Mos Def & Talib Kweli), Galactic, Trombone Shorty, the Funky Meters and others. They're regulars at the New Orleans Jazz Fest and have played Bonnaroo, South by Southwest and the 2013 Telluride Jazz Festival.
It was in Telluride that I first saw them. The Stooges marched down Colorado Avenue in a second line parade straight into Town Park, horns blaring and drums beating as hundreds of folks followed, twirling parasols and catching beads thrown from floats. Shortly thereafter, they took the Fred Shellman Stage and let loose a 90-minute set of jazz, funk and hip-hop. It was a raucous dance party, fueled by beer, hurricanes, gumbo, and red beans & rice.
A host of food vendors will be on hand in Buckley Park, while KSUT and MITM will pour Ska beer, Durango Craft Spirits cocktails, Guy Drew sangria and an assortment of wines.
Other MITM highlights this week include violinist Jinjoo Cho joining the Festival Orchestra at 7 p.m. Friday and pianist Aviram Reichert sitting in with the Festival Orchestra at 5:30 p.m. Sunday. Both take place at the Festival Tent at Purg.
The 11th annual Animas River Blues & Brews Fest takes place Saturday at Riverside Park in Aztec. This year's lineup includes Zac Harmon, Jay White & the Blues Commanders, Missy Anderson and others. Gates open at noon with live blues playing from 1-10 p.m.
Cowboy crooner Michael Martin Murphey returns to the Henry Strater Theatre at 7 p.m. Monday. As of writing, fewer than 40 tickets remained. Murphey's career can be broken down as: '70s country-folk icon; '80s soft-pop balladeer; and, since the early '90s, cowboy traditionalist. Expect his set to feature highlights from the first and third periods.
The Jon Stickley Trio has developed a huge local following thanks to performances at the Durango Bluegrass Meltdown and FolkWest festivals up on Reservoir Hill. Fate has them back in our neck of the woods Wednesday when they'll play an 8 p.m. show at the Dolores River Brewery. The next day finds them at Crash Music in the historic Aztec Theatre for a 7:30 p.m. gig. Anyone who's seen Stick through the years knows he's one of the fastest and cleanest flatpickers on the planet; fiddler Lyndsay Pruett and drummer Patrick Armitage make it a musical tour de force. Gypsy, jazz, bluegrass and rock are all fair game in their capable hands.
The Subdudes have a deep history in Colorado and return to Telluride at 8 p.m. Tuesday for a show at the Sheridan Opera House. Led by original members Tommy Malone (guitar), John Magnie (accordion) and Steve Amadée (percussion), along with longtime bassist Tim Cook, they've blended New Orleans R&B with rock and folk since the mid '80s.
This week's free Alpine Bank/Community Concert Hall Concert in the Park features Mo' Mojo, a high-energy, Zydeco-based "Party-Gras" band. Music plays from 5:30-7:30 p.m.
Tonight gives you another opportunity for free tunes. The Stillwater All Stars play Rotary Park at 5 p.m. This is their second of six summer performances that will include a return to the main stage at Telluride Jazz the first weekend of August. They'll be followed by three more Stillwater bands: the thundering Brazilian samba of Batucada de Durango, the a cappella vocals of the DurangaTones and jazz standards by Animas Jazz.
I try to keep up with the ever-changing beer menus about town, but BREW Pub & Kitchen has left me in the dust recently. Their latest batches include Zen, a cucumber, Thai basil and lemon ale; Farrah, a West Coast IPA; Scarlett, an amber weiss; Able, a brown porter; and Echo, an American pale ale enhanced with bravo hops. Bravo, I say.
Moe's recently launched a weekly blues jam. Starting at 7 p.m. each Monday, the stage is open to all performers and hosted by Missy & the Bluetones. They'll kick off with a short set followed by an open jam. Also on tap at Moe's: Chava People play the patio at 6:30 p.m. Friday, followed by DJ Icite at 9; and Consensual Sax takes the patio at 6:30 p.m. Saturday, followed by DJ Kaztro.
This week's Top Shelf list remembers the five Dallas police officers gunned down last week, as well as recent police shooting victims in Baton Rouge and St. Paul. May we all seek peace.
Nothing to kill or die for? Email me at chrisa@gobrainstorm.net.