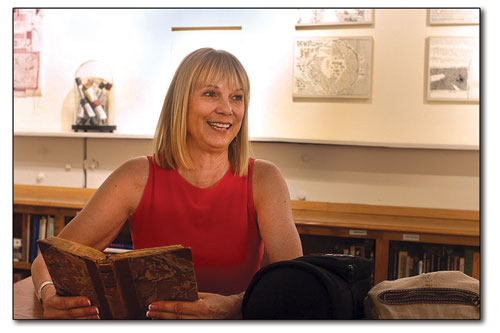 Durango artist Charlene Geiss (above) holds one of her diaries inside the DAC Art Library, where she is currently exhibiting./ Photos by Jennaye Derge
Journey
to an
inner landscape
Local artist Charlene Geiss presents adventures in journaling
by Stew Mosberg
Just the Facts
What: "ReVision: Diaries Reconsidered and Revised," a show by Charlene Geiss
When: Through Aug. 27
Where: Durango Arts Center Art Library, 802 Second Ave.
The Durango Arts Center's Friends of the Art Library (FOAL) has yet again brought a unique and captivating show to the diminutive second floor gallery.
The featured artist, Charlene Geiss, of Durango, is co-author of Inner Outings: Adventures in Journal Writings (2002) – a boxed set teaching aid and source of inspiration for new and experienced diarists. The book promotes the "Inner Outing Method" as a personal writing discipline that, according to Geiss, "guides those who may be resistant to self understanding and discovery." She was also the founder (1997) of Santa Fe's Diarist's Workshop, a school of creative journaling and personal development.
Geiss described the exhibit of original and altered diaries as "thinking beyond paper or the book, (which) represents the beginning of my process."
Visitors to the show who are not familiar with her work will be pleasantly surprised to find these are not your average diary or journal entries. They are uniquely designed, written and displayed, and truly qualify as assemblage works of art.
Following a 12-year stint as a sixth-grade teacher in her home state of New York, Geiss moved to Santa Fe, where she met her soon-to-be husband Bruce. It was he who encouraged her to open a school for journaling, which has always been her lifelong passion.
"When I founded the Diarists' Workshop it was all about creative expression," she explained, "but as I created more advanced classes and students remained with me, the focus or intent of the classes changed."
Acknowledging the positive mental and emotional changes of students taking the classes and using the book, Geiss decided to go to graduate school for a degree in psychology. "The psychology was important when I realized how the personal writing was a key to healing and empowerment," she said.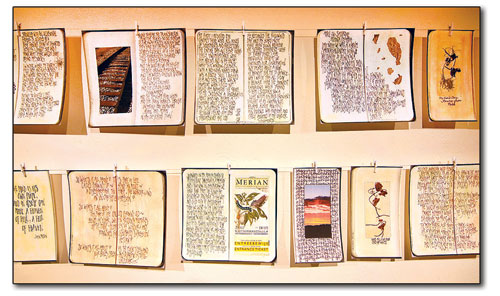 Geiss, who holds a master's degree in psychology, uses the diaries (left) not just for creative outlet but as a tool for self-discovery./ Photos by Jennaye Derge
Eventually moving to Durango, Geiss met Margy Dudley, owner of the Open Shutter Gallery, who convinced her to photograph the journals, which lead to a show in the gallery's Red Room.
Geiss said her current DAC Library collection is the result of revisiting her journals, letters and poetry, in an effort to decide which ones to leave behind for her three children. "Through the years," she continued, "some of what I created and wrote was a result of my teaching, while other journals were therapeutic."
Geiss said while rereading and sorting through her books, she was inspired to see many of them as elements for new art pieces. The show contains 36 two- and three-dimensional pieces, five of which were included in the Red Room exhibit. Geiss remarked that the latest grouping represents not just an ending but a beginning for her. Through the act of writing, she processed a whole lot of her own life and admits to loving expository writing. "Although," she quipped, "I just can't have a 'date book,' it has to be illustrated."
Those familiar with the "Morning Pages" ritual introduced in The Artists' Way by Julia Cameron might mistakenly assume Geiss follows the credo of writing three pages every morning. Although she has read Cameron's work, Geiss is quick to distinguish herself from Cameron and that practice. "Most people who are known for visual journaling, such as sketching and diagramming, are interested in an artistic outcome," she explains. "It is primarily about (their) creative expression. But, my intention has always been to combine words and visual clues to express one's emotional or mental landscape."
Publicly exposing her private psyche is not a contradiction in terms; it is the essence of what her art is about. True to that premise, she has been preserving a cache of chosen diaries and journals to leave to each of her three children as a legacy and insight into who she was.

Having earned degrees in education and psychology, Geiss employs both disciplines in her journaling process and is influenced by many people from each of those categories. She often quotes or uses their words as catalysts for her art. Citing a few, such as artist-photographer-writer Peter Beard; Carl Jung, the analytical psychologist who delved into the collective unconscious; and even quantum theorist Max Planck, whom she notes said, "When you change the way you look at things, the things you look at change."
That passage encapsulates a great deal of her approach to teaching and the essence of her workshops. "I want to inspire people to look at their own things in a new way," she says. Although Jungian psychology encourages the use of metaphors and symbolism while writing, in the end, the finished entry is not about art, but rather healing or personal growth, she said.
In her Santa Fe diarist classes, Geiss said she never held back and strove to help students share their deeper insight and experiences. In keeping with that, the DAC exhibit provides a glimpse into some of Geiss' affecting and personal explorations. In one particularly touching display, she has included a box crammed with letters, postcards and memorabilia from her father who left when she was just 10 years old.
In contrast to such open divulgence, Geiss has created a framed construction of numerous blank white pages representing confidential thoughts she is unwilling to reveal. Another enigmatic piece is housed in a glass dome surrounding shredded papers that bare writing she says is "too sensitive to share." Geiss' choice of what to disclose publicly and what to keep secret adds a mystique to the show and prompts viewers to ask themselves what they are willing to confront, publicly or privately. To that end, this presentation is provocative and stimulating and perhaps even a little cathartic; not just for Geiss, but anyone who attends the exhibit.