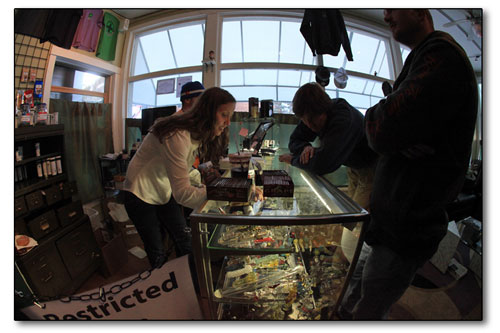 When the first recreational marijuana stores opened in January 2014, many had lines out the door like this one in Telluride. Two and half years later, Colorado is still working out the details./Telegraph file photo
Growing like a weed
Marijuana industry inches ever closer to national acceptance
by Tracy Chamberlin
Two years ago the Durango city manager sat outside River City Hall with a stack of permit applications and a box full of munchies. Everyone who took an application for a recreational marijuana shop also got a small bag of potato chips or Cheetos.
The first person to get the application and a bag of chips was Jason Barker, co-owner of Colorado Grow Co. Since then, he's seen legal marijuana blossom from a few medical dispensaries to a booming recreational industry.
"I think it's been great," he said about these first couple years.
When tourists and others come into his shop on Main Avenue, he said they're like kids in a candy store. Even after nearly two years in Durango – the first legal pot shop opened here Sept. 25, 2014 – the excitement hasn't worn off.
It's one reason he'll keep his doors open until midnight if given the chance.
City officials are considering extended the hours of operation for recreational and medical marijuana shops from 8 p.m. to midnight. Several shops said they would absolutely take the opportunity to stay open.
For Barker, the 8 p.m. closing time meant many potential customers, who were just finishing up dinner or ready to head home after shopping, came to his door just as he was locking up. If the City Council approves the change, he'll be able to welcome them in.
It's not just a financial boon for Barker, but it's a potential boon for the city and the state. Longer hours and more sales mean more tax revenues.
In the 2014-15 fiscal year, which runs from July 1 - June 30, Colorado took in more than $88 million in marijuana tax revenues. The following year, which has only been reported through May, the state almost doubled that, earning more than $141 million.
Across the country, it's estimated that the burgeoning industry is putting billions into the economy.
At this point, 25 states allow for medical marijuana. Four states and the District of Columbia have legalized it for recreational purposes, and many others have decriminalized it.
These numbers could grow even bigger after the November elections. Florida, for example, has medical marijuana on the ballot, and California could legalize it for recreation.
As acceptance has grown across the nation, though, things on the federal level have remained stagnant. With marijuana illegal under federal law and listed alongside meth, heroine and LSD as a Schedule I drug, which means it has no accepted medical value and a high potential for abuse, it's been challenging for many businesses to simply run day-to-day operations.
Some basic business practices have been out of reach, like bank accounts and health coverage for employees. Also, the kinds of research needed to open the doors to legalization have been nearly impossible with all the blockades put up as a Schedule I drug.
But, that could all change.
Add it to my schedule
More than four years ago, the then-governors of Rhode Island and Washington State petitioned the Drug Enforcement Administration, or DEA, to reschedule marijuana. Thus began a lengthy process of review and input needed from other federal agencies.
Last year, members of Congress questioned the DEA for answers. They asked about the challenges of researching the potential medical benefits of marijuana and, among other things, wanted to know the timeline of the rescheduling request.
The DEA said in its response it hoped to "release its
determination in the first half of 2016." The date may have come and gone, but the answer just might be less than a month away.
In a story published in the Santa Monica Observer in June, an unnamed lawyer with the DEA told the reporter the federal agency plans to recommend making marijuana a Schedule II drug Aug. 1.
If the scoop is true, it still doesn't mean marijuana would suddenly be legal across the nation. It does mean, however, the doors would open for medical marijuana. Drugs listed as Schedule II, like OxyContin and Vicodin, can be prescribed by doctors. It also means the road to research would be a lot easier to navigate.
Proponents of the marijuana plant have long touted its medicinal benefits with chronic pain, seizures and chemotherapy. If research is suddenly possible, those claims could be studied by a wider scientific community.
While federal rescheduling could be possible, it doesn't equate to instant change. Even for Colorado, which legalized marijuana in 2012, the devil is in the details.
Some of the details the state is dealing with involve pesticides and packaging. At the local level, it's not just the hours of operation. The Durango City Council is also looking at opening up to the industry's ancillary businesses, like testing labs, production facilities for edibles, and grow operations.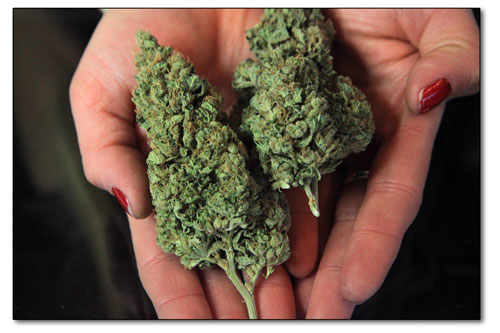 The subject of pesticide use on marijuana plants only came to the forefront last year when the state's regulatory agency recalled some products because of illegal pesticide use./Telegraph file photo
Midnight special
City Council plans to address extended hours and testing labs for medical marijuana at its upcoming meeting at 6 p.m. Tues., July 19. They'll open up the issues to public comment before taking the next steps. If it moves forward in a timely manner and is ultimately approved, the doors at retail marijuana shops could stay open until midnight by Sept. 1.
Several shops in town said they would definitely take advantage of the opportunity, including Santé and Colorado Grow Co.
Pat Dalton, general manager for the Rec Room, said his downtown recreational marijuana shop just off Main Avenue also plans to keep its doors open later if approved.
He plans to attend the upcoming City Council meeting to find out more about the issues, another of which is the possibility of grow operations and production facilities within city limits.
Dalton said it's expensive to build those types of businesses from the ground up. Having the option to rent or buy commercial spaces already available would be welcomed. He also said he understands the concerns raised when it comes to those ancillary businesses, like odor or electrical requirements.
"We want to be good neighbors," he added.
City officials are taking their time with those issues, particularly with how to cover the administrative costs needed to regulate these types of businesses. One thing they are looking at is an excise tax, which would come directly from the wholesalers and growers.
According to Nicol Killian, assistant director of the Community Development Department, the earliest a ballot measure on an excise tax could come to Durango voters is April 2017.
Packaging and pesticides
One of the arguments from opponents of legal marijuana is the danger it poses to children. It's an argument, though, that isn't supported by a recent study.
Healthy Kids Colorado, a voluntary survey that began years before marijuana legalization, is used to gauge behaviors and trends among Colorado youth. The most recent edition found marijuana use in 2015 has not increased among high school students and is slightly less than the national average. In fact, marijuana use among high schoolers has been on the decline since 2009 and is relatively unchanged since the last survey in 2013.
These findings were considered significant by many because they came three years after Amendment 64, which legalized pot, was approved and two years after it became available in retail shops.
These results, however, are not hindering lawmakers in Colorado from addressing the risks associated with marijuana use by children and teens.
Out of the recent legislative session in Colorado came House Bill 1436. It essentially bans edible marijuana products that are designed to appeal to children. Specifically it reads, "products in the distinct shape of a human, animal or fruit." Things like gummies shaped like triangles or pot leaves are allowed, but ones shaped like cartoon characters or strawberries are not.
The specifics will be worked out in a rulemaking process scheduled this month with the state's marijuana regulatory agency, the Marijuana Enforcement Division or MED.
Another regulatory devil is the use of pesticides on marijuana plants.
The subject only came to the forefront last year when the MED recalled some marijuana products because of illegal pesticide use. Following the first recalls, Gov. John Hickenlooper issued an executive order saying use of unapproved pesticides is a threat to public safety and any plant or product containing them should be removed from the shelves and destroyed.
Barker said it seemed like every week another product was being recalled. In the past month, however, he's noticed a difference and things seem to be quieting down.
The real issue came back around to the fact that marijuana is illegal on the federal level.
The Environmental Protection Agency is the lead when it comes to pesticides. But, because marijuana is technically illegal, the EPA cannot approve any pesticide for use on marijuana plants. This means the only ones available to marijuana growers are the ones labeled acceptable for "general use."
It's a cloudy issue that gets even hazier at the state level.
The Colorado Department of Agriculture regulates pesticides and the MED, an arm of the state's Department of Revenue, regulates marijuana. Like so many other issues in the marijuana industry, there was no roadmap on how to co-regulate it.
"It's new and they're doing the best that they can," Dalton said.
This spring, the state posted a list of acceptable pesticides, but it's still an issue, like so many in this budding new world, with plenty of those prickly details yet to be ironed out.