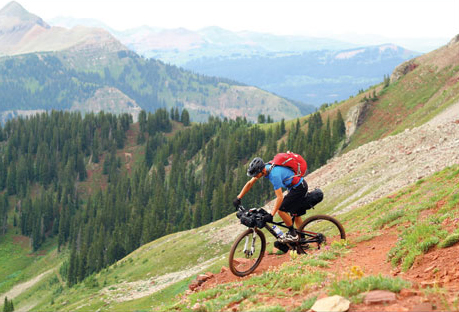 Joey Ernst somewhere high in the mountains during the 2013 Colorado Trail Race. "Moving through this landscape at a relatively quick speed in the early hours before dawn and hours after sunset puts you in this dream space you can reach back and touch – mostly because you haven't slept," he said of the nearly 500-mile experience./Photo by Scott Morris
Tripping out
Durango shop finds niche as hub for two-wheeled adventure
by Joy Martin
Just the Facts
What: Bikepacking 101
Who: Newcomers and experienced riders alike gather to talk gear and packing, and enjoy slideshows from recent adventures
When: Fri., Aug 26, 6:30 p.m.
Where: Velorution Cycles, Horse Gulch trailhead
Whether an endless ribbon of high-country singletrack sounds like heaven or you prefer to zip down the Animas River Trail for a lip-smacking treat from Cream Bean Berry, Durangoans know no shortage of joy sparked by our favorite mode of transportation: the beloved bicycle.
Our passions flung across the spectrum of two-wheel-induced excitement are constantly evolving, and the current adventure-shaped niche includes a burgeoning hybrid sportcalled bikepacking. Essentially off-road adventure cycling with lightweight camping gear, bikepacking.com describes it as something that "evokes the freedom of multiday backcountry hiking with the range and thrill of riding a mountain bike."
But though it's the latest hotness of the cycling world, bikepacking is far from novel, first utilized by the U.S. military in the 1800s.
In 1897, 20 African-American soldiers set out from Fort Missoula, Mont., loaded down with gear. They pedaled their way over dirt roads and trails to Yellowstone National Park and back. The 23-day, 800-mile roundtrip was driven by a desire to prove biking was more faster, cheaper and sneakier than horseback.
"For miles we fared along the windings of the road ... Indeed, this was the very poetry of cycling," wrote Second Lieutenant James A. Moss of the Buffalo Soldiers Bicycle Corps' epic journey.
Like the U.S. Camel Corps of the 1850s, the spectacle was quickly scratched off the list of laudable, bellicose tools. But unlike the imported camels that were left to roam the deserts of the Southwest, bicycle use in military campaigns continued abroad. The Swiss army, for instance, had a bicycle corps until 2003.
As time rolls on, endurance feats, such as adventure bicycling, have broken out of serious military confines and into the recreational world. In recent years, mom-and-pop bikepacking companies have sprung forth in mountain communities across the West, while websites, like Bikepacking.com, offer inspiration for the curious and a platform for the experienced to share stories, how-to's, advice and photos and even offers a bikepacking comic strip.
Bikepacking.com also features over 70 bikepacking? routes on six continents. The trip reports are rousing, stretching the from Uganda and Mongolia to a burly bikerafting trip along Alaska's Glacier Bay.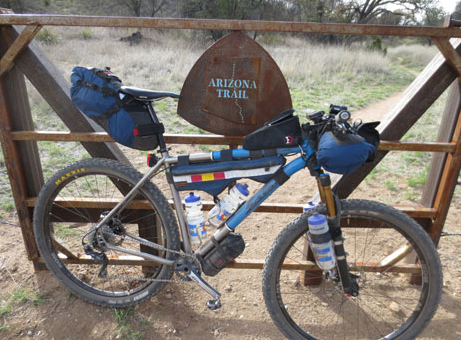 A fully loaded bike during the 2015 Arizona Trail Race. "Like everybody else in Durango, we have a Tacoma," says Ernst, who moved to Durango in a Subaru eight years ago. But, also like many Durangoans, Ernst's preferred mode of transportation is his bicycle.
"Both a fatbike and packraft are needed for this trip," touts bikepacking.com contributor, Mike Curiak.
The 225-mile flat route has no trail, no services, 25 miles of "stumblef*cking on the boulders of f*cksticked bear trails" (whatever that means), isostatic rebound of retreating glaciers, potential tsunamis, 135 miles riding on beach sediment, and no less than 65 miles of waterways – all done in the company of eagles, whales, bears, moose and sea lions.
"It isn't for everyone, but for those that tilt toward wild places where one can only feel insignificant in the face of such immensity, it might be Mecca," writes Curiak.
Don't be intimidated by the bikerafting exploits of the pale northerners. Adventure cycling works on a sliding scale, so if you're not quite ready to commit to unruly elements – like the unfortunate mountain biker outside of Glacier National Park last week who was knocked off his bike and devoured by a grizzly – then know that there are more domesticated options.
All you need to get started is the will, that clunky hardtail in the garage, and a bit of help from those who know. When it comes to bikepacking expertise, bikepacking.com says Durango-based Velorution Cycles (VC) "was built around bikepacking ... before bikepacking was a thing."
No, VC did not supply the 32-pound bikes for the Buffalo Soldiers in 1897, but rather came on the scene in 2012 by a philosophizing World Cup bike mechanic named Joey Ernst.
"Adventure is wherever you create it" is the credo of Velorution. The full-service bike and rental shop flaunts touring, commuting, gravel grinding, mountain biking, fatbiking and bikepacking bikes, apparel, shelter, stoves, and alternative labels like, Bedrock Bags, designed and manufactured right on the VC premises. Besides serving Durangoans, VC's web store also supplies bikepackers across the countrywith gear they otherwise can't access.
"We're the first bike shop in the world that combines this specialty with manufacturing of bikepacking gear on premises, to our knowledge," says Ernst. "It's not a big deal for Durango, and we're fully expecting to see other shops pick up bikepacking as a thing, but on the world scene, it's pretty cutting edge."
Based out of a warehouse near Horse Gulch trailhead close to downtown, VC's three-man team includes Ernst, Tae Hillyer and VC co-owner and Bedrock Bags-founder, Andrew Wracher. You won't see big-name brands or anything unintentional placed on the showroom floor, as these guys specialize only in stuff they're passionate about.
"And what we're passionate about now happens to coincide with what the industry is interested in," says Ernst. "If the industry decides that road bikes are cool again, well ... ."
In recent years, Ernst has seen a booming interest in bikepacking that's enticed big brands to "rip off unique designs and ship them to China to make cheaper." Thus small, local shops and manufacturing companies are coming under threat, as tends to happen when things get cool.
"I'm all for it growing as a sport," says Ernst. "But every time something gets popular in our culture, who ends up on top is the large corporation with more dollars and marketing experience."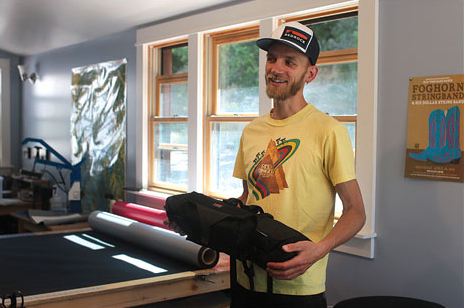 Ernst stands inside the Horse Gulch workshop for Bedrock Bags, bikepacking gear made locally by Andrew Wracher and sold next door at Velorution. Ernst says the name "Velorution" came from a college program he stumbled upon that offered freshmen a $500 bike if they vowed to not procure a car during their years of study./Photo by Jennaye Derge
So Ernst sets Velorution apart by focusing on what matters most to him: getting people excited about bicycles.
Besides hosting events, like Bikepacking 101, which started in 2012 with six people and exploded to 60 attendees in 2014, he also encourages riders to get out and discover what works best for them as they explore longer, wilder routes, such as our backyard classic: the Colorado Trail (CT).
Stretching nearly 500 miles from Durango to Denver, the CT crosses eight mountain ranges, five major river systems, six national forests and six wilderness areas that must be biked around, as bike travel is prohibited in designated wilderness.
With the equivalent elevation gain of climbing Mount Everest twice and then some, the CT unfolds in iconic Colorado beauty, showcasing snowcapped peaks graced by alpenglow, wildflowers and aspens quaking in glorious gold.
"It's just got a little bit of everything," says 33-year-old Ernst. "It's always on my mind every spring. But it's a commitment. You have to go for it."
Some folks bikepack the CT at a relatively leisurely pace, taking up to two weeks to complete the thru-ride. Others hammer it out in the Colorado Trail Race (CTR), which has a current record of three days, 20 hours and 47 minutes obtained in 2015 by Jesse Jakomait.
This year's CTR starts in Denver on July 24. In odd years, the CTR reverses direction, launching from the doorstep of Velorution's headquarters.
"It's more an overall feeling than specific image," says Ernst, whose fastest time is 5½ days. "Being up and awake and moving 20 to 22 hours at a time, your mental state changes. I've never done drugs, but I imagine there's some parallel there."
The CTR is organized by the Colorado Endurance Series, which promotes responsible grassroots endurance cycling through noncommercial, recreation-use activities that are held across the state on parts of USFS lands in compliance with Special Use Rules and Regulations. No fees. No prizes.
On June 25, the Series hosted a modified version of the sixth annual Durango Dirty Century on trails north of town. Due to snow, the ride was trimmed to 84 miles, but Ernst and the dozen or so other riders were just as stoked to participate.
"It was twice as long as anything I've ever biked before," says local ultra-athlete Brendan Trimboli. "It took me 10 hours and 20 minutes ... a long time on the bike, but running for 10 hours is way more traumatic on the body. For me, it was perfect."
With the support of local shops like Velorution and determined pioneers at the helm, the never-ending story of the bicycle continues to push the envelope of what's possible, inviting us to surprise ourselves and find joy in happily pedaling ever after.
Meanwhile, the uphill battle for homegrown alternatives to survive the arrival of corporate brands is a test of stamina, but like all things endurance, the view from the top and sense of accomplishment at the end are totally worth the struggle.
"If some big company were to come along and say 'we'll pay you to ride our bikes,' I'd say an unequivocal, 'oh, hell no,'" says Ernst. "I'm not interested."
So keep riding your bikes, brand-named or otherwise, but support local businesses as your pursuits blossom from ice cream outings to the wilderness and beyond. To the moon!