---
Grunge in the box canyon, music in the mountains
by Chris Aaland
The Fred Shellman Memorial Stage in Town Park will explode into rock & roll mayhem this weekend as Pearl Jam headlines The Ride Festival for two hours Saturday night. Sure, there are 12 other bands on the Saturday and Sunday bill, including some old favorites (The Band of Heathens, Jerry Joseph & the Jackmormons come to mind) and some up-and-comers (HoneyHoney, Cage the Elephant, The Temperance Movement are highlights). But let's be serious for a minute. If you bought a ticket – or are even on the fence as you read this – the chance to see the epic, once-in-a-generation rock & rollers high in the San Juan Mountains is the reason to go.
I can point to the exact moment I jumped on the grunge bandwagon in the early '90s. I still had one foot in the metal world, but was becoming disillusioned. Van Halen, Guns & Roses, Aerosmith … all were foundering. I was fishing at Joe Moore Reservoir near Mancos and somebody had their car radio cranked to a Top 40 station. I think Poison's "Unskinny Bop" played three times that evening. I nearly hurled my six-pack of Natty Light back into the water. Fortunately, Nirvana and Pearl Jam were just starting to get airplay.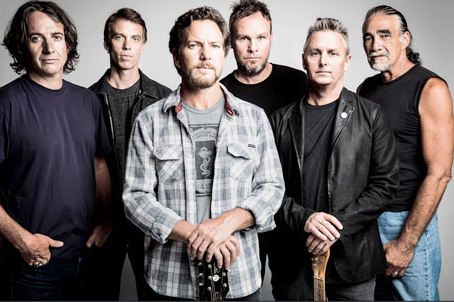 Pearl Jam headlines The Ride Festival this weekend.
Soon, I was a member of Pearl Jam's Ten Club. Their albums became the soundtrack to my life at a time when I transitioned from college student to the working class, and from marriage to divorce to marriage again. My political views were shaped during this time, and Eddie Vedder and company played no small role. "Ten," "Vs.," "Vitalogy," "No Code," "Yield," "Binaural," "Riot Act." These were the sounds and words that drove me. And they may drive me to Town Park on Saturday.
The neo-folk trio Harpeth Rising kicks off Music in the Mountains' 30th anniversary season kicks at 7 p.m. Friday at the Bayfield Performing Arts Center. Unapologetic genre-benders, Harpeth Rising fuses folk, newgrass, rock and classical into something organically unique. The three members of Harpeth Rising – cellist Maria Di Meglio, banjo player Michelle Younger and violinist Jordana Greenberg – all hold degrees in classical performance from some of the most venerated schools in the world. However, each brings something else to the table. Di Meglio adds traditional songs of her families' ancestry across Western Europe and the Caucasus. Younger, who is a direct descendent of Cole Younger, a member of the James-Younger Gang, brings old-time banjo to the mix. And Greenberg, a native Canadian, tosses in folk tunes by fellow Canucks Leonard Cohen and Natalie MacMaster.
Their latest album, "Shifted," debuted at No. 1 on folk radio charts. Prior to the performance, join KSUT in the Bayfield High School parking lot for complimentary bratwursts, potato salad and lemonade.
Then, Monday through Wednesday, MITM continues with performances by Sybratie5, Cézanne Quartet and the Faculty Chamber Ensemble at a variety of venues, including Cortez, Pagosa Springs, the Roshong Recital Hall at FLC and the Glacier Club up near Purgatory. All totaled, more than 26 events will be staged during the three-week festival. Visit musicinthemoun tains.com for tickets and a complete lineup.
The Durango Celtic Festival will hold a mid-summer concert featuring the award-winning Irish band, Runa, at 7 p.m. Tuesday at the Durango Arts Center.
Leftover Cuties return to Durango's Buckley Park as part of tonight's (Thurs., July 7) Alpine Bank-Community Concert Hall free concert series. Their sound spans the decades – from the Prohibition Era of smoke-filled speakeasies to '50s pop-rock. Bring your own chairs, blankets and picnics, or buy grub in the park from a variety of vendors.
If world music is more your thing, the Afrobeatniks bring reggae and Afrobeat to Ska's World Headquarters in Bodo Park for tonight's Ska-B-Q. Tunes start at 5 p.m. These guys will open for Michael Franti & Spearhead later this summer in Three Springs.
The Concerts in the Secret Garden at the Rochester Hotel continue from 5-7:30 p.m. this week with the Pete Giuliani Band, benefitting Spring Creek Horse Rescue. Admission costs $10 (cash) and benefits a different local charity each week.
The Community Concert Hall has announced its 2016-17 season, with tickets going on sale Monday. Durangoconcerts.com is your source for tickets and a complete lineup. This week's Top Shelf list includes 10 Concert Hall highlights:
1. Paula Poundstone, Aug. 19 – Poundstone, a regular on NPR's "Wait Wait … Don't Tell Me," takes the stage with only a stool, a microphone, a can of Diet Pepsi and her razor-sharp wit.
2. Las Cafeteras, Sept. 15 – These Los Angelinos draw from the culture, storytelling and poetic music of Son Jaracho, the traditional music from Veracruz, Mexico.
3. Las Migas, Oct. 18. A fascinating blend of flamenco and Mediterranean styles.
4. The Fabulous Thunderbirds, Nov. 1 – Lead singer/harp man Kim Wilson is the lone original member and you can expect plenty of the classics like "Tuff Enuff" and "Wrap It Up."
5. Kathy Mattea, Nov. 3 - The Grammy-winning Mattea brings longtime collaborator, guitarist Billy Cooley, and delves into "The Acoustic Living Room" to share stories and songs.
6. Blind Boys of Alabama Christmas Show, Dec. 15 - I've seen the Blind Boys a half-dozen times and their music always moves my agnostic ass to testify.
7. Welshly Arms, Jan. 21 - This Cleveland-based blues/rock band adds soul, and R&B with influences from Jimi Hendrix to the Temptations; Otis Redding to Howlin' Wolf.
8. John Scofield Trio, March 1 - Scofield is a legend in the modern jazz guitar world who has expressed himself in bebop, blues, jazz-funk, chamber jazz and electronic-groove.
9. The Hillbenders, April 13 - A classic bluegrass ensemble tackled one of my favorite classic rock albums last year when they cut a near note-for-note version of The Who's "Tommy" in the high and lonesome vein.
10. Chatham County Line, May 10 - The North Carolina quartet is no stranger to Durango, having played past Meltdown and Durango Acoustic Music affairs. More than just a bluegrass band, hard-driving numbers are interspersed with the sparse, haunting ballads of singer/songwriter Dave Wilson.
Empty stares from each corner of a shared prison cell? Email me at chrisa@gobrainstorm.net.