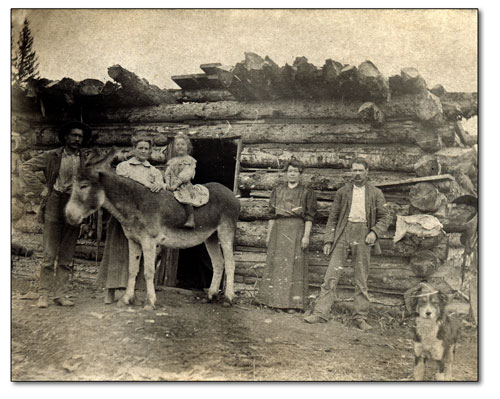 The lives of women in mining camps, such as these who lived near Telluride around 1900, is detailed in a new PBS documentary "Ladies of the Mines," which will debut Tues., Jan. 12, at Fort Lewis College. A label on the photo says "Frank, Minnie and Dorothea Feckes" but does not give any further information./Photo courtesy Telluride Historical Museum
Ladies of the Mines
PBS documentary to debut at FLC
by Stew Mosberg
We're probably all familiar with the Hollywood stereotype of the 19th century mining town harlot with a heart of gold. Less familiar is the role women played in mining history in the Centennial State, where many of them inhabited hardscrabble mining towns alongside their male counterparts. They prospected, including Mary Cathleen Gortner, the first woman to strike a gold claim in her own name; raised families; recorded history and generally kept life trudging along.
Just the Facts
What: "Ladies of the Mines," a free screening of the Rocky Mountain PBS documentary
Where: Fort Lewis College, Student Union Building, Vallecito Room 103
When: Tues., Jan. 12; 6 p.m. reception; 6:30 p.m. screening. The documentary will also show at 6:3 p.m. Wed., Jan. 13, at the Sheridan Opera House in Telluride.
Now, these behind-the-scenes heroes will get their day in the limelight as Rocky Mountain PBS debuts a new documentary "Ladies of the Mines," part of its "Colorado Experience" series, next Tues., Jan. 12, at Fort Lewis College. In addition to featuring stories from nearby mining towns, the film also has another local tie: the idea was the brainchild of local residents Rudy and Andie Davison.
The two submitted the idea as part of a "viewer's choice" contest sponsored by RMPBS. The half-hour "Colorado Experience" installments, which run on Thursdays, take a weekly look at the individuals, places and events contributing to the evolution of Colorado. The shows cover a range of subjects, from the history of Colorado's original Ute inhabitants to the story of Justina Ford, the first African-American woman to practice medicine in Colorado.
Since starting in 2013, the series – a collaboration between RMPBS and History Colorado – has been popular, according to Julie Speer, RMPBS senior executive producer and director. "The response statewide has been tremendous," she said. "We are now in our third season, and the show has terrific momentum. It is currently our highest rated locally produced show."
In an effort to capitalize on the popularity and generate more local interest, PBS reached out to the public with the "viewer's choice" contest, seeking suggestions for future episodes. Speer said the 4 Davisons' suggestion was chosen from nearly 200 entries.
An avid Colorado history buff, Davison was a commentator on a previous "Colorado Experience" program, so it was no accident he was asked by the series' producer Mariel Rodriguez-McGill to submit ideas. The winning topic relates the real-life stories of three women authors who lived in Colorado mining camps at the end of the 19th century, telling of their trials and tribulations with everything from getting groceries delivered by mule to pack rats and spoiled Thanksgiving turkeys.
Rudy is quick to give credit for the concept to retired FLC history professor Duane Smith, who allowed him to sit in on his Colorado History course. It was during that class that Davison learned about the three women authors and how important their point of view was to Colorado's mining history. One of the authors, Harriett Fish Backus, wrote Tomboy Bride, a book Rudy knew well from living in Telluride off and on for 40 years. With his interest piqued, he went on to read the books written by the other two women discussed in the class, The Life of an Ordinary Woman by Anne Ellis and Cripple Creek Days by Mable Barbee Lee.
But Rudy's fascination with Colorado mining history started long before Smith's class. A native Coloradoan, his first job was working for Dixilynn Mining Co. in Silverton. Well versed in Colorado mining history, he has been a presenter at the annual conference of the national Mining History Association as well as the Telluride Historical Museum and Durango Archaeology Club. And, not so incidentally, he was once publisher of the Telluride Times.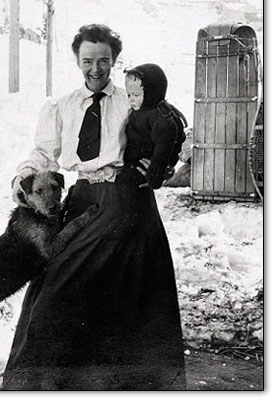 Beth Batchellor, seen here with her son and dog, was one of several women who tried to make a home at the Tomboy Mine, above Telluride. The challenges and contributions of such women are detailed in "Ladies of the Mines."/Photo courtesy Telluride Historical Museum
Discussing how RMPBS selected material for the series, Speer explained stories were chosen based upon subjects that they would love to see personally but also covered a diverse timeframe and geography. "We have a list with over a hundred topics, and folks give us ideas almost every week," she said. "There is no shortage of Colorado stories."
Rodriguez-McGill said prospectors first discovered gold in Colorado while making their way back east after the California Gold Rush. In the film, former FLC professor Smith describes the mining camps as "A men's world, filled with saloons, enthusiastic young men and optimistic prospectors who planned to mine all summer and go home, but it didn't work like that."
It isn't much of a stretch to understand why women played a part in the lonely prospector's life. One of the three women featured in the narrative, Ellis, grew up moving from mining camp to mining camp. Her family was poor, and she gleaned most of her education from literature. Her father read her the classics, and she grew to love reading and eventually writing. During the film, viewers learn that Ellis later married a miner who unfortunately drilled into dynamite, with predictable results, and she was left to support her family on her own.
The third author, Lee, grew up in the Cripple Creek mining camp near Colorado Springs. Her father was a dowser and used a divining rod to locate veins of gold at various mining camps. Fortunately for Lee, her father valued education, and she went to a finishing school in Colorado Springs and later taught at Colorado College, Harvard University and Bennington College.
Continuing to explore women's lives of that era, the movie also tells how Backus married her high school sweetheart and set off for Telluride's Tomboy Mine to join her engineering husband. This segment documents Backus' challenges, including learning how to order groceries in bulk, cooking at altitude and keeping her small cabin, located almost 2 miles above sea level, warm.
The challenges of childbirth and the loss of the lives of infants and often the mother herself, were commonplace. Other illnesses such as the infamous Spanish Flu were extremely dangerous. Lee's husband, in fact, died only days after contracting the catastrophic disease.
As mentioned in the beginning, no story about the mining camps would be complete without citing those "other ladies." Prostitutes and bordellos are only briefly discussed, but it is apparent that while often glamorized, the lifestyle was actually very grim and many of the women died from disease after a short career.
The film's conclusion lauds the tenacity of the women of Colorado's mining towns and their pioneering spirit and ultimately their contribution to civilizing the West.
"Ladies of the Mines" was made possible with help from The Animas Museum, Center of Southwest Studies, San Juan Basin Archaeological Society and Telluride Historical Museum. The Davisons and the show's producers, Speer and Rodriguez-McGill, will join a panel discussion following the screening.