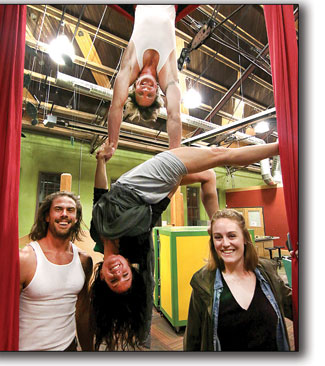 Members of the Imaginario Circus, from left, Dave Stickler, Hattie Miller (upside down), Steve Ward and Erin O'Connor, show off some of the moves they'll be exhibiting at next weekend's "Dark Circus Masquerade" at the Powerhouse. Described as a "dance party and circus variety show," the event will be a benefit for the Second Wind Fund. /Photo by Jennaye Derge
The circus is coming
Imaginario offers a Powerhouse performance on many levels

by Stew Mosberg
Halloween in Durango promises to be more freakishly fun than ever this year as the newly formed Imaginario Circus brings its three-ring extravaganza to the Powerhouse. The troupe's "A Dark Circus Masquerade" descends on the science center for two nights of acrobatics, juggling, dance and other feats of physical intrigue and mystery Oct. 30 and 31.
Somewhat reminiscent of the Salt Fire Circus, which many members have performed with, Imaginario is comprised of a couple dozen skilled aerialists, jugglers, contortionists and acrobats. The Halloween show will also feature some performers from outside the area as well, including Liz Thomas, a slack liner from San Diego, where she is training in Circus School; Mark Stampfle, a juggle; and Rachel Taulbee, a vocalist, both from Denver.
Billed as a "dance party and circus variety show," the evening will include DJ Niko (aka Nick Gould), spinning dance music against a backdrop of lights and sound from Kelly Rogers, of Lightning Communications.
JusttheFacts
What: "A Dark Circus Masquerade," a benefit for the Second Wind Fund presented by Imaginario Circus
When: Fri. – Sat., Oct. 30 - 31, doors open at 7 p.m.; show at 8
Where: Powerhouse Science Center
Tickets: Advance $20 (18+) available at Animas Trading Co. or and online at brownpapertickets.com; $25 at the door
It is important to note that although Imaginario isn't a nonprofit organization, proceeds from this event will be donated to The Second Wind Fund of the Four Corners, a local suicide prevention/awareness group that focuses on teen-age suicide prevention. The Dark Circus Masquerade is being produced in memory of Sawyer Ward, the deceased son of Steve Ward, one of the performers. Ward and his partner, Hattie Miller, an aerialist, conceived the idea for the Halloween fundraiser. They will be joined by David Stickler, who is a seasoned performer and also one of the originators of Imaginario.
Miller acknowledged that she first became interested in performing when Ward took her to see "Elixir," a Salt Fire Circus show, several years ago. She recalled being immediately caught up and told Ward, "I want to play with them!" She eventually trained with Chrissy Mossier and Dave Stickler, among others, and the experience blossomed into a friendship they all share today.
Miller and Ward were both seen last year in the DAC/FLC production of "Pippin." She has a background in music and theater and is a competitive gymnast; he has an engineering background and owns Greenward Construction.
As for Stickler, he began working as a trainer with Salt Fire Circus in 2009 and the following year started performing aerial moves and acro-yoga (a combination of acrobatics and yoga). He explains the key differences between the two groups is that "Salt Fire was founded by dancers incorporating burlesque and circus, while Imaginario was started by aerialists incorporating some burlesque."
He said "Dark Masquerade" also includes the audience as part of the show. "Think interactive dance party, cabaret, variety show. This is not a sit-down show," he advised.
Director and stage manager for the show is FLC Theater graduate Erin O'Connor, who described the spectacle in vivid detail. "You will see our fire-spinning team out front (and a) stilt walker playing accordion," she said. "As you walk into the building you'll be greeted by our burlesque girls pulling you into the magic. You can take pictures at our photo booth to commemorate the night, stop and talk to our fortune teller, interact with our clowns, and listen to the wonderful Minna Jain playing her saw. It's beautiful!"
Wait … a saw? Jain, who has also played for the Salt Fire Circus, says she learned the musical saw about eight years ago because she thought it was simultaneously "lovely, ethereal and very down-to-earth."
The musical saw is a true American original, rooted in early 19th century Appalachia. "It got really popular in the '20s and '30s with vaudeville and had a resurgence in both bluegrass and neo-burlesque-circus acts in the early 2000s," she said.
Jain further explained that historically, a common carpenter's saw and a well rosined bow were used although she admits her instrument is less of a traditional tool. "My saw is made specifically to be played," she said, "it's light and flexible, but still sharp. I have used it in a pinch to prune my choke cherries."
There will also be "cigarette" girls peddling toys, candy and trinkets, and the MC for the evening will be a seven-foot, stilt-walking "Cookie Saint Germaine" (aka Tyler Frakes) dressed in gender-bending attire.
In addition to slack lining and acro-yoga, the evening will also feature poi – a twirling, spinning, balletic form of movement that originated with the M?ori people of New Zealand.
O'Connor said for the evening, the troupe will be split into "Ambiance Crew," which is the pre-show cast, and "Circus Cast," although several members will overlap.
And whether one goes for a pre-Halloween warm-up or on the big night, there's no doubt the wickedly wonderful crew will serve up a scary good time.
For more on the Second Wind Fund or to get help for an at-risk youth, call (970) 946-9586.