---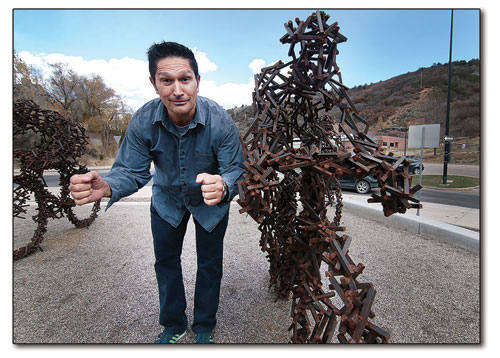 John Rubano poses next to Durango's second most famous sculpture. Speaking of seconds, Rubano, a Second City veteran, will be bringing his comedic musical "The Bicycle Men" to lucky local audiences this weekend. The funny man and actor now calls Durango home./Photo by Jennaye Derge
Second City to Second Ave.
John Rubano & his Bicycle Men return to DAC for three-night run
by Ted Holteen
The world of show biz is filled with critics – music critics, art critics, theater critics and movie critics. But few of those ever bother to weigh in on the world of comedy, and with good reason. There's just no objective explanation for what makes people laugh, and it is laughter – not awards or critical acclaim – that ultimately defines success in the world of comedy. It is not a profession for the timid, and from Lenny Bruce to John Belushi to Robin Williams, many struggle with how to handle life in between the laughs.
As one who appreciates the enigma of finding good comedy, it's nice to meet a man who jumped into the meat grinder that is the big time laugh factory and somehow came out the other side smiling and more or less unscathed. This week's return of "The Bicycle Men" to the Durango Arts Center gave me a chance to talk to another of our fascinating locals, John Rubano, who co-wrote and stars in the stage comedy.
Justthefacts
What: "The Bicycle Men," a musical by John Rubano, Dave Lewman, Joe Liss and Mark Nutter
When: Thurs., Nov. 12, 7:30 p.m.; Fri. and Sat., Nov. 13-14, 6 and 9 p.m.
Where: Durango Arts Center, 802 E. Second Ave.
Tickets: $25, available at www.durangoarts.org or at the DAC box office
I first met Rubano a few years ago during whatever the Durango Independent Film Festival was called at the time. He was hosting the awards ceremony and festival chief Joanie Fraughton said to me, "You should meet John – he was on 'Seinfeld.'" I'm not sure if she thought I was also on "Seinfeld" or just thought it was something I should put in the newspaper, but I'm glad for the meeting because in Rubano I have found a kindred soul who appreciates the classic aspects of show business. (He's also an unabashed fan of my "Ike's America Radio Program," so that might have an effect on my objectivity as well.)
As far as I can tell, the Denver native lives here now because he loves bicycles and riding bicycles. Like so many of us, his path here is long and winding, but his story is certainly unique. Growing up in the 1970s, he performed Kurt Goletz' Big Band as a teen-ager before graduating from the University of Colorado with a degree in journalism. Ensured of a career with low wages and few opportunities, he instead "horrified" his parents by heading to 4
where he discovered "a magical place called Second City."
Yes, that Second City. It was the early '80s, and Rubano found himself in the burgeoning stand-up comedy scene. It started with improv classes that were taught on the main stage of the legendary comedy factory, but it took five grueling years on stages throughout the Windy City before he got a chance to join the troupe.
"It was an incredible opportunity," Rubano said. "The access to stages in Chicago then was great, and they'd allow us to get up and do whatever. That included allowing us to fail. And five years of stinking up the place teaches you a lot and gets your chops up."
While he had a few friends who made the SC grade, Rubano spent time working in a bike and ski shop in between gigs, but the hard work in smoke-filled clubs (yes, kids, people used to smoke in bars) eventually paid off when he knocked on the door of a Second City producer.
"Joyce Sloan said the thing that changed my life – 'Well today's your lucky day – I was going to call you. We want you to be in the touring company,'" Rubano said. "And that's how I got in Second City without an audition and to this day, that is the moment that changed my life. Everything I have now is because of Second City."
After a relatively short four months doing the Second City road show, Rubano landed a job on the Main Stage in Chicago. Although the ensuing decades didn't bring the kind of fame it did for some of his SC contemporaries like Steve Carell, he had steady work on television and "bad movies" – his words, not mine – for years, including a run-in with a fellow actor who also had some musical background, like John.
"Jim Belushi used to improvise with Second City, and one time he said, 'look me up if you're in L.A.' Rubano did, and before long, Belushi has gotten him a couple parts in movies. At the same time, Belushi had started sitting in at the House of Blues. Knowing Rubano could sing, he encouraged him to sit in with the band as well. As a former musician, Rubano was reluctant. "I know one thing musicians don't need is to have actors think they can be musicians," he said. "But after about a year of going back and forth, I finally went down there and had a good time. That was 21 years ago."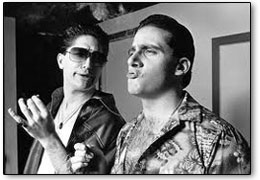 John Rubano, left, performs with Steve Carell on the Second City Mainstage in Chicago in the 1980s./Courtesy photo
Ironically, that gig turned into Rubano's real meal ticket. He now performs with Jim Belushi and The Sacred Hearts on national tours and also sings backup when Belushi teams up with Dan Aykroyd for performances of The Blues Brothers.
"If you told me after Chicago I'd have a career in the music business again, I'd never believe it," Rubano said. "I have to leave town to work, but it's great work. So much of a career is luck. The funniest guy I know is Joe Liss in our show, and nobody knows who he is. He's like a modern Don Knotts – he's so f-in' funny you will cry when you see him."
Oh right – the show. That's "The Bicycle Men," a comedy co-written by Rubano with fellow Second City alum Liss as well as Dave Lewman and Mark Nutter. The show won first place at the 2004 New York City Fringe Festival and has been performed in Europe as well as Chicago and Los Angeles. Lewman and Nutter have since been replaced by Derek Manson and Bruce Green, who recently appeared in the remake of "True Grit." On piano will be Durango's own Ryan McCurry.
Combining the authors' love of cycling and knack for comedy, it's the story of an American cyclist in France, played by Manson, and the foibles that follow a mechanical failure in a small village. Unlike many "comedies," this one is actually funny as it's written and performed by people who know that there's no such thing as a family friendly comedy. After recommending the show to my dear friend Pam at Carver's, she asked John if it was appropriate to bring her 14-year-old daughter to the show.
"No," he answered, laughing.
If you don't have a chance to sit down and talk Hollywood with John like I did, at least check out the show and have a few genuine laughs. It's not something we get a lot of in these parts.
"Let's face it, shows like this don't come here, and we're doing it here because I live here," Rubano said. "If I lived in L.A. I wouldn't be targeting Durango. 'The Bicycle Men' has been an absolute joy since we started. To hear the audience laugh at something we wrote – it never gets old."
Ted Holteen writes of local persons of interest in a reverent manner. Suggestions are welcomed via e-mail at egholteen@yahoo.com.