---
Beer brawl, The Main Squeeze and Irish Underground
by Chris Aaland
Election season is upon us. No, I'm not talking about the recent school board election or the initiative to allow the state to retain excess taxes on marijuana sales. And I'm not talking about the clown car careening down the highway in the presidential election.
I'm talking about allowing full-strength beer and wine sales in grocery and convenience stores. Colorado chains are currently allowed to sell 3.2 beer – "Kiddie Beer," if you will – but not the good stuff.
In one corner, we have Keep Colorado Local, which strongly opposes the proposal. Their arguments are that grocery stores and mini marts will fill their limited cooler space with Bud, Miller and Coors; that many craft brewers won't be able to distribute through these chains; that mom & pop liquor store owners will be forced to close due to the corporate competition; that those leading the pro-grocery store sales reside out-of-state at corporate headquarters; and that many chains like Safeway and 7-11 have hundreds of stores across the state, and can apply for hundreds of licenses (liquor store owners can own one and only one store).
"When small business takes a hit, the world takes a hit," said Mike Rich, owner of Wagon Wheel Liquors. "We're all independent business people, and that's what it makes it competitive."
Rich added that this fierce, independent streak allows many Durango liquor stores to support a variety of community causes. Listen to KDUR and KSUT and you'll hear underwriting from a variety of independent liquor stores and artisan brewers, vintners and distillers. Go to a fundraising event, and odds are you'll see one or all of the Bootlegger's Society contributing.
"Our community involvement works because we're part of the community," said Rich.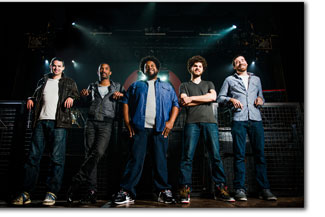 Durango Massive brings The Main Squeeze to the Animas City Theatre at 9 p.m. Saturday.
According to Keep Colorado Local, there are 311 craft breweries, 135 local wineries, 72 craft distilleries and 1,616 independent liquor stores in the Centennial State. These stores alone employ more than 15,000 people. The craft brewing industry pumps $1.16 billion into the state economy each year.
Colorado Consumers for Choice – a small coalition of retailers – argues simply that in 41 states, you can buy and sell Colorado craft beer in grocery stores, but not here. Knowing how money buys elections – truth be damned – you can count on Colorado Consumers for Choice pumping millions into advertising campaigns to sway the Average Joe into voting in favor of the proposal.
"If you want to think choice is the key word here, we all have choices in life that have bad and good consequences," said Rich. "This is a choice that has bad consequences and nothing good."
Others agree. One friend of mine who works in the craft brewing industry at a large, Front Range brewery wishes to remain anonymous because his employer is taking a neutral stance: they already have relationships with big box and supermarket chains in other states. Off the record, he's worried for many smaller, craft brewers and independent liquor stores.
"The grocery stores in Colorado are not built to have beers in them," he said, adding that they'd need to remodel every single store across the state to accommodate one or two aisles of beer and wine. "That's a lot of distribution loss for a lot of breweries here in Colorado. The whole Colorado beer society will take a huge hit as independent liquor stores are going to close."
Fortunately, Durango embraces its mom & pop stores and craft brewers.
At BREW, Nitro-vember is back. If you like your beer extra smooth and creamy, BREW will offer up guest nitros like Left Hand Milk Stout, Left Hand Week Sauce Coffee Porter, Epic Hopulent IPA and more. Their house nitros will include a nitro IPA, a nitro yeast beer (not something you see very often anywhere) and a whiskey barrel-aged option, too. "Nitro beers have cascading bubbles that are a beautiful sight to behold as the tiny effervescence makes it way up the glass," said owner and brewmaster Erik Maxson.
At Ska, Hop Ivy will hit the shelves by Thanksgiving as the state's first beer to reach platinum certification status through the Real Colorado Beer Project. Hop Ivy is a twist off of Ska's previous semi-local Hoperation Ivy. Hop Ivy is a similar hop-forward pale ale showcasing local Chinook and Nugget hops harvested at Simply Grown LLC hop farm in Palisade. The barley is grown and malted at Colorado Malting Co. in Alamosa and the yeast is from the Brewing Science Institute in Woodland Park. Fresh snowmelt from the mighty San Juan Mountains is the source of Hop Ivy's water. Its initial release will be in draft, with cans to follow at the first of the year. The beer will only be available in Colorado.
CeleFunktion and Durango Massive present two sets from The Main Squeeze at 9 p.m. Saturday at the Animas City Theatre. Seamlessly blending funk, soul and rock & roll, The Main Squeeze promises to keep your body moving with its infectious feel-good musical gumbo. The group recently released "Mind Your Head," produced by the legendary Randy Jackson. During the band's five-year career, it's shared the stage with the Roots, Jane's Addiction, the Meters and countless others.
The newly remodeled Irish Embassy Underground hosts two bands this coming week: the old-time bluegrass sounds of Six Dollar String Band at 8 p.m. Friday and the Celtic tunes of the Highland Soles Trio at 7 p.m. Tuesday.
Carute Roma plays its first gig ever in Cortez at 7 p.m. today (Thurs., Nov. 12) at the Sunflower Theatre.
Get your Zoot suit and flapper costumes out as the Durango Elks Lodge hosts their 507 Speakeasy Street Charity Ball from 6 'til midnight Saturday. It's a Roaring Twenties-themed night of spirits, food, costumes and casino games that benefit local charities supported by B.P.O.E. #507. Live music from 7 Sharp 11, Simone Sanchez & the Machine and DJ Chadillac & the Mob Bosses will help you dance the night away. But keep it quiet! The secret password is moonshine.
Up in T-Ride, the Sheridan Opera House hosts Greensky Bluegrass on Monday and Tuesday. These shows also mark the fourth anniversary of Telluride Brewing.
Finally, KSUT's free Ignacio Blues Series continues with Eddie Turner from 6-8 p.m. Tuesday at the Sky Ute Casino's 49 Lounge. Turner is best known for his incendiary guitar work for Otis Taylor.
Wal-Mart killed the country store? Email me at chrisa@gobrain storm.net.