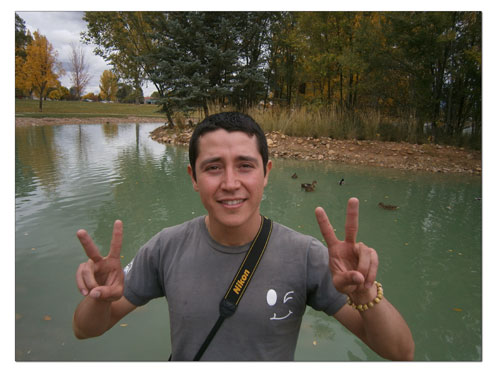 Felipe Gonzales, 26, poses for a photo wearing one of his "Give Life a Wink" T-shirts at the Cortez City Park. Gonzales, a reformed gambler who is on a spritual quest of sorts, stopped off for the winter in Cortez during his cross coutry walk from California to Maine./Photo by Paul Ferrell
All who wander
Walking man reflects on first leg of cross country journey
by Paul Ferrell
These days, stories of people walking across the country for various reasons or causes is not all that unusual. But 26-year-old Felipe Gonzales, who is walking across the country from San Diego to Portland, Maine, is not walking for any cause or organization. When asked why he's walking to Maine, he replies with a smile, "I heard they have good lobster." If you dig a little deeper, he'll tell you in all seriousness, "It's a spiritual journey."
Gonzales, who appears younger than his 26 years, started his journey April 10. So far, he has walked 800 miles and has 2,300 more to go. About a month ago he reached Colorado and decided to spend the coming winter living and working in Cortez. His cross country odyssey will resume in the spring.
"I don't have a timeframe to get to Maine," Gonzales says, "It's just getting there."
Gonzales, who grew up in Indiana and spent time living in Arizona and San Diego, began this spiritual journey with a large backpack containing his tent and all his belongings. "I started out with a backpack for the first 10 days. I was carrying about 35 to 40 pounds." At a garage sale, he scored a jogging baby stroller. "Now I'm pushing around 75 pounds or so. People keep handing me things!"
Gonzales has found himself, literally, weighed down by generosity. "I'm not out there panhandling. I haven't asked anybody for any money or anything, but people have come up to me and they've offered me all different kinds of help." The help has come in many forms. Complete strangers have given him guidance, companionship, advice, money and employment as well as food, water and shelter.
It was the latter three that were his primary concerns. Shelter was his tent, and finding water was usually not much of a problem. Food, however, proved a little more difficult. Gonzales envisioned walking4 across the nation fueled by a steady diet of fresh, healthy, organic food. "That's not happening," he laughs. "Organics are very rare to find in a lot of places, so I had to suffice with gas station food … I'd get brownies or honey buns. I'd get frozen burritos and just wait for the sun to thaw it out."
Gonzales no longer eats gas station food. About a month ago he settled down in Cortez. He has a place to live, and he works at Flat Belly Organics, a health food store on Main Street. "Right now I'm making smoothies," he laughs. His boss, Darrin Dennison, a Cortez native, is happy with his newest employee. "He does a good job, he's really friendly. He plays on our softball team. He integrated right into everything."
Dennison is intrigued by Gonzales' trek. "He's looking for something, to find himself. He's on a journey, I believe. He's looking to find what he's supposed to do."
Gonzales first embraced his journey of self-discovery after a big loss playing poker in Las Vegas where he went to have his "shot at becoming a professional poker player." He lived there for eight months, spending eight to 10 hours a day inside casinos. It didn't take long for him to become disenchanted with the world of professional gambling. One evening, he lost all his money at the poker tables and he realized that the money was not important. "I was lost," he says. "The next morning I woke up and I started focusing more on myself as far as physically, mentally and spiritually."
He went into the Nevada desert and started running, hiking and climbing. He taught himself about nutrition and began reading books on self-improvement and philosophy, like James Allen's As a Man Thinkith, published in 1912. "It's a short book. To sum it up: who you believe you are – that's exactly who you are." He found lectures about meditation on YouTube. "It really has helped me out especially with some of the questions that I have about myself."
Finally, Gonzales had to admit that gambling was the wrong path. "I needed time to think about what is it that I really want to do with my life. I wanted to make sense of all this, so I went to San Diego and started walking."
Gonzales' walk brought plenty of twists, turn, detours and adventures, but he found what he expected to find: love. "The love that people have toward one another – that's what I expected."
He had to search his memory to find just a single unpleasant experience, and that was with a law enforcement officer. "I don't think he showed me any love because he was just doing his job. He was just asking me a lot of questions." He adds, "Law enforcement overall have been very helpful. They have stopped and asked me if I need any help or what they can do for me. They've taken pictures with me." In Southern California and Arizona he encountered friendly Border Patrol officers. One evening he set up his tent near a checkpoint. "They kind of looked after me for the night."
In Northern Arizona and in Colorado he encountered Native American hospitality. "Everywhere I've been on the reservations they've been very helpful, very loving people." One morning a Navajo man waited patiently in his pickup truck for Gonzales to take down his tent and pack up so he could give the young man a lift. He had to explain to the man that he was not a hitch-hiker. On the Hopi nation, Gonzales stayed with two different families for several days. "The Hopis invited me to see a couple of their ceremonies – that was beautiful." Outside of Towaoc, some Utes invited him to on a trip to Sleeping Ute Mountain.
Gonzales has been invited to share a meal or spend the night with many people he met along the way. He's always thankful for a warm meal, bed and a hot shower. Twice he lost his camera and once he lost his wallet, but both were returned to him eventually. He has been offered jobs and worked as a dishwasher and construction worker for a few weeks.
In Cortez, Gonzales uses his free time to mentor young people. He runs regularly, plays softball, reads, and spends hours on social media. He was a guest speaker at a local school and was interviewed on the Cortez radio station, KSJD. He's also creating a website called Give Life a Wink.
Gonzales wears Give Life a Wink T-shirts, which he had made, but says it's not an organization; it's a message. "It's something that I want to build. It's being optimistic and following goals and dreams. The message is that nobody knows exactly who you are besides yourself," he says. "You give life a wink because you know exactly what you've been through to get to where you're at now … I'm trying to build a way for people to communicate, to talk about their dreams and their goals, and we'll be able to help each other get through our struggles, because we all have them."
Dennison firmly believes that Gonzales is heading in the right direction. "He is what he says he is. He's authentic. He's doing just exactly what he says. I think there's a bigger message inside he wants to let us know about, but he hasn't found it for sure yet. But it's in there, and I'm really curious to see how it ends up when he does finish up with his walk."
You can follow Felipe on Facebook, Snapchat, Flicker and Instagram with the handle Give Life a Wink. On Twitter it's Wink at Life. GiveLifeaWink.com is coming soon.