---
French-Cajun, Fort Knox and river music
by Chris Aaland
From Cajun revivalists to hip-hop pioneers to pumpkin ales, this week has something for everyone.The French-Cajun sounds of BeauSoleil avec Michael Doucet will fill the Community Concert Hall at 7 p.m. Saturday. Since forming in 1975, the Grammy-winning BeauSoleil has championed Cajun music and culture by artfully blending elements of Zydeco, New Orleans jazz, Gulf Coast pop, Tex-Mex, country, blues and more into a satisfying musical recipe. Band leader and fiddle playing vocalist Doucet is deeply connected to French-Cajun music, art and food, and was one of the proponents of its revival in the '70s and '80s. It's been nearly a decade since Durango audiences caught them at a pair of DSCPA shows at the old Abbey Theatre.
The Fort Knox Five featuring QDup returns to the Animas City Theatre at 9 p.m. Friday. The Washington, D.C.-based musical collective has blended electronica, funk, reggae and hip-hop since 2003. The quartet's name, incidentally, tips its cap to some of their influences: Grand Master Flash & the Furious Five, Jurassic 5, Jackson 5, MC5 … Five sounds better than four, in other words. They've played alongside Gwen Stefani and the Black-Eyed Peas during their career, all the while keeping DC's vibrant hip-hop scene front and center. In addition to a four-turntable DJ set by the Fort Knox Five, special guest DJ Posh Josh will also spin at this 18+ affair.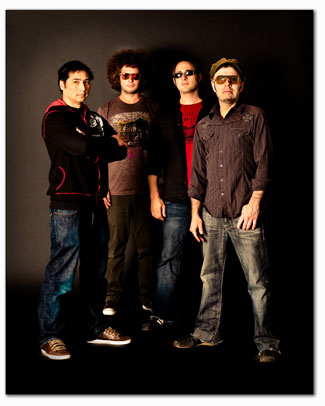 Fort Knox Five returns to the Animas City Theatre at 9 p.m. Friday.
The ACT's busy week also includes Chali 2na & the Funk Hunters with special guests at 8:30 p.m. Monday. Bearing an immediately identifiable, deep baritone, Chali 2na (born Charles Stewart Jr.) became the unofficial point man for West Coast underground favorite Jurassic 5 (think "Quality Control" and "W.O.E. Is Me") as well as a founder of Ozomatli. The latter's music fused world beat, rock, hip-hop and Latin dance/funk. He emerged as Jurassic 5's most popular member and was frequently tapped for guest appearances on records by Swollen Members, Linkin Park, Blackalicious and others. The Funk Hunters, on the other hand, borrow inspiration from classic hip-hop and, you guessed it by their name, funk. The DJ duo's show is a technical display of creative collaboration between four turntables. Doors for this all-ages show open at 8.
Durango Massive, Liver Down the River and Mountain View Artists present the latest in the Music for the Animas concert series at the Animas City Theatre on Saturday night. This concert features a trio of bands, including headliner Head for the Hills. This Fort Collins-based, progressive bluegrass quartet has torn up the festival circuit, following in the footsteps of Yonder, String Cheese, Leftover Salmon and Hot Rise. Their fourth record, "Blue Ruin," fuses bluegrass, jazz, hip-hop and indie rock into songs inspired by love, misery and comic books. And, with a name like Head for the Hills, an Iron Maiden cover often arises in their live show. Also on the bill are Kitchen Dwellers and Liver Down the River. The former is a Montana newgrass group that has opened for Railroad Earth and Greensky Bluegrass. The latter is a six-piece local group that has been selling out shows from Durango to Santa Fe. All proceeds from the event will be donated to the Mountain Studies Institute to support clean-up of the Animas. Doors open at 8 p.m., with music starting at 8:45.
The 22nd annual KSUT Members' Party & Silent Auction takes place from 5:30-9:30 Saturday night at Ska Brewing World Headquarters in Bodo Park. The $20 admission gets you unlimited appetizers from Durangourmet and endless pulls from Ska's award-winning brews. You'll also get to bid on hundreds of auction items. Powderhounds would be wise to focus on overnight and weekend trips to Telluride and Wolf Creek as well as packages to Purgatory and Silverton Mountain. River rats might be interested in a paddleboard from 4 Corners River Sports or a guided fly-fishing trip with Duranglers guide Thom Chacon. There's also music (hundreds of CDs assembled into packages by genre), concert-and-dinner pairings, artwork, outdoor gear, sports tickets, merchandise and much more. Visit ksut.org or show up to the door at Ska to support the Four Corners' NPR affiliate.
Music in the Mountains hosts its latest "A Bite of Jazz" friendraiser on Wednesday at St. Mark's Church, this time around featuring Chad MacCluskey and his band, Actual Proof. The quartet includes the bass-playing MacCluskey, trumpet player Bob Newnam, pianist Lee Bartley and drummer Brad Tarpley. Dinner starts at 6:15, with music to follow at 7:30. Save a sawbuck by purchasing tickets by Friday at musicinthe mountains.com.
Beer drinkers be warned: Steamworks will close for most of this month, as they launch the first of a three-phase remodel beginning Monday. They'll reopen Nov. 15. During this phase of the remodel – timed in honor of the brewery's 20th anniversary in 2016 – all light figures and ceiling fans will be replaced and the restrooms completely remodeled (What? No medieval dungeon-inspired, clanging metal doors to the stalls?) Good thing Durango is awash with choices during these shut-downs. Don't know what we'd do without regular pint nights.
The closure won't affect Firkin Friday, though. Steamworks rolls out a keg o' Pumpkin Firkin at 3 p.m. Friday. "For the firkin, we roasted locally grown Fields to Plate pumpkins with various herbs and spices," brewer Chad Quinn said. "Then the caramelized mixture was added to our Spruce Goose Ale." This year's Goose was brewed with fresh spruce tips harvested from near the Colorado Trail at Molas Pass. "On its own, the Spruce Goose offers aromas of malt and the new growth spruce tips, plus has a toffee-like malt flavor," brewmaster Ken Martin added.
Moe's madness this week includes beer bingo and a DBC keg giveaway tonight (Thurs., Nov. 5); dancing to the soothing sounds of DJ Kaztro on Friday; First Saturdays with dancing to DJ Icite and Codestar (giveaways from Animas Herbal Wellness!); and live music with Eddie Lee on Sunday.
Tickets for six additions to the Community Concert Hall's schedule go on sale at 10 a.m. Friday at durangoconcerts.com. This week's Top Shelf list announces these shows:
1. The Wailers, Sat., Jan. 9
2. "Who's Bad: The Ultimate Michael Jackson Tribute," Tues., Jan. 19
3. March Fourth! Marching Band, Sat., Feb. 13
4. Terri Clark, Tues., Feb. 23
5. Bruce Cockburn, Thurs., March 24
6. Los Lonely Boys, Wed., March 30
Out on the plains we gave him hell? Email me at chrisa@gobrain storm.net.