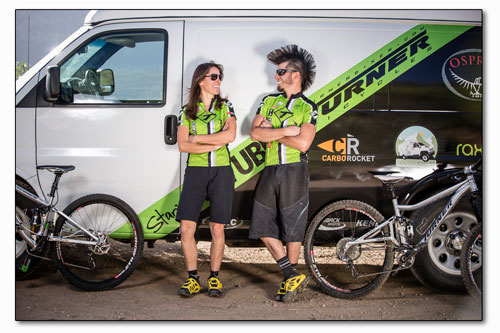 When not in Durango, Krista Parks and Anthony Diaz experience the bliss of #vanlife in their home on wheels bedecked with sponsor logos from Osprey packs, Turner bikes, Stan's No Tubes, PowerBar and Diaz's business, DSD./Photo by Nick Ontiveros
Enduromance
Local riders go big on enduro circuit
by Joy Martin
In our glorious hamlet of al fresco recreation, a deep passion for mountain biking is palpable, a single heartbeat pounding from the young guns of Devo to the old school pioneers still smoking us average folk on our web of singletrack around town.
In fact, mountain bikers overtake skinny ultra-marathoners and skiing Olympians by a landslide to win most common professional athlete, according to the Durango Area Tourism site. A mountain bike pro's specialty varies from cross country lung busting to fearless downhill shredding, to MTB's middle sister, enduro.
Enduro racing combines the endurance of climbing with the intense, technical finesse of timed downhill segments. The lowest cumulative time at the end of a race determines the winner and therefore the fastest, most talented all-around rider.
Euro-bred enduro is gaining traction in North American with events that range from Durango's summer evening Zia Town Series to the multi-day Big Mountain Enduro (BME) series. Each of the four BME races this year hosted around 100 pro men and about 50 pro women, as well as amateur classes.
Sponsorship is tough in the world of pro enduro. Riders must be resourceful when they embark on the climb to greatness for, just like us, money and health are not guaranteed, especially when the road to success is paved with rock shards, low-hanging branches and terrifying drop-offs to oblivion.
Meet local pro enduro riders, Anthony Diaz and Krista Park, the NoTubes Enduro Team.
Diaz, a Texan with a jet-black Mohawk, was ranked third male in 2014 and sixth this year going into the last race. But in September, he knocked himself out of the competition – literally – with a broken clavicle incurred not at one of the major BME races but rather in Horse Gulch at the Zia Town Series finale.
In a crash that no one saw, Diaz miraculously got back on his bike and finished the race with a broken helmet and no recollection of events.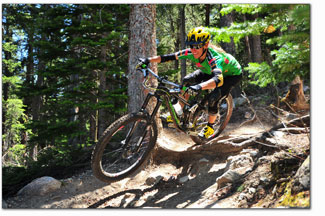 Through trial and error, Krista's learned to ride bikes with no shortage of broken bones and crushed confidence./ Photo by Nick Ontiveros
"Apparently I was really fixated on my time and just kept asking one of my buddies 'Did you get my time?' 'No, dude,' he said, 'You looked bad.' So I threw my glove at him."
The thrown glove marked the end of Diaz's 2015 race season (not his friendship with his buddy, thankfully). Surgery with a plate and eight screws to follow rendered him useless in the saddle. But he did as any stalwart, determined buckaroo would do and got back on the proverbial iron horse and focused on his business, Diaz Suspension Design (DSD). He also served as the head mechanic for the winning Fort Lewis College cycling team at collegiate nationals this fall.
Though he officially launched DSD, which operates out of the basement of Durango Cyclery, in 2013, Diaz has been flirting with suspension design his entire professional career, first out of necessity and second out of intrigue. He didn't get a new bike every year like the top-tier pros, so he was constantly modifying the suspension on his years-old bike, asking, "How can I make this more efficient? How can I get the most speed out of my bike?" He calls it "backwards engineering."
As Diaz rose in the ranks of pro-dom, so did his mechanical skills. Friends recognized his knack for suspension tweaking, so they handed their bikes over to the fearless Diaz, who would then tear down the shocks, "bump 'em up" and return the bike to see if both rider and bike performed better. They did, and word spread. Now he shares his savvy not only with fellow pros but also with us plebeians.
"The bike industry is mainly focused on marketing to the 95 percent of riders who aren't racing," says Diaz. As a result, manufacturers are putting out products that are keeping people from advancing as riders, he says. "People start to think 'I just can't corner' when really it's not them; it's the bike," he says.
"The guy has skills," says Brandon Ontiveros, owner of the Big Mountain Enduro (BME) series. "Not just in manufacturing his Mohawk and riding bikes, but more in suspension design and knowledge within that area. His riding always speaks for itself, but Diaz might also be one of the smartest guys I've met when it comes to bike suspension."
Enter Krista.
In 2004, Krista, tore her playing soccer, so she started mountain biking at the age of 30. Turned out she was pretty good, rising quickly through the ranks of the cross country pro circuit, eventually landing a spot on the 2012 Olympic Long Team Selection.
"It's cutthroat to compete at that level. With cross country, on the pro level, you have to be selfish. It's all dependent on recovery. Whoever can recover the quickest can get in extra training. I took it as far as I could ... but then I got injured," says the native. "Seventeen psi was great, but not for a 4-foot drop into a 90-degree turn on a hardtail."
Around this time, she started riding a full-suspension bike with 80mm of travel, but it rode like her hardtail, so she rarely raced it. Meanwhile, the World Cup courses were getting more and more technical. "I started asking around for advice on how to tweak the suspension to work for me," she says. "Everyone kept saying 'Go see this guy' talking about Diaz. So I met him at a party, we started talking." Long story short, he made a few adjustments, and voila. "It was magic," she says. "I could ride over anything."
In 2013, Krista switched to enduro racing, largely because the "training's a lot more social."
"In cross country, you have to do intervals, so there is much less chit-chat. But with enduro training, you're like, 'Hey let's do Haflin.' So you ride, chill, take pictures, drink beer. It's not the same time commitment as cross country."
Last winter, she finally had a successful reconstruction and meniscus repair surgery (the same ACL soccer injury from 2004) and then worked really hard to ride fast again.
By September, she was clearly unflagging in her athletic prowess, finishing out the 2015 season with the women's No. 1 race plate for the BME series, an amazing feat from an electrical engineer "on an extended break to race bikes."
But Krista still flexes that engineer brain power, working as her own mechanic. She spends her evenings tinkering with bike parts in Diaz's shop.
"We did a headset for my Cannondale once. I did all the calculations with angles, actual equations, laws of sines and cosines – I drew it all out," she says. "He, meanwhile, did it based on looking at the headset and the bike and taking measurements. We overlaid our drawings and they were exactly the same. We may use different approaches – sometimes it's analytical versus intuitive – but we both enjoy design and testing."
Krista says she learned mountain biking "the hard way," through trial-and-error. Nowadays, when she knows she needs extra help, she'll hire a coach and, when she's not racing, offers skills coaching clinics.
"There's always more to learn, and getting the guts up to do a feature can get you in big trouble. A more solid approach is to break it down, learn, practice, then execute with confidence," says Krista.
So when you get your bike back from Diaz, if you're still struggling with cornering, what do you do? Call Krista and schedule a cornering clinic. See how this team thing works?
And if you still can't corner, well, you might not be hopeless. Be patient, find the fortitude that arises from bona fide love of a sport that beats us to a humble pulp of a human, and press on while you have your health. All the while, repeat the riding mantra of every biker, young and old, pro and novice: Just keep pedaling. Because true romance is worth the sweat, blood and tears.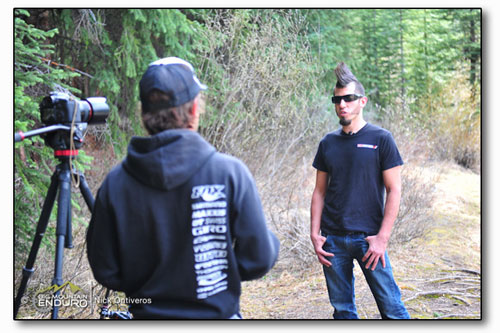 There is currently no content available.