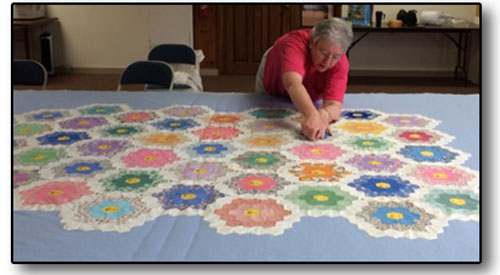 Charlotte Pirnat works on the quilt, started by her grandmother Lavernia in the 1930s. /Courtesy photo
Sisterhood of the traveling quilt
After 85 years, family heirloom finally laid to rest
by Malia Durbano
When Charlotte Pirnat, of Durango, set out to pick up the pieces of her family history, she did so quite literally. Pirnat, 67, an accomplished quilter, recently finished a quilt started by her grandmother some 85 years ago, not only stitching together the heirloom itself, but a family legacy in the process.
The nearly century long tale of the traveling quilt began in Depression-era north-central Colorado, where an industrious farmer's wife began work on a new quilt design. That woman was Lavernia Walter-Reid, or Grandma Lavernia, as she became known to her granddaughters, Charlotte and her sister, Rebecca "Becca" Paulson. However, Lavernia – who had a reputation for quality stitching – never completed the project due to arthritis. In the 1970s, a few years before her death, Lavernia passed the unfinished project on to Becca, who, in turn, passed it onto Charlotte.
It was always Charlotte's intention to complete the quilt and return it to her sister, but life, as it often does, got in the way. Busy with her career, which included 10 years as executive director of Tri-County Head Start in Durango, Charlotte retired two years ago and began working on the quilt in earnest in October 2014. Finally, this fall, Charlotte completed the project and returned it during a surprise visit to Becca, who lives in Loveland.
It was an emotional moment for the sisters, and Charlotte remembers few words as Becca was brought to tears. "She couldn't believe this was it, and it was finally done," Charlotte recalls.
Justthefacts
What: Deborah Gorton Art Exhibit
Where: White Dragon Tea Room, 820 Main Ave.
When: Through Dec. 30
For info: 970-769-1022
The colorful hexagonal quilt design, known as "Grandmother's Flower Garden," not only has strong personal significance for the family, but historical significance as well. Believed to have roots in England as far back as the 18th century, it was popular in America in the 1930s, possibly as a much-needed lift during hard times. However, the design was quite labor intensive, employing the paper-piecing method, which involves sewing a thin pattern to the back of the fabric designating the order in which the lines are to be sewn. The paper, which is removed after stitching, allows for creating extremely intricate patterns.
The traditional "flower garden" quilt consists of several interconnected flowers, each made up of a center hexagon, surrounded by six hexagons, which in turn are surrounded by 12 hexagons. Meanwhile, there is a muslin row between each, known as "the path."
Although the design may seem straightforward, picking up where Grandma Lavernia left off posed some challenges. For starters, the original flowers started by Lavernia needed to be matched using similar fabric. In addition, the quilt was orignally designed for a double bed, but Becca needed it to fit a queen. "Luckily, both grandmothers had some extra fabric available that I incorporated," said Charlotte.
She appliquéd a new path onto the original blue fabric to create a larger quilt that would cover her sister's bed. Then, she basted the batting, back and top of the quilt together. She worked from the center out, but, when nearly done, realized the blue border was too large. As a result, she added a double row of small hexagons to help fill the space. And to add to the difficulties, Charlotte completed the entire project by hand – as she does with all her quilting.
Cutting edge: Durango a mecca for recreational sewing
Tourists come to Durango for many reasons, but who knew quilting was one of them? Judy Danielson, co-owner of Durango Quilt Co., on Highway 160 west of town, says her store sees tourists from all over the United States, Europe and even Africa who come to see the variety of quilting styles displayed in the store. The store is even listed in the Quilter's Travel Guide, used by vacationers who like to visit quilting stores during trips.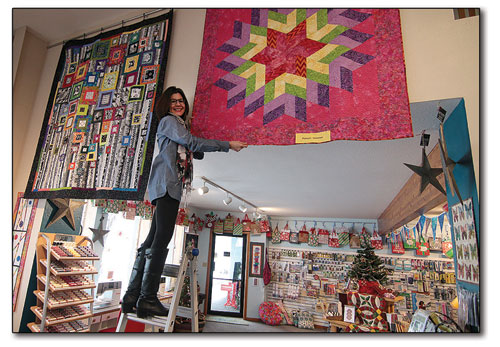 LeeAnn Vallejos, owner of Stitch, stands with one of the many quilts on display in her store. The hobby has grown to a $4 billion industry, surpassing even golf, she says./Photo by Jennaye Derge
Danielson and her business partner, Margien Gram, have owned the store for the past 10 years. Employee Cheryl Harris explains that "summer tourists return year after year to see what's new as the store approaches cutting edge in terms of its large fabric selection and tools of the trade."
In addition to workshops, the store also hosts "Friendship Groups," where quilters gather to work in the large back room equipped with work tables and sewing machines. "We are very friendly and helpful here and want to help people complete projects they start," Harris explains.
Harris says it is common in the quilting community to give to others. Both she and Danielson are members of groups that make quilts for charities. Danielson's group, affiliated with Christ the King Lutheran Church, recently donated 20 quilts to the Navajo Mission in Rock Point, Ariz. The effort is a partnership with the Lutheran church there, which requested quilts since many residents do not have heat.
Harris' group, the Quirky Quilters, is working on pillow cases to donate to the Sanctuary Home, an orphanage in India. In addition, the group will also send funds to buy pillows to go inside the cases.
Despite the good feeling that comes from helping others, it is only part of the equation, Harris says. "The women enjoy the fellowship and opportunity to tap into their creativity," she says.
And speaking of creativity, modern machines and fabrics have helped fuel a contemporary movement away from the strict rules of traditional quilting. Today, designers are able to choose from a variety of colors and fabrics. And with fast machines – Harris' can sew 1,500 stitches a minute – they can create virtually any design they can dream up. Danielson explains that 99.9 percent of quilts nowadays are done on machines. "Nobody has time to stitch by hand anymore, except some of the people travelling by RV," she says.
Sentimentality also ranks high on the list of reasons people get into quilting. Often, customers come in wanting help making a quilt to commemorate a deceased loved ones, Harris says. The projects are therapeutic, according to Harris, who often offers help for free on her machine.
LeeAnn Vallejos, owner of Stitch, which opened at the corner of 15th Street and E. Second Avenue about a year and a half ago, also spoke to the quiet but growing popularity of the hobby. "Quilting is a $4 billion industry – bigger than golf," she explains. And the Four Corners is no exception. "It's a very strong industry here. Customers purchase fabric, needles, thread, batting and other gadgets. They complete the project and come in to buy more materials."
Vallejos agrees that quilting has become more contemporary as the tools have evolved. "People are really branching out and getting creative and exploring playing with fabrics, patterns and shapes," she says.
But best of all, it remains accessible to people of all ages – with her clients ranging in age from 30 to upwards of 70. "Young moms want to create keepsakes for their kids and the older generation is inspired by the new tools and new designs."
– Malia Durbano
When all was said and done, Charlotte estimates it took her an hour and a half a day for a year to complete the quilt. Creating the family heirloom was "a labor of love," admits Charlotte, who grew up learning to knit, crochet and cross-stitch but strangely enough did not take her first quilting class until her mid-thirties.
While both of her grandmothers quilted, her mother did not. However, Charlotte says there was a resurgence in quilt making, and Americana crafts in general, during the country's bi-centennial celebration in 1976. It was around this time that Charlotte moved to Durango from San Bernardino, Calif., but it wasn't until 1983 that she took her first quilting class at the former Jute Box, in Durango.
Since then, she estimates she has completed some 20 quilts. Although she doesn't have a quilt of her own, she thoroughly enjoys creating them for friends and family. Over the years, her quilts have served as wedding, baby and graduation gifts as well as wall art.
Charlotte chokes up as she reminisces about the double meaning of the design, "Grandmother's Flower Garden," as her grandmother loved flowers. Acknowledging her hardy German ancestry, she recognized that their 5'8" grandmother must have been "rather stocky" – the thimble she used on her middle finger is too large, even for Charlotte's thumb. Nevertheless, such stature likely served their grandmother well, growing up in tiny rural Windsor, midway between Fort Collins and Greeley. She went on to marry a very practical farmer who believed if you couldn't eat it or feed it to livestock, it wasn't worth growing. But since his wife loved flowers, every year he would plant flowers in the garden for her.
Perhaps her love of flowers is why Grandma Lavernia chose the pattern. Historians note that the patch design, which remains popular even today, invited experimentation by the color-loving women who worked with it. Another matter of pride was the number of small hexagons in the finished quilt.
Today, these are the same things Charlotte enjoys in her work, choosing the colors that will go together and the geometry that makes it all work. She loves working with her hands and enjoys creating her masterpieces for others.
And who knows? Maybe some day, years from now, a younger family member will see the label on the back of the quilt reading "Grandma Lavernia, Charlotte and Becca," and pick up where Charlotte left off.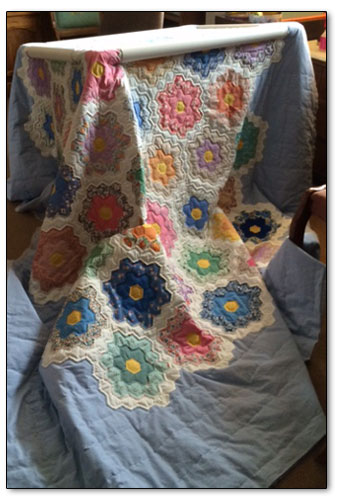 The intricate design is a traditional pattern called "Grandmother's Flower Garden," which incorporates a series of hexagons, each representing a flower./Courtesy photo