---
A tribute to Lemmy and NYE 2016
by Chris Aaland
Some people dream of becoming rock & roll stars. Others live the rock & roll lifestyle. Lemmy Kilmister was rock & roll. The legendary Motörhead bassist and singer died Monday of an extremely aggressive cancer just four days after he turned 70.
Some time ago, Bryant Liggett let me borrow Lemmy's autobiography, White Line Fever. While it's no literary masterpiece, it paints Kilmister's shenanigans in all of its ugly, blackened glory. Nobody drank, snorted and screwed more than Lemmy. To the end, he cringed at the suggestion that Motörhead was a heavy metal band. It was rock & roll, and Lemmy was weaned on Little Richard and the Beatles. It was just rock turned up to 11.
Lemmy was an interesting study. He was approachable to his fans, held court at a regular watering hole, the Rainbow Bar, and collected Nazi memorabilia simply for the shock factor.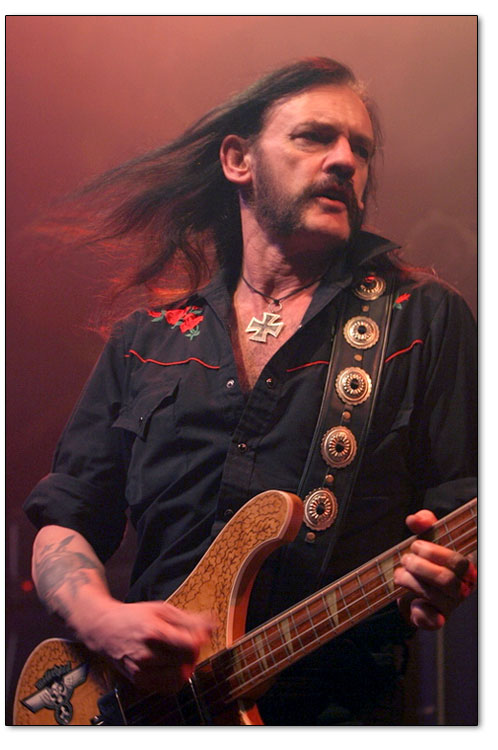 The rock legend that other rock legends aspire to be, Motörhead's Lemmy Kilmister, went to the big party in the sky on Monday.
Sex, drugs and booze was what he was mostly known for. He claimed to have drank a bottle of Jack Daniel's every day and had done so since he was 30 (he stopped in 2013 for health reasons). He tried nearly every drug imaginable, except for heroin and morphine. A girlfriend of his once became hooked on smack and died three years later. He spoke before the National Assembly of Wales on the detrimental effects of drugs, calling for legalization … which would eradicate the drug dealer from society. And he claimed to have slept with more than 1,000 people. Maxim ranked Lemmy No. 8 in its list of Top 10 Living Sex Legends.
But it was the music that defined the man. He was revered by punks (he was a tireless champion of the Ramones), headbangers (name a band, they have a Lemmy story) and alt-country hipsters (Nashville Pussy and the Rev. Horton Heat were collaborators). Upon getting booted from the psychedelic space rockers, Hawkwind, for his abuse of speed, he formed Motörhead in 1975. His guttural vocals and their breakneck speed and volume became trademarks. Ask a novice classic rock fan, and they can probably name "Ace of Spades," but no others … which is sad. Lemmy and bandmates like Phil "Philthy Animal" Taylor (who died this November) and "Fast Eddie" Clarke and later colleagues Phil Campbell and Mikkey Dee (Motörhead members since 1995) released 22 studio albums and nine live records. Many are masterpieces.
Motörhead won a Grammy in 2005 for Best Metal Performance for its version of Metallica's "Whiplash." It was Lemmy's way of repaying Metallica for covering four of their songs on "Garage, Inc.," including "Overkill." Metallica paid tribute again on Monday, posting on their Facebook page, "Lemmy, you are one of the primary reasons this band exists. We are forever grateful for all of your inspiration."
As his bandmates posted on Facebook, "Play Motörhead loud, play Hawkwind loud, play Lemmy's music LOUD. Have a drink or few. Share stories. Celebrate the LIFE this lovely, wonderful man celebrated so vibrantly himself."
Moonwalk back in time this New Year's Eve as Hello Dollface and the Strater Hotel present "Wonder Jackson: A Tribute to the Genius Works of Stevie Wonder and Michael Jackson," Thursday night at The Hank. Doors open at 9 p.m., with VIP tickets available that include reserved seating, dessert and the requisite champagne toast.
Get jazzed up for New Year's Eve in Telluride and enjoy some skiing when Preservation Hall Jazz Band plays at 9 p.m. tonight at the Sheridan Opera House. A Crescent City legend since the early 1960s, Preservation hall plays traditional New Orleans jazz and takes its name from the historic Preservation Hall in the French Quarter.
Then, on Saturday and Sunday, a twin bill of newgrass takes the Sheridan's stage with Head for the Hills and Hot Buttered Rum. The former hails from Fort Collins and is a regular at the ACT in Durango; the latter is a five-piece band based out of the Bay Area.
Kudos to Carver Brewing Co. for its $10,000 matching grant to the Powerhouse Science Center. For every $100 and up donated, Carvers will match dollar-for-dollar up to $10,000. To donate, visit powsci.org/supportus/donate. Donations will be used to assist with the recent merger of the Durango MarkerLab classes into the Powerhouse programs.
Moe's madness this week is highlighted by a New Year's Eve extravaganza with live music, dancing, party favors and a free champagne toast at midnight. On New Year's Day, DJ Kaztro spins from 9 'til close. And First Saturdays features lots of giveaways from Animas Herbal and Cloudnine, plus dancing to DJ Icite and DJ CK.
Finally, the Black Velvet Trio plays the Diamond Belle tonight for New Year's Eve.
This week's Top 10 list features 10 of my favorite Lemmy quotes, courtesy of Rolling Stone magazine's loving tribute:
1. "The only interesting thing about religion is how many people it's slaughtered."
2. "Religion is stupid anyway. I mean, a virgin gets pregnant by a ghost! You would never get away with that in divorce court, would you?"
3. "I don't understand people who believe that if you ignore something, it'll go away. That's completely wrong – if it's ignored it gathers strength. Europe ignored Hitler for 20 years."
4. "There was a magazine in England who said I screwed 2,000 women and I didn't; I said 1,000. When you think about it, it isn't that unreasonable."
5. "If you didn't do anything that wasn't good for you it would be a very dull life. What are you gonna do? Everything that is pleasant in life is dangerous."
6. "If you're going to be a f***ing rock star, go be one. People don't want to see the guy next door on stage; they want to see a being from another planet."
7. "People just rip each other to shreds over the years. Nothing kills a relationship like commitment."
8. "As you go through life's rich tapestry, you realize that most people you meet aren't fit to shine your shoes. It's a sad fact, but it's true. A good friend is someone who'd hide you if you were on the run for murder. How many of them do you know?"
9. "Death is an inevitability, isn't it? You become more aware of that when you get to my age. I don't worry about it. I'm ready for it. When I go, I want to go doing what I do best. If I died tomorrow, I couldn't complain. It's been good."
10. "People don't become better when they're dead; you just talk about them as if they are. But it's not true! People are still assholes, they're just dead assholes!"
If you squeeze my lizard, I'll put my snake on you? Email me at chrisa@gobrainstorm.net.