---
Wranglers, moonshine and Belcher's best
by Chris Aaland
And so this is Christmas, as John Lennon would have sung back in the day. Like me, I'm sure many of you are busy making last-minute holiday shopping runs and flipping the coin to overcook your second free turkey you picked up at the supermarket before Thanksgiving or dry out a holiday ham. Let's face it: The traditional Italian Feast of Seven Fishes is out of most of our culinary leagues.
One holiday tradition that's among Durango's favorites is tonight's (Thurs., Dec. 17) Bar D Wranglers Christmas Jubilee at the Community Concert Hall. Chuckwagon isn't on the menu, but the traditional cowboy holiday musical fare gets served at 7 p.m.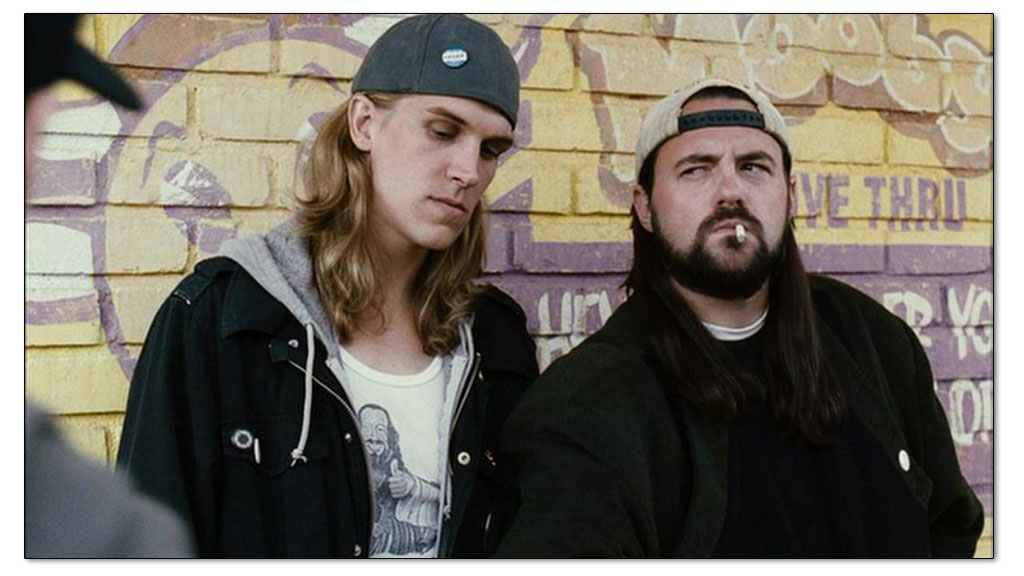 Silent Bob, aka Kevin Smith (right) opens up at the Community Concert Hall on Fri., Dec. 18.
Kevin Smith throws down at the Community Concert Hall at 7 p.m. Fri. (Dec. 18). It's billed as "An Evening with @thatkevinsmith can't shut the #@$% up!" … one of the more ironic billings, given the amount of speaking lines that his Silent Bob character had.
Jazz, blues and folk legend George Winston returns to town for the first time in an eon with a pair of 7:30 p.m. shows on Sunday and Monday, Dec. 27-28 at the Durango Arts Center. Rumor has it Sunday is already sold out.
BREW Pub & Kitchen hosts its first seasonal Brew Dinner at 6 p.m. Sun. (Dec. 20). Just 40 tickets are offered for this six-course dinner, with each course paired with a different one of BREW's exceptional beers from 2015. Reservations are required by calling 259-5959.
Durango Craft Spirits unleashes its second spirit – Mayday Moonshine – this weekend. Hand-crafted cocktails and 750 ml bottles will be sold at their tasting room, with local distribution to fine liquor stores, restaurants and bars to begin almost immediately. Like their Soiled Doves Vodka, Mayday Moonshine utilizes all locally grown, Colorado grains. DCS is Durango's only grain-to-glass distillery.
If you're heading to Telluride to enjoy this recent dump of powder over the holidays, you might consider a couple of offerings at the Sheridan Opera House later this month: Amy Helm & the Handsome Strangers at 8 p.m. Sun., Dec. 27; and R&B legend Smokey Robinson, up close & personal, at 8 p.m. on Tues., Dec. 29.
The Strater Hotel's Celtic Christmas featuring Patrick Crossing takes place at 7 p.m. Fri. (Dec. 18). Handcrafted Irish dinners will be available at the Mahogany Grille.
Finally, Running Out of Road hauls the bluegrass to the Dolores River Brewery at 8:30 p.m. Sat. (Dec. 19).
This week's Top Shelf list is our final recounting of DJ favorites from 2015. This time, KSUT's Jim Belcher provides his faves. Catch Jim in the Morning Blend from 9-noon Wednesdays and Fridays and during Strange Brew at 8 p.m. Saturdays. Here's Belcher's best:
1. The Railsplitters, "The Faster It Goes." This Colorado-based band ups their game with every release, expanding upon bluegrass tropes … and even though in some hands the sounds of the banjo have been known to make me head for the hills, Dusty Rider has a clean, fleet-fingered style that really works. He also writes the bulk of the group's material.
2. Umphrey's McGee, "The London Session." Basic tracks were recorded in one 10-hour session at the famed Abbey Road studios, utilizing some of the vintage equipment that the Beatles used, resulting in a tightly focused selection of modern progressive rock. As a bonus, there's a crackerjack version of "I Want You (She's So Heavy)."
3. Lettuce, "Crush." The album is fantastic funk, but catch 'em live if you can. With a telepathic horn section and guitar interplay on top of a deep, deep pocket from drummer Adam Deitch and bassist E.D. Coombes, they are guaranteed to make you dance.
4. Trey Anastasio, "Paper Wheels." This album has an emphasis on songcraft as opposed to the jamming that often takes place in his main gig with Phish. The welcome addition of a three-piece horn section anchored by trumpeter/vocalist Jennifer Hartwick really adds to the end result. It's one of Trey's strongest solo releases in years.
5. David Gilmour, "Rattle that Lock." The Pink Floyd guitarist's latest solo album, his first since 2006's "On an Island," again features his old pals David Crosby and Graham Nash on harmony vocals. This time they contribute to "A Boat Lies Waiting," David's homage to the late Floyd keyboardist Richard Wright. The dis also has plenty of Gilmour's trademark lyrical guitar stylings.
6. Yes, "Like it is – Live at the Mesa Arts Center." This recording was the very last to feature original bassist/vocalist Chris Squire, who passed away from a rare form of leukemia just before the album was released last July. Featuring new vocalist Jon Davison, the concert covered two of the band's classic albums in their entirety: "Fragile" and "Close to the Edge." A fitting tribute to one of the most influential bassists in the progressive rock world.
7. Anderson/Ponty Band, "Better Late than Never." Original Yes vocalist Jon Anderson came up with the idea of collaborating with famed jazz violinist Jean-Luc Ponty back in the '80s, but the project only came to fruition recently. The album is a mix of classic Yes tracks, Ponty originals and new compositions. Backed up by a crack band, with Anderson still hitting those high tenor notes and Ponty's flowing violin, this is indeed better late than never.
8. Punch Brothers, "The Phosphorescent Blues." The instrumentation may be bluegrass, but the results travel far beyond the genre. This album made the list on the strength of the earworm "I Blew It Off," which the band approaches with nuanced ferocity, along with Chris Thile's concise comments on society's obsession with digital devices at the expense of "real life."
9. Gregg Allman, "Live – Back to Macon, Ga." Even though the Allman Brothers Band have called it quits, Gregg shows no sign of slowing down, and he's got a great new band reinterpreting and kicking all these classic tunes in the ass. The addition of a concert DVD is just icing on the cake.
10. Marcus King Band, "Soul Insight." This Greenville, S.C.-based 19-year-old was discovered by Warren Haynes, who promptly signed him to his record label. Marcus may be chronologically young, but he's an old soul, able to effortlessly synthesize his influences – including Otis Redding, Jimi Hendrix and former wunderkind Derek Trucks – into his own sound. Plus, he sings! This kid is one to watch.
She'd been drinking too much eggnog? Email me at chrisa@gobrainstorm.net