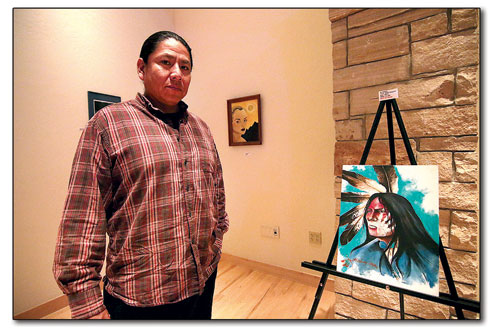 Local artist Allen Woody stands in front of his painting "Spirit Talker," which won "Best of Show" in the Southern Ute Museum's juried show. The show, which features 11 regional artists, is on display through Jan. 16./Photo by Jennaye Derge
The start of something big?
Juried show is Southern Ute Museum's first foray into contemporary art

by Stew Mosberg
First-time visitors to the Southern Ute Cultural Center and Museum in Ignacio are initially struck by the beautiful modern building and landscaping. But inside, the museum celebrates the ancient history of Colorado's longest continuous residents. In addition to the permanent exhibits, rare artifacts, library of archives and recorded oral histories, there is an innocuously named "Temporary Gallery."
Justthefacts
What: Juried Community Art Show
Where: Southern Ute Cultural Center & Museum
When: Tues.-Sat., through Jan. 16
For info: 970-563-9583
As the name might suggest, the room is intended to house short term exhibits and has just installed its first community show. Featuring 23 paintings by 11 regional artists, the untitled show was the idea of Ignacio artist and photographer Thaddine Swift Eagle Johnson. The museum's outgoing education coordinator, Johnson said she had hoped to use the show as a way to "bring people in the community together to celebrate each other's cultures."
However, since that time, Johnson has left her post, and information about the jurors, criteria used for acceptance and the awards was not immediately available. Nevertheless, this initial foray into current and contemporary works has merit despite the lack of a cohesive theme.
For the most part, the exhibit features paintings in various sizes and mediums, almost half of which are by Ignacio-based artist Marykay Shellman. Those who know and appreciate Shellman's abstract work will not be disappointed; the pieces are studies in color and composition that will likely evoke an emotional response. The one titled "In the Folds of My Mind" garnered first place. Meanwhile, her "Caged Bird" painting, at 6-by-4 feet, is the largest in the gallery.
On the other end of the size spectrum is second place winner and local favorite Miki Harder, whose single entry "For You," of one of the her well-executed iconic ravens, is the smallest in the show at 5-by-7 inches. Third place was awarded to Durangoan Thomas Chippewa for his "Canon Blessing." Rounding out the group are Angeling Cruz-Yen, who received an honorable mention for her piece "In Pursuit of Happiness;" Coven White; J.P. and Audrey Huver; Meko Wesley; Jessie Leigh Lynch; and Ula Gregory.
Perhaps the most unique pieces are by Mancos-area woodworking couple, J.P. and Audrey Huver. All four of their paintings are placed in hand-crafted wooden shadow boxes, which in themselves are an intricate part of the artwork. The works depict various Western and rodeo themes, with their largest, "Crossing the Creek," charmingly illustrating a cattle drive. All of the Huvers' work in this show is colorfully executed on wooden panels, and in some cases it appears as if they are in bas-relief or carved into the wood.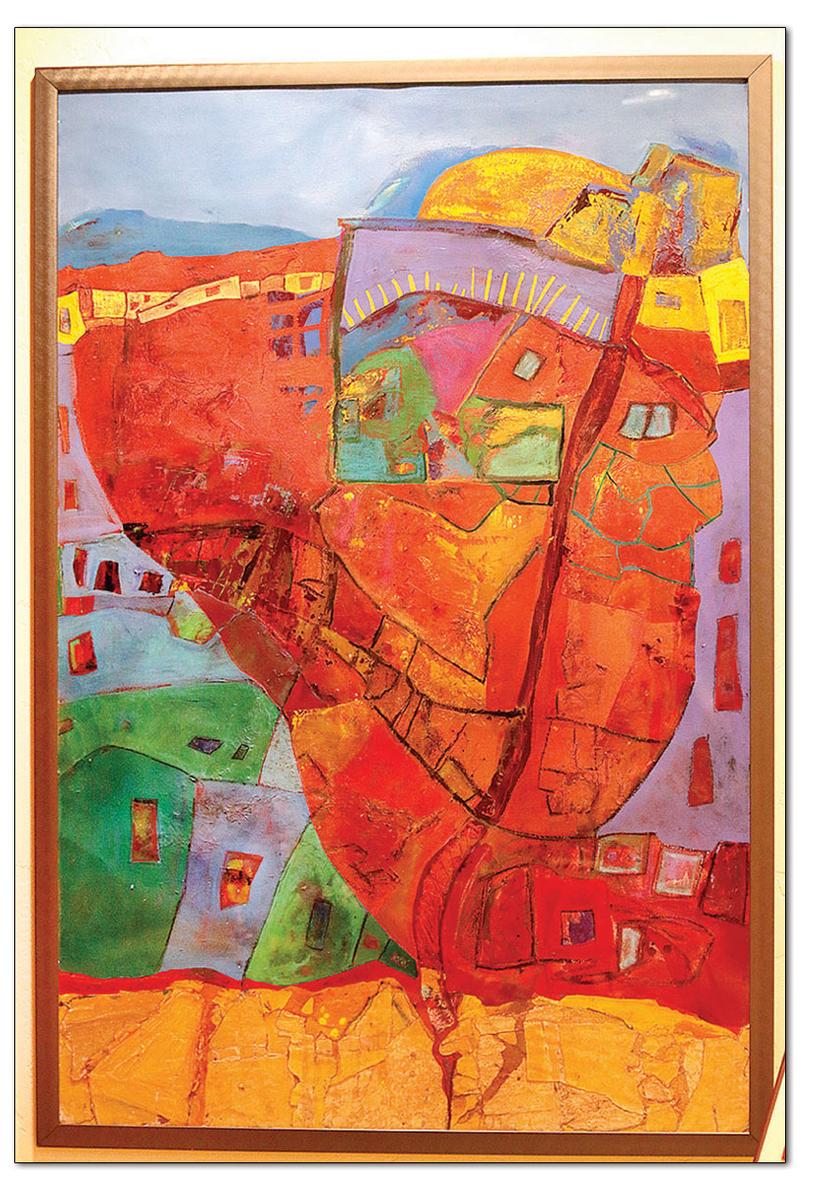 The painting, "In The Folds of My Mind" by Marykay Shellman won first place in the first annual juried art show at the Southern Ute Museum in Ignacio./Photo by Jennaye Derge
"Best in Show" honors went to Durango artist Allen Woody for his painting "Spirit Talker." Originally from Arizona, Woody migrated to Durango in 2001. By his own admission, he is self-taught, having started creating artwork at age 4. His winning image is a portrait of a Native American that is reminiscent of work by the late Taos painter Rory Wagner.
The soft-spoken Woody also happens to be the vice-chairman of the Title VII Native American Education program for 9-R School District and a roofer by trade. Not typically exhibiting his work or entering competitions, Woody said he was excited and genuinely thrilled with the "Best in Show" award. "I just wanted exposure and didn't expect to win anything," he remarked. He said he plans to use the prize money to buy materials for his next artistic exploration.
In addition to the art, the gallery is worth a visit by itself. The room's design and three-story vaulted ceilings with magnificent wooden buttresses lend itself to the hanging of much larger, expansive work. As one of the few venues in the region that could easily accommodate massive sculptures and canvases, perhaps the museum will take advantage of the size and scope in the future.
Hired by the museum in September, Johnson's short-lived tenure (she left soon after the show opened earlier this month) started with an African dance and drumming class for schoolchildren that was well attended and engendered support for more of the same. The concept for an art show was the second on her list, but it needed more time to coalesce and required comprehensive support from the museum administration which, according to Johnson, was not forthcoming.
Considering that it is an early attempt to feature contemporary art, much can be forgiven, and it can be hoped museum management recognizes the gem of a space it has and will continue to explore opportunities for large-scale work by the many talented artists living in the region.