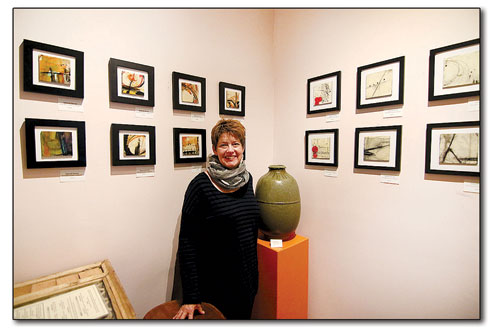 Durango artist Deborah Gorton stands near some of her works at the White Dragon Tea Room recently. After five years of owning the Main Avenue tea room, Michael Thunder is retiring and calling it quits. Gorton's art will be the farewell exhibit at the tea room, which featured the works of dozens of artists over the years./Photo by Jennaye Derge
The tail of the dragon
Deborah Gorton to be White Dragon Tea Room's final artist
by Stew Mosberg
After almost five years as a unique gathering place, the White Dragon Tea Room is closing at the end of December. Known for introducing Durango to "the way of tea" and its ceremonious preparation, owner Michael Thunder has recently chosen his new path: retirement.
In addition to offering superb teas and chocolate elixirs, the Asian-infused establishment also exhibited local artists' work in a tiny but serene environment that became a respite for people seeking a quiet meeting place.
Justthefacts
What: Deborah Gorton Art Exhibit
Where: White Dragon Tea Room, 820 Main Ave.
When: Through Dec. 30
For info: 970-769-1022
Being a small venue, the work displayed was necessarily diminutive, but fascinating none the less. Artists were chosen with an eye to quality, originality and the tranquility mirroring the atmosphere of the tea room.
Therefore, it seems fitting therefore that the last artist to be represented at the White Dragon is highly acclaimed local artist Deborah Gorton. Many are familiar with Gorton's unique style, flair and mastery of whatever medium she chooses. Her most recent solo show was a year ago at the Durango Arts Center Library, but she has been a stalwart exhibitor at the DAC's juried shows. She was formerly represented at Karyn Gabaldon's Gallery, and her work graces the walls of Diggs restaurant in Three Springs.
Adept at working in larger scale, Gorton is also well known for her smaller, innovative creations. The 58 pieces exhibited at the tea room, now through the end of December, are predominantly encaustic, which, for the uninitiated, are pigments mixed with wax and applied to a surface using heat. Some of those on view incorporate collage elements, while others have drawings embedded within the wax. The drawings combine mediums including inks, charcoals and paint, as well as other materials.
According to Gorton, encaustic caught her attention early in her career, but she hadn't really pursued it until now. "When I first became aware of encaustic, I was immediately taken with its lovely sense of layering and mystery," she recalled. "As in most of my other mixed-media work, I love to create layers (and) to have the viewer look deeper beneath the surface and to perhaps be mystified by what is only partially visible or somewhat obscured."
Given the proximity to the gift-giving season coupled with the White Dragon's small-scale display area, Gorton produced work as minute as 4-by-4 inches and has priced them at a relatively affordable $75. There are also a number of other sizes – the largest of them 12-by-12 inches – that are set into wooden panels and priced at $150. Each is framed and beautifully juxtaposed in the exhibit, on the wall and on shelves, with groupings that enhance the work and invite multiple purchases.
Describing the complex process used for this exhibit Gorton said she started with a clay or wooden substrate. She then etched into the boards with wood-burning tools or by igniting shellac with a torch. From there, she applied layers of wax, ink, paper and more wax. Finally, she carved marks within the wax and rubbed oil into them, wiping away the excess and leaving a final top layer of drawn marks in the wax.
The resulting art is unique indeed, ranging from colorful, joyful and lovely to monochromatic, contemporary, intense and provocative.
Such a unique show is only befitting such a unique venue, according to Thunder. "The White Dragon has been open for almost five years, expanded into a separate entity in that time, and was unique among all the coffee houses and bars in town," he said. "I started as a small Asian inspired tea room. The 'Way of Tea' – the Japanese tea practices with Matcha, a powdered green tea used in what is called the tea ceremony – was the starting point for the enterprise."
When he first opened, it was in the back room of his wife, Deborah Demme's, No Place Like Home shop. From there, as the tea room grew into the space next door, it was not as intimate, and he admits, "developed more business requirements."
Thunder came to understand the ancient practice of the tea ceremony first-hand during a visit to China in 1983. It was also from this trip that the tearoom's name originated. "I lived in a temple in Beppu at Cho Shojii, Tall Pines, and at a monastery outside Kyoto for specific instruction," he reminisced. "White Dragon is my Buddhist name, given to me by my teacher Rhyu, who as per the lineage is also dragon named."
From its inception, White Dragon was more than a traditional tea room. The shop displayed original tea ceremony scrolls, aged iron kettles and early Chinese porcelains; most of it for sale. The utilitarian art objects included bowls, pots and plates, as well as vases for Ikebana flower arrangements. Although it might seem sad when Thunder explains all the items, including the fixtures, will be for sale, he said it is a chance for customers to buy unique, valuable pieces at a reasonable price. In addition, he said customers will be invited to put their names in a jar for a drawing to win the dragon that hangs from the ceiling of the main tea room. "It comes in a wonderful Chinese box and has been our mascot for some years now," he said. "We want to find our dragon a good home."
Experiencing Gorton's superb art and making holiday purchases that are sure to become heirlooms is a great way to bid farewell to Thunder, the White Dragon and the tea room bearing his Buddhist moniker.