---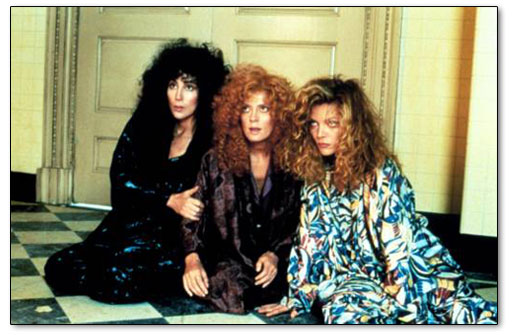 Carol, Gill & Elle have all the answers.
Diver: The Bitches of Eastwick
Interesting fact: All polar bears are left handed.

Dear Diver,
What is up with the satellite radio dead spot on North Main? It seems to hit right around Gandolf's smoke shop and Light Art. Coincidence or some sort of paraphernalia/electric vortex? Or maybe they are sending subliminal advertising over the airwaves? I have had a hankering for tie dye tapestries now that I think about it.
– Left of the Dial
Dear Zone Deaf,
Have you considered, that perhaps, only the unworthy hear silence in the place where us "knowers" receive our special instructions from Gandolf's stretch of enlightenment? Wait wait … I should say something here about the glory and justice of NPR forever and ever. So I will. Why are you dialed in to the Zues Ex Machina that is satellite radio? All they have to offer is hours and hours of the over-inflated egos of Howie Stern and Jayson Ellis juggling each other's balls while Madison sings too close to the microphone. You should be listening and listening to bluegrass. KSDURT FOREVER! Also, I have a tattoo of Garrison Keillor on my Ira Glass.
– Elle Saxmon
Dear Diver,
Should I download the Windows 10 free update? I feel like anytime I install anything like this it wreaks havoc on my system and I am immediately sorry. But it is getting harder and harder to ignore it, and sometimes just starts downloading on its own without me even hitting "yes." Should I just give in to Bill Gates' evil plot to control the world?
– Fighting the Power
Dear Chuck D,
Free, my ass! Windows 10 is a sinister plot whose roots run deep, from pencil-necked IT geeks to the drug cartels looking to profit off your ensuing insanity once you hit "download" and your life is turned upside down. Not only will you lose all your shortcuts, but you will be forced to spend several agonizing hours waiting for uploads to "install," trying to reset the clock and locating your email contacts in the control panel morass. Then there's the exercise in futility of trying to get rid of that annoying little "paperclip" guy whose real job is not to help you but spy on what you're writing and report back to big brother. And don't' even get me started on importing your bookmarks. It's anarchy, I tell you. I beg you, please, for the love of Steve Jobs, do not hit "download." The world is depending on you.
– Gill Bates
Dear Diver,
I need a new theme for this year's office Christmas party. I feel like the ugly sweater thing has run its course and white elephant's a bit overdone. What ideas does the diver have for a fun and original holiday party theme? (And please don't say santacom, that was so San Francisco 1996!)
– Egg Noggin
Dear Egghead,
I went to a pet holiday party once. Everyone brought their pets and dressed them up in Christmas costumes. Only a couple of the dogs chewed up their Santa hats, so it was going pretty good until Aunt Lizzie showed up with her ball python. I felt so sorry for the parakeet wearing elf shoes. Just don't invite Aunt Lizzie, and you'll be fine. That said, definitely stay away from parties based on movies, like "A Christmas Story," "National Lampoon's Christmas Vacation" or "Frozen" (talk about let it go.) They've all been done, too. Or what about Christmas caroling? Last year, my co-workers and I went caroling. It was really fun until we got arrested for public intoxication outside El Rancho (which, trust me, takes some doing). Maybe leave the bourbon out of the egg nog, or wait until you get back to dive into the hot toddies.
– Christmas Carol
---
Seek help from the master of the In-Sinkerator. The diver has the solutions to life's little messes. Send your problems to, "Ask the Diver:"
- 1309 E. Third Ave., Room 3 Durango, CO, 81301
- fax (970) 259-0488
-
telegraph@durangotelegraph.com