---
Grant Farm, Anthony Leon, and Smitty goes to 11
by Chris Aaland
The grass is bluer, as they say, in this week's Top Shelf column. Not only do we get our annual David Smith end-o-year bluegrass treat, but we can get high and lonesome at the Animas City Theatre tonight (Thurs., Dec. 10) with a performance by one of the top bands that will play next spring's Durango Bluegrass Meltdown: Grant Farm. The Boulder-based quartet is led by national flatpicking champion Tyler Grant (of the Emmitt-Nershi Band) and appeals to bluegrassers, newgrassers and jam band fans.
KSUT Tribal Radio's free Ignacio Blues Series continues at 6 p.m. Tuesday at the Sky Ute Casino's 49 Lounge with a show by the Albuquerque alt-country group Anthony Leon & the Chain. These guys are the real deal, steeped in classic country. In addition to their Ignacio date, they'll also do a Christmas show at Crash Music in the historic Aztec Theatre at 7:30 p.m. Saturday.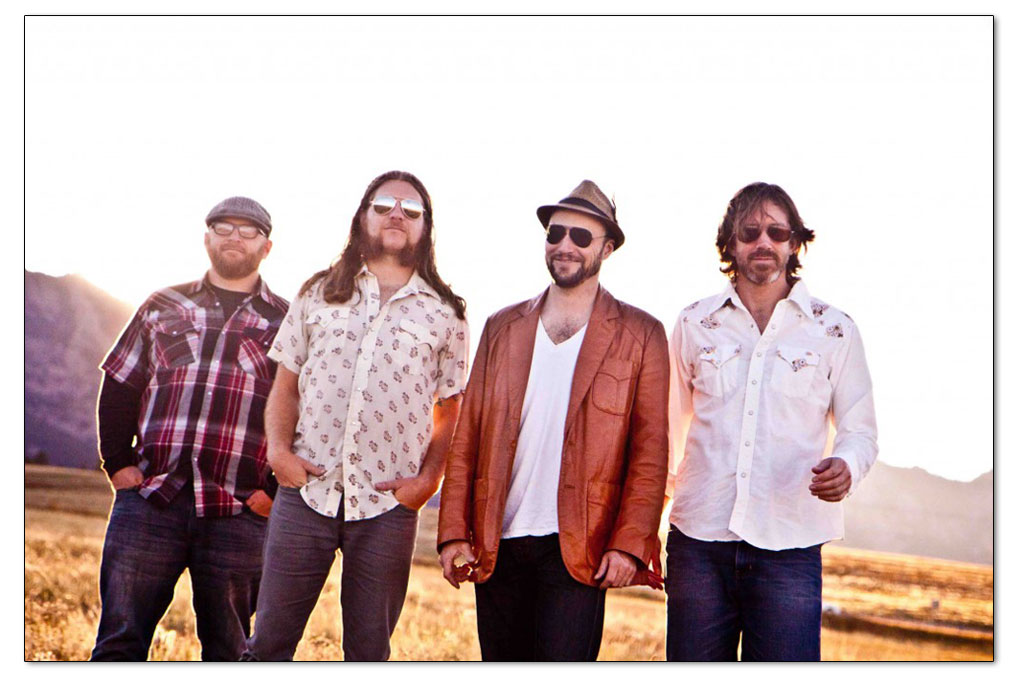 Boulder-based quartet Grant Farm brings bluegrass and jam to the Animas City Theatre tonight (Thurs., Dec. 10).
It's the holidays, and an annual tradition is the State Street Ballet of Santa Barbara's "Nutcracker" at the Community Concert Hall, this time featuring the San Juan Symphony and nearly 50 local dancers. Performances are scheduled for 7 p.m. Friday, 2 & 7 p.m. Saturday, and 2 p.m. Sunday.
The Jade Robbins Project, featuring their dynamic and soulful 13-year-old namesake vocalist, plays a dinner set at 7 p.m. Wednesday at the Derailed Pour House. Her backing band includes a Who's Who of local musicians, including Larry Carver, JR Cook, Jim Belcher and Aaron Lombardo.
Myra Miller, a local resident who was a friend to many, lost her battle to cancer on Nov. 29. A fundraiser was scheduled; now it becomes a holiday party in her honor. The Durango Arts Center hosts the celebration from 5:30-8:30 p.m. Sunday, featuring music by Bob's Yr Uncle and Running Out of Road. Food will be potluck style. A GoFundMe site remains active if you'd still like to donate to help Myra's family with her medical bills.
Stillwater Music presents the fifth annual Winter Wonder Bands, a gala musical event showcasing Stillwater's youth bands and ensembles. The concert features more than 50 kids playing music from a variety of genres, including pop, rock, funk, jazz, R&B and more. The fundraising event takes place from 12:30-4:30 p.m. Sunday at Riverbend Ranch, five minutes north of town at 27846 Highway 550. In addition to music, the event ($5 cover) features a silent auction and catering by Yellow Carrot.
New suds at BREW this month include Zed, a hop-forward oatmeal pale ale served on nitro; Gwendolen, a signature English-style barleywine; and Vivien, an earthy, well-rounded English amber.
Elsewhere: Dance to the soothing sounds of DJ Kaztro at 9 p.m. Friday at Moe's; Farmington's Justin Brown, a blues, jazz and bluegrass guitar whiz, visits the Mancos Valley Distillery at 6 p.m. Saturday; DJ Beeso & Alex Blocker are featured at Moe's carnival hip-hop show from 7-9 p.m. Saturday; and Juan Blanco spins at 9 p.m. Saturday at Moe's.
Give the gift of music this holiday season. FolkWest offers Pagosa Folk'n Bluegrass (June 3-5) and Four Corners Folk Festival (Sept. 2-4) tickets at special holiday prices through Jan. 4. Next year's Folk'n Bluegrass lineup includes the Lonely Heartstring Band, Jon Stickley Trio, Front Country, Finnders & Youngberg and the Lil' Smokies, while the 4CFF features John Fullbright, the Black Lillies, the East Pointers, Lindsay Lou & the Flatbellys, Rose's Pawn Shop and more. Visit www.folkwest.com to save a few bucks.
In what's become an annual Top Shelf tradition, former Durangotang David Smith provides his Top 10 bluegrass albums of 2015, for your amusement. Stream his "Red River Ramble Bluegrass Show" on North Dakota's Prairie Public Radio at prairiepublic.org at 3 p.m. mountain standard time each Saturday. Smitty turns it up to 11 for this year's list:
1. Songs from the Road Band, "Traveling Show." With their third release, SFTRB continues the tradition of bringing bass player Charles Humphrey's original songwriting to the people. If you like your bluegrass original, melodic, youthful and honest, then this is an album for your collection.
2. The Railsplitters, "The Faster it Goes." There are many original bands within this list, but none are as original as The Railsplitters. From vocal arrangements, to melodies, words and instrumentation, this band is on the forefront of what can be done within acoustic music.
3. Finnders & Youngberg, "Eat the Moon." I've had the pleasure of getting to know these musicians and their honesty pours forth in their music – lyrics of meaning, melodies of experience, arrangements of personality.
4. Greg Blake, "Songs of Heart and Home." The title says it all ... Every word Greg Blake sings is from the heart. His playing will make you feel right at home.
5. The Robin Davis Duo, self-titled. The Robin Davis Duo is melody-driven, flat-pick-guitar bluegrass with a force that turns your head toward observing carnage. It's paired with bass and vocals that conjure the emotions to stop and help at the accident scene.
6. Steep Canyon Rangers, "Radio." They are at the top of their game right now and deserve every spotlight on every stage.
7. Sideline, "Session 2." This one's on the list because I'm a big fan of Skip Cherryholmes. He's a guitar player that emerged with his family band, Cherryholmes, in the early 2000s. It had a good run, lasting nearly a decade.
8. Mark Kuykendall & Bobby Hicks, "Down Memory Lane." If folks enjoy the lonesome truth in the notes hit by singers such as Mac Wiseman, Red Allen and Dudley Connell, then Mark Kuykendall will be a welcome voice.
9. Robert Earl Keen, "Happy Prisoner." While the album brings together mostly bluegrass standards in a slower, acoustic roots-rock fashion, it was the real-deal fiddle playing of Sara Watkins (of Nickel Creek fame) throughout the record that, for me, gave it the dust and chipped windshield of the backroad.
10. Infamous Stringdusters, "Undercover." There's a formula to "making it" and it's this: be really good and appreciate your fans. "Undercover" is an example of this band perfecting the formula and, in turn, continuing on their journey of going far.
11. Town Mountain, "Dead Session." Yes, I'm adding a two-song EP to my list. When my favorite band plays my favorite Grateful Dead song, it's going to make the list.
Takes the wheel when I'm seeing double? Email me at chrisa@gobrainstorm.net