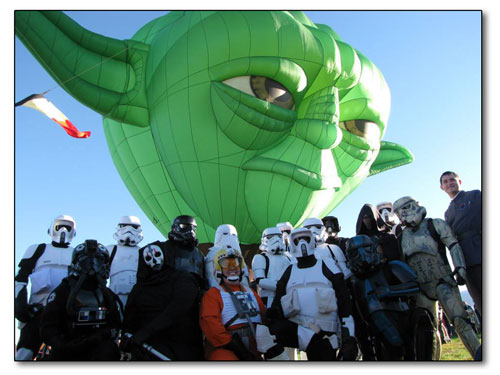 Sam Vargas ("the one in the white helmet,") along with his fellow members of the 501st Legion made an appearence at Albuquerque's annual Balloon Fiesta this year. Vargas called the Star Wars saga America's modern day fable./Courtesy photo
The Darth side of life
Charitable group celebrates bad guys doing good

by Tracy Chamberlin
Christmas is coming a little early this year for the crazed fans of a certain film serial. After the clock strikes midnight in the wee, wee hours of Fri., Dec. 18, theaters all over the world are going to erupt as those famous words flash across the silver screen, "A long time ago in a galaxy far, far away … ."
After all, if, like many fans, you were a bit disappointed in the the prequels released from 1999-2005, this latest
installment of the Star Wars saga "The Force Awakens" is a long, long time coming.
Premiere party
What: "Star Wars: The Force Awakens" celebration and costume contest
When: 5-9 p.m. Thurs., Dec 17
Where: El Rancho Tavern, 975 Main Ave.
More info: Pizza, swag and prizes including two tickets to premiere night

Dressed to kill
Interested in having members of the Empire storm your next charity event? Check out the 501st Legion's website at www.501st.com, and fill out the "Request an Appearance" form.
Don't get me wrong, it was great to get more Star Wars mythology from those films. Darth Vader built C-3PO. Boba Fett's father was the original clone. Yoda is actually quite spry for a little guy with a cane. And, on and on.
The truth is, though, they weren't great movies on their own. I say that as a true fan – one who proudly displays an autographed picture of Chewbacca in her home, signed by the man behind the furry mask himself, Peter Mayhew.
So, when news first hit that Disney not only bought the rights to Star Wars but planned to continue the saga, many fans, myself included, held their collective breath. Would the original cast return? Who would direct? Write? Star?
As the tidbits trickled out that Harrison Ford, Carrie Fisher, Mark Hamill and all the original cast members were on board – including Peter – fans silently squealed underneath their Stormtrooper helmets.
I've always been cautiously optimistic, but even I let out the proverbial OMG when I heard Larry Kasdan was writing the script. He wrote arguably the best of the Star Wars movies "Empire Strikes Back," as well as other classics of the silver screen like "Raiders of the Lost Ark," "The Big Chill" and "Silverado."
Over the past few years, while many fans pondered and puzzled over every cinematic still shot and decadent crumb of news coming down from Disney, others took a different approach. They headed for the basement or the storage locker, searching through cardboard boxes for their old gear.
Chris Lile, co-owner of El Rancho Tavern in downtown Durango, is one of those super fans who went on a storage quest.
In the early 2000s following the release of "Episode II: Attack of the Clones," Lile created a costume based on the clone home world Mandaloria. He said the outfit is a bit more sinister now than it was in those early days, transforming into today's full-fledged member of the Mandalorian Death Watch.
He had put the costume and most of his treasured Star Wars trinkets in a cardboard box when his kids were born so he could focus his attention on the family. Now that his children are older and fans of The Force themselves, he's dusting off the Mandalorian helmet.
What is it about that galaxy far, far away that keeps us coming back for more?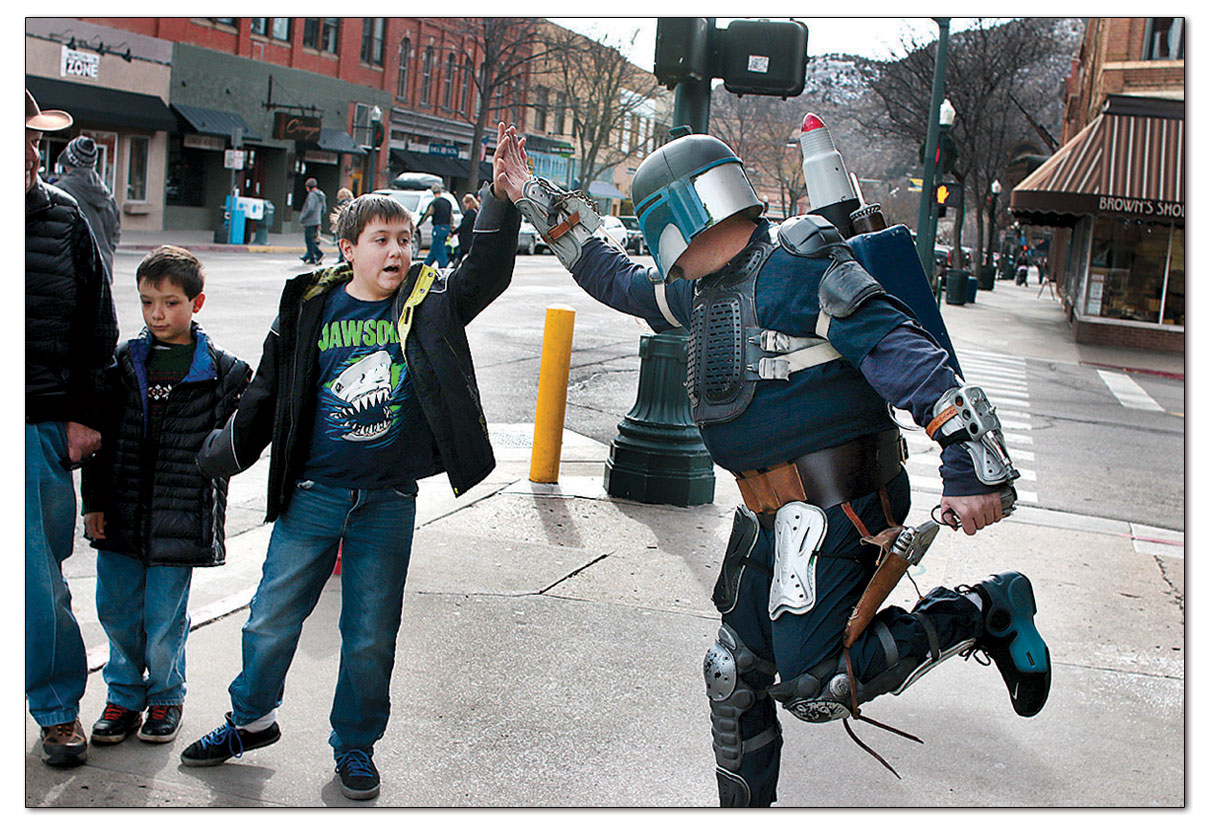 Chris Lile donned his complete Mandalorian Death Squad gear to take a stroll along Main Avenue recently. His presence didn't go unnoticed, especially by the kids who couldn't help but give him a high-five./Photo by Jennaye Derge
There's the theme of good versus evil, the conflict of father and son and the David rebels taking on the Goliath Empire. All classic storylines that have stayed with humanity for a reason.
"It's a part of our social consciousness," Lile said.
One fan called it America's modern day fable. Like the Grimm brothers' fairy tales, the world of Star Wars combines fantastic settings with everyday struggles.
For Lile and many like him who don the Empire armor, it's not just about geeking out on their favorite movie. There's something that happens when a Stormtrooper or member of the Mandalorian Death Watch strolls along Main Avenue.
People smile more. Laugh a little. Come together instead of keeping to themselves.
One international group who knows that more than anyone is the 501st Legion or "Vader's Fist." Known as "the world's definitive imperial costuming organization," the 501st Legion was established in 1997 and has spent the past couple decades garnering a reputation for costume authenticity and charity work.
The costumes are genuine – like just-walked-off-the-movie-set genuine.
Durangoan and member of the 501st Sam Vargas said members of the group can spend hundreds of hours and thousands of dollars creating their costumes.
And, it's all a labor of love.
Not just a love for the movies or the Star Wars mythology, but a love for others. Firstly, it's all volunteer. None of the members get paid and the organization doesn't get paid.
All the events are for charity. If it's not an event for a specific one, like Make-a-Wish or March of Dimes, the 501st asks that donations are made to local charities in the name of their organization.
"Everything that we do goes to charity," Vargas explained.
Secondly, the 501st isn't just a place for fans to get together and talk Force facts. Vargas said what surprised him most about the group when he joined in 2014 was seeing so many people get together who are diverse and different, yet accepting of each other.
"Very few things in life are on that level," he said.
The 501st Legion is what brought Vargas and Lile together.
Lile noticed Vargas wearing a T-shirt representing the organization. Knowing the discretion surrounding it, he approached Vargas and demanded "Where'd you get that?"
The rest is trooper history.
As the only member of the Mountain Garrison on the Western Slope, (Lile is still "considering" joining the group) Vargas goes the distance to be a part of the 501st charity events. He's been to Colorado Springs, Denver, New Mexico, Florida and California.
In just the past couple years, he's been able to walk in parades at Disney World, help launch the Yoda hot air balloon at Albuquerque's annual Balloon Fiesta and stand on stage with "Weird Al" Yankovic.
Next week, though, he'll get the chance to stay home when Lile and El Rancho host a Star Wars party ahead of the midnight premiere of "The Force Awakens."
One thing Lile's excited about in the new movie is the growing role of women. He said lots of girls in his generation saw Leia take on the Empire. She was a modern woman in the late 1970s, but a lonely one in basically an all-male cast.
With this upcoming film, one of its producers, Kathleen Kennedy, has been open about her desire to weave even more women into the Star Wars legacy.
Several leading roles in the new movie are female – two of whom never even show their feminine faces. Oscar-winner Lupita Nyong'o plays Maz Kanata, a character still kept under the radar but known to be heavy on the CGI. Then there's Gwendoline Christie. She plays Captain Phasma, who's kept covered in chrome armor.
Although she's apparently quite a nasty villain, she's also perhaps a potential candidate for the next generation of 501st members.
That's the thing with the 501st, they're modeled after the so-called bad guys. Darth Vader, Stormtroopers, Mandalorian Death Squad members – it's bad guys doing good.
After all, everyone has a little Darth side.
"That's why Star Wars is so popular," Lile said, "because everyone has that in them."