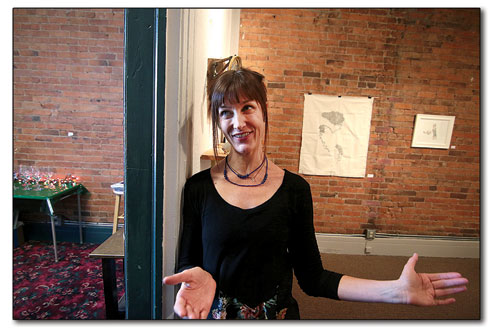 Darcy Alden talks inside her new "Sweet 11 Gallery" at 863½ Main Ave. The gallery, located upstairs, features a rotating menu of exhibits, classes and entertainment. Alden will be staying open for Noel Night this Friday, featuring the work of some 20 local and regional artists. /Photo by Jennaye Derge
The sweet spot
Darcy Alden presents a panoply of art experiences at 'Sweet 11'
by Stew Mosberg
As is the case with most visionaries, local artist Darcy Alden is undaunted by challenge. Armed with an art education degree from Fort Lewis College, the mixed-media artist put her skills to work as a licensed art teacher in local elementary and middle schools, until arts education budgets dried up.
JusttheFacts
What: Noel Night exhibit, featuring live music and works from 20 artists, including the "wearable sculpture" of Minna Jain
Where: Sweet 11 Gallery, 863½ Main Ave., Ste. 11
When: Fri., Dec. 4, 4 – 9 p.m.
For info: www.darcyalden.com
Finding only a few substitute teaching gigs, Alden returned to her long-time desire to open a gallery, and this past August she introduced "Sweet 11."
Alden explained that the charming moniker was inspired by the suite number the gallery occupies on the second floor at 863½ Main Ave., located between Gardenswartz and Urban Market. According to the artist, the play on words derived from a series of coincidences while she was hunting for a suitable location. "A serendipitous thing happened when I went to see the space," she recently recalled. "When I went to put money in the meter, it already had an hour and 11 minutes on it. Then after seeing the suite and returning to the meter, I saw that there were 11 minutes left. I knew then that the space I had just seen was meant to be."
Although there are a number of art venues in and around Durango, Alden remains optimistic about her success. Competing against other galleries, even those that are visible from the street, doesn't concern her.
"The mission of Sweet 11 Gallery is to design and provide fresh and imaginative art experiences through gallery showings, educational workshops and unique, inspired events," she says.
More than just a traditional gallery that displays group and individual art shows, Alden is utilizing her teaching experience to conduct classes in drawing and printmaking, as well as book and card design. Events at the gallery also incorporate performances by local musicians, including a recent recital by the Mountain Middle School glee club.
Alden possesses a contagious enthusiasm when talking about her dream of building collaborative relations with local businesses, particularly those known as being art friendly. The Four Leaves Winery, for example, is the location of her "Wine Design" programs, which mix wine, art and entertainment. Painting materials and guidance are provided to participants who also receive a glass to decorate (and keep) plus a coupon for a glass of wine. It all makes for a fun night out, said Alden.
She also anticipates working with the Art Supply House to host a variety of adult art classes. Taking the collaborative concept further, she hopes to organize other business owners occupying offices above street level. To that end, she is quick to offer assistance to anyone who might have difficulty with the stairs leading up to her gallery. "I will always make special arrangements to fetch anyone with a challenge, so they can join the fun," she says.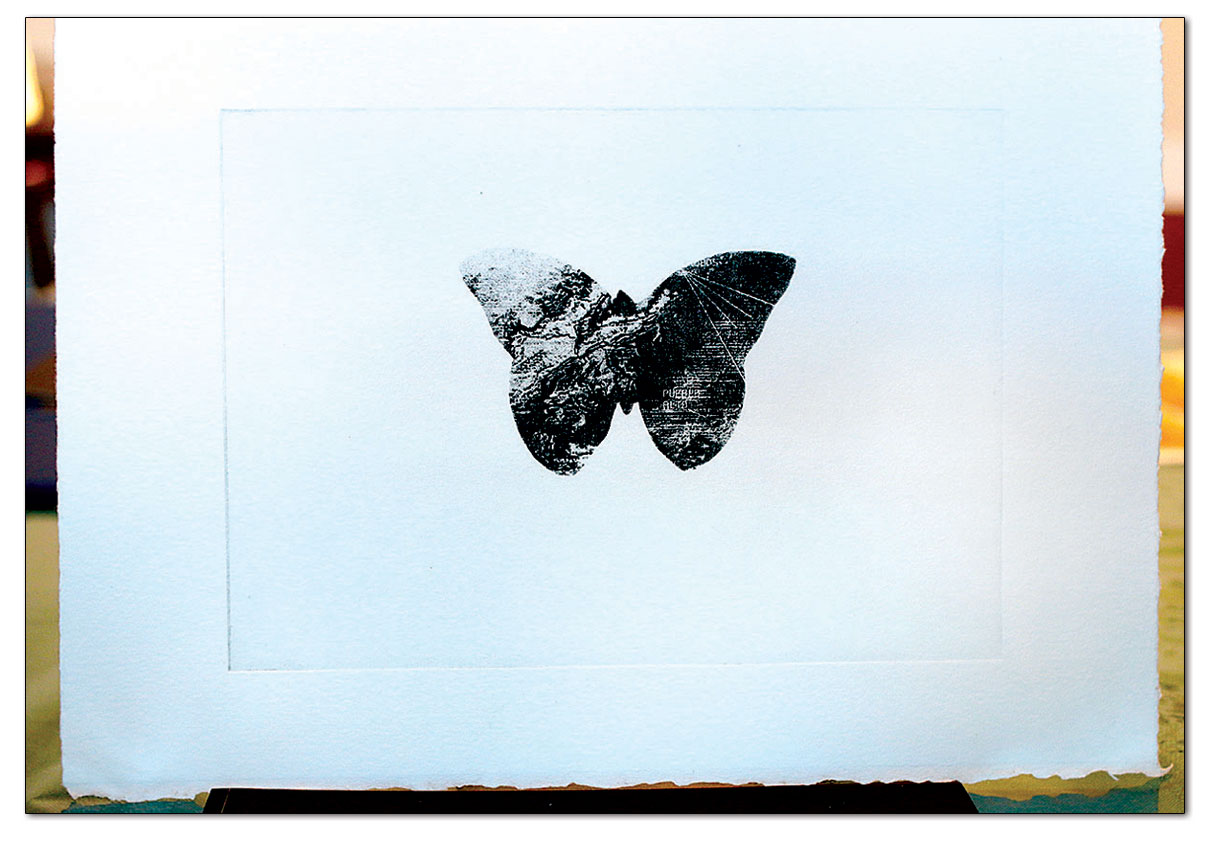 Darcy Alden's intaglio print "Here Before," part of a four-piece series, is currently on display at her Sweet 11 Gallery. It's also, incidentally, part of Studio &'s CSA./Photo by Jennaye Derge
Joining with other art happenings, Sweet 11 takes part in Durango's First Thursday Art Walks (one of which takes place tonight, Dec. 3) and endeavors to mount new shows each month. She also initiated something called "The Panoply Project," a local women's art collective that in addition to herself includes Rachel Anderson, Shannon Cruise, Crystal Hartman and Minna Jain. The group's mission is to interact with the community through exhibitions and philanthropic efforts. In the past three years, Panoply has attracted attention with its designs illuminating the stage for the annual Telluride Aids Benefit Fashion Show, says Alden.
The gallery will also be open for Noel Night this Friday, from 4 – 9 p.m. The evening will feature works by about 20 artists, some from as far away as Albuquerque, as well as live music from Alex Paul.
Jain, who is also a member of Studio &, will be one of the featured artists at Friday night's show, where she will exhibit one of her "wearable sculptures." Questioned about any potential conflicts with Studio &, Jain explained that when she's invited to exhibit at Sweet 11 – where she has exhibited previously – or other venues, she discusses if first with her co-owners.
And, incidentally, she doesn't think the upper level location of Sweet 11 is insurmountable. "I do think it can work effectively with good planning and good marketing."
According to local artist/jeweler Crystal Hartman, thus far, Alden has done an admirable job at just that –getting her name out there and setting herself apart. "I feel giddy with inspiration from the clever use of space, new art, styles and concepts Darcy gathers for each event. Sweet 11 is constantly hosting art openings for new and truly unique exhibitions," she says and beseechingly adds, "Come ya'll, rad things are happening!"
Area artist Susan Reed, a highly regarded contemporary painter who has shown and or is represented in several states, applauds what Alden is trying to accomplish in her "out-of-the-way" gallery, from organized shows to workshops and classes. "I love what she's doing up there," she says. "She's got the focus and the energy needed, and I'm betting on her."
Coming up, on Sat., Dec. 19, Bayfield artist Tori Williams will teach a workshop on encaustic and monotype print making. Scheduled too is a trunk show and expo for breast cancer survivors that will feature storytelling through art, hair and make-up artists, live music, and food and drink. Looking ahead to next year, Sweet 11 will be hosting an exhibit for Animas High School in January and on Sat., Jan. 30, Seattle-based singer and accordion player Stefanie Brendler (who performs under the name "On a Clear Day") and guitarist/singer Brenna Sahatjian, of Portland, Ore., will perform.
And for those who just like to look and take it all in, Sweet 11 includes an eclectic array of mediums and styles from jewelry to assemblage to paintings and prints by a variety of Four Corner artists, including a number of fascinating pieces by Alden herself. It's worth the walk up to discover the array of fascinating work.
Sweet 11 Gallery, 863½ Main Ave., Suite 11, is open for regular hours Thurs.-Fri., 11 a.m. - 6 p.m. and Sat., 11 a.m. - 5 p.m. To register for the Dec. 19 Tori Williams workshop, email tori@rockisland.com. For more on Sweet 11, visit www.darcyalden.com or (970) 946-5977.