---
Noel Night, acoustic pickers and 2015's top picks
by Chris Aaland
Ah, the holidays are upon us. Fattened from a pair of Thanksgiving dinners and a weekend of leftovers, I'm back to spinach smoothies for breakfast and laying low in an effort to pinch pennies. But the allure of holiday beers and Durango's Noel Night (actually, all day from 10 a.m. until 9 p.m. Friday) beckons.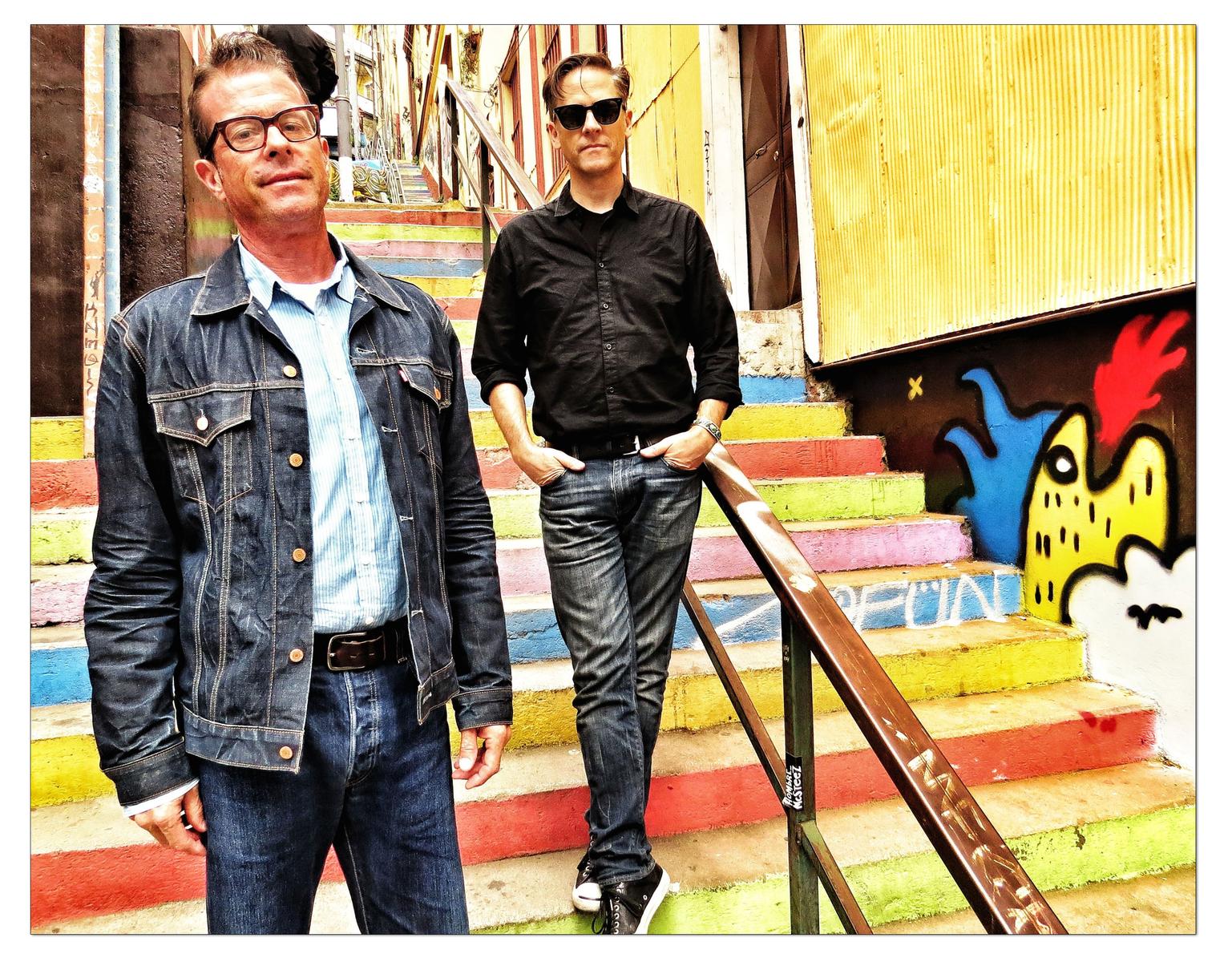 Sons of Tucson, Calexico, top the list of best albums of 2015.
Firkin Fridays continue with a December offering fashioned after a traditional British Yuletide treat: figgy pudding. Lizard Head Red serves as the base. "I made a beer reduction sauce with diced figs, dates, craisins, sweet orange peels, brown sugar and brandy, then steeped it with cinnamon, nutmeg and allspice," said Brewmaster Ken Martin. "The result should be a nice caramel- and toffee-noted beer with hints of the dark dried fruits and holiday spices." Per usual, the keg gets tapped at 3 p.m. Friday.
Crash Music in the historic Aztec Theatre hosts Cary Morin, one of the best acoustic pickers on the scene, at 7 p.m. tonight (Thurs., Dec. 3). Morin's deft guitar playing and vocals blend acoustic Native American music with blues, bluegrass, jazz, jam, reggae and dance.
Moe's bill is highlighted by First Saturdays with DJ Icite & Merv at 8 p.m. Saturday and dancing to DJ Kaztro at 9 p.m. Friday.
Elsewhere: Magi Nation performs original reggae at the Balcony Backstage at 9 p.m. Friday; the Pete Giuliani Band does a Noel Night gig at El Rancho from 6-11 p.m. Friday; Papa Otis & the Greasy Motors plays Noel Night at the Sideshow Emporium (downstairs, next to the Palace) from 7-8:30 p.m. Friday; Kirk James plays solo blues at the Seven Rivers Steakhouse at the Sky Ute Casino in Ignacio at 6 p.m. Saturday; the Black Velvet Trio works the Derailed Pour House at 8 p.m. Saturday;
Black Friday and Cyber Monday have come and gone, placing us squarely in the middle of holiday shopping. This week's Top Shelf list is the first of several end-of-year best-of lists, giving you some ideas for stocking stuffers. Here are my Top 10 albums of 2015:
1. Calexico, "Edge of the Sun." The Tucson sextet's latest album wanders through many different textural territories … indie rock, alternative country, ambient folk, Tex-Mex and Cumbia. The lead single, "Falling from the Sky," is my song of the year, too.
2. Joe Ely, "Panhandle Rambler." The Lubbock legend released his best album in 20 years … which is no surprise, since he teamed with his former flamenco guitar ace, Teye, reproducing layers last heard on 1995's "Letter to Laredo."
3. The Yawpers, "American Man." If 16 Horsepower passed the Denver goth-country torch to Slim Cessna's Auto Club 15 years ago, then The Yawpers are the next leg in the relay. The 4-year-old rock & roll trio hit one out of the park with their Bloodshot Records debut.
4. Pokey LaFarge, "Something in the Water." The retro revivalist takes the vision of groups like Hot Club of Cowtown and Old Crow Medicine Show way past swing, old-time and gypsy jazz to its 1920s and '30s roots.
5. The Mountain Goats, "Beat the Champ." A concept record about border town wrestling? You bet. Pitchfork critic Jeremy Gordon explained it much better than I could. He quoted French philosopher Roland Barthes: "What wrestling is above all meant to portray is a purely moral concept: that of justice." Mountain Goats leader John Darnielle uses wrestling as more than a metaphor. He points to his childhood, when he attended matches with his drunken, abusive stepfather. He needed the heroes, as much as his stepdad needed the villains. Much like Mickey Rourke's stunning portrayal of Randy "The Ram" Robinson in "The Wrestler," Darnielle succeeds in painting pictures of the road-weary, lonesome, anonymous masked men who travelled from town to town.
6. Brandi Carlile, "The Firewatcher's Daughter." The Washington State native's fifth studio album remains loyal to her folksy roots but has just enough Seattle angst to rock.
7. Lettuce, "Crush." Chowder and Sam Adams aren't the only exports from Beantown. I first saw Boston's funkiest band, Lettuce, at Telluride Jazz a couple of years ago and have been hooked ever since. Released less than a month ago, "Crush" drips with funky horns and – dare I say – phat bass lines. It's one that'll make all the hippie kids forget about banjos for a minute or two.
8. Dave Alvin & Phil Alvin, "Lost Time." The Brothers Alvin didn't record together for nearly 30 years, since Dave left the Blasters to pursue a solo career. They're more than making up for it lately, first with 2014's "Common Ground," which featured the songs of Big Bill Broonzy, and its follow-up, "Lost Time." On the new record, they cover James Brown, Big Joe Turner, Willie Dixon, Thomas Dorsey and others.
9. Finnders & Youngberg, "Eat the Moon." After two solid full-length records and an underrated EP, the Northern Colorado quintet is set to break out. Durango fans have seen FY5 grow into a tour de force through festival appearances and local concerts. It's rare to see musicians so comfortable in their own skin that each individual's contributions – be they Mike Finnders' lyrics, Erin Youngberg's comforting vocals, or her husband Aaron's tasty banjo and pedal steel licks. A few years into their career, Finnders & the Youngberg recruited a pair of ringers in fiddler Ryan Drickey and mandolinist Rich Zimmerman. They've truly hit their stride.
10. Bob Forrest, "Survival Songs." You've probably never heard of Bob Forrest. His '80s/'90s band, Thelonious Monster, labored in the same niche filled by the Red Hot Chili Peppers and Jane's Addiction. Trouble was, despite catchy tunes like "Sammy Hagar Weekend" and "Lena Horne Still Sings Stormy Weather," they were relegated to opening act status. On "Survival Songs," Forrest grieves over the drug addiction (heroin, cocaine, you name it) that derailed his career and nearly cost him his life. "Cereal Song" is an autobiographical tale of being a 35-year-old ex-rocker who washes dishes for a living … someone who lost all his teeth to his addiction and can't even chew his favorite cereal. Even the acoustic re-do of "Sammy Hagar" is less a longing for the days of wearing Metallica T-shirts in the Anaheim Stadium parking lot than a reminder of what was lost once the glory days passed him by.
Came in here for that special offer? A guaranteed personality? Email me at chrisa@gobrainstorm.net