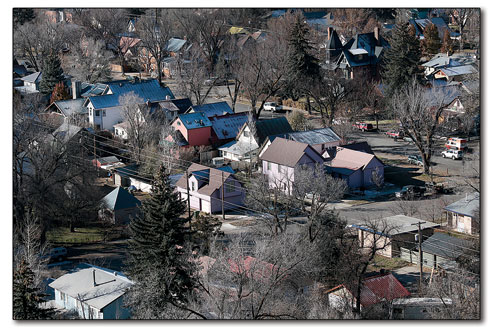 Accessory dwelling units, or ADUs, are sprinkled throughout many Durango neighborhoods, like this one north of Third Avenue. During the voluntary registration period for ADUs, which ends Dec. 31, city officials have already received 220 applications./Photo by Jennaye Derge
Housing crunch
Deadline looms to register granny flats, but it's only part of housing equation

by Tracy Chamberlin
The deadline is right around the corner. The time period when residents can come forward to voluntarily register their granny flats, or accessory dwelling units, ends Dec. 31.
How to get started
To begin the registration process for the Dec. 31 deadline, visit www.durangogov.org/adus or call the Community
Development Department at 375-4850.
After that date, the program moves into the enforcement phase. For property owners, it could end up being more difficult and more costly to wait.
The idea behind the registration program is to encourage property owners to come forward on their own. They get the security of knowing the unit is legal and the paperwork to go with it. Durango officials get a realistic idea of the housing options in the area and assurances those units are safe.
The next step is enforcement. City officials have spoken in the past of their intention to go from a passive to an active approach when it comes to enforcement of the city's codes and ordinances.
Instead of waiting for violations to be reported, they would be on the lookout. It's not certain if they'll take that same approach with the ADUs.
"Whether we go out looking for places is a big question mark," City Planner Phillip Supino said.
Staff members plan to present the Durango City Council with a progress report on their overall housing program and ask for direction on enforcement during a study session at 3 p.m. next Tues., Dec. 8, at City Hall.
There are no requests in the 2016 city budget for more code enforcement officers or additional staff members for the Planning Department.
"I think we have a limited capacity as a staff," Supino said.
City officials can't say for certain how many ADUs exist in Durango. Some are obvious, others are tucked away.
"There were a few that didn't fit in the box," Supino said.
He mentioned a couple of applications that would not be considered one primary residence with an accessory dwelling unit under the Land Use and Development Code, but would actually be a multi-family property. The task for next year, he said, is to decide how to legitimize those properties.
The city also received some applications for units built in areas of Durango where they are not allowed.
No surprise: rents running high in Durango
Locals know it's tough out there. Looking for a rental in the Durango area requires some persistence – and a lot of luck.
But that's not just a feeling.
According to the Southwest Colorado Index, a report examining housing indicators and trends, actual rents for many communities in the area were substantially higher than what's considered fair market rent.
"A healthy community is one in which families and individuals of all income levels live in safe and affordable housing," the report reads.
The Southwest Colorado Index was last released in 2008, when the country was in the midst of the housing crisis and at the start the recession.
The latest numbers, calculated with data collected in 2015, show a one-bedroom unit in Durango costs an average of $1,014, which means the renter would need to make an annual income of $40,560. However, the fair market rent for that same apartment should be $740.
"When we link these rent expenses to livable wages," the report reads.
"We see that most families need to earn above the basic wage per hour, or get a second job, to attain the income needed for affordable rental housing."

– Tracy Chamberlin
The only places ADUs are legal are in zones EN-1, or Existing Neighborhood-1, which covers the neighborhoods east of 2nd Avenue between 15th and 1st streets; EN-2, which includes those parallel to North Main and west of the Animas River down to 35th Street; and EN-3 or East Animas City, located on the north end of town.
When the city first put together zoning laws and codes in 1989, ADUs were prohibited. Therefore, all the homes built after that date were not allowed to have those types of secondary dwellings.
It turns out, however, some of the property owners who came forward during the voluntary registration process have addresses within neighborhoods developed after 1989.
"How do we handle this?" said City Planner Scott Shine. "We don't want to go in and aggressively kick people out of their unit."
It's something else they'll have to discuss at Tuesday's meeting.
According to city officials, the top two reasons for the registration program, which also earned the city's Planning Department an award from the Colorado chapter of the American Planning Association, were safety and stock.
City officials wanted to make sure units are safe. They also wanted to have an idea of the housing options available to the city's workforce, knowledge that will help shape policy and determine the direction the city takes with its housing program.
"We're very aware of the importance of these rental units for our long-term rental market," Supino explained.
For Greg Hoch, the city's director of planning and community development, some key lessons have already come out of the registration program.
First, the number of pre-existing units was a surprise.
When the city began crafting ADU policy, the first thing it did was reach out to the public. Many residents expressed concerns that allowing those types of units in Durango's established neighborhoods would result in increased traffic, put additional strain on water and sewer infrastructure and, ultimately, degrade the neighborhood's character.
But, it turns out not much has changed. The reason is those units already existed.
So far, 220 accessory dwelling units have been registered. Hoch said it shows the character of Durango's established neighborhoods can be maintained even if infill is added to the mix of housing
options.
"Our established neighborhoods can remain great neighborhoods," he added.
The second lesson is the demand for smaller units in town is actually on the rise.
In communities across the county, people with a desire for smaller carbon footprints and more efficient living have turned to smaller housing. Much, much smaller. It's called the tiny house movement.
Hoch said not only is this movement getting some legs in Durango, it's one the city supports.