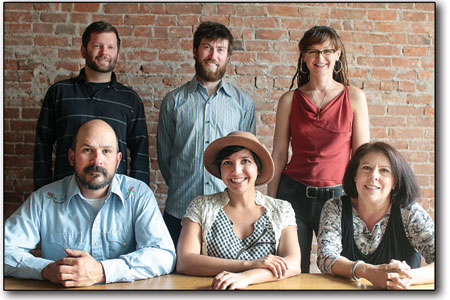 The artists involved in the DAC's upcoming "Pivot Point" exhibition, starting at the top row, from left: Shawn Lotze, Chandler Wigton and Stacey Sotosky; and bottom row, from left, Shay Lopez and Minna Jain. The show's curator is Joan Russell, far right. The show, which Russell describes as "an opportunity for viewers to widen their perspective through a cross-discipline and multi-media experience," opens Fri., May 8, at the Arts Center./Photo by Jennaye Derge
Pivotal moment
DAC's new 'Pivot Point' exhibit hinges on exuberant experiment
by Stew Mosberg
The incoming art exhibit at the Durango Arts Center continues to stretch the parameters of previous shows. While the most recent presentation lauded child-like vision in art, "Pivot Point" is a group exhibit that explores youthful exuberance. The result is a broader view of today's definition of art. As curated by local artist Joan Russell, the show features fascinating exploratory work by Shawn Lotze, Chandler Wigton, Stacey Sotosky, Minna Jain and Shay Lopez, all local artists with a penchant for the off beat.
Justthefacts
What: "Pivot Point" - A Group Exhibit
Where: Durango Arts Center, 801 E. 2nd Ave. When: Opening night Fri., May 8, 5-7 p.m. Show runs through June 20
"This show will be an opportunity for viewers to widen their perspective through a cross-discipline and multi-media experience," said Russell.
Russell says the key objective for the exhibit was to bring together a group of younger artists working in a variety of media that would be different and challenging. "There are many talented young artists in the region," she continued, "I had to be selective. I was looking for a group that would balance each other in terms of use of the physical space."
Participating artist Jain, who recently exhibited at Eno Wine Bar and Open Shutter Gallery and is a member of Durango's avant garde Studio &, has had a very busy year. A good deal of her work incorporates photography using vintage cameras and specialty printing techniques. She frequently uses found objects and creates with traditional fiber arts methods, combining it with her alternative process prints.
Jain has a number of wearable "sculptures" in this show and on opening night Fri., May 8, there will be performance artists bringing them to life. "The wearable pieces I have been creating are very focused on the embodied experience,"
she explained, "They incorporate issues of social justice, cultural exploration and storytelling into sculpture on the body."
Jain said it was an honor to be chosen to be part of the show. "(The people) in this exhibit are fabulous artists who push the boundaries of art and the experience of it," she said.
Sotosky's contributions to the showcase are several large video projections of young children dancing and playing in slow motion. She calls it "Slow Grow," because children, she says, "seem to grow up so fast."
Recently returning to Durango for the fourth time, Sotosky graduated from FLC in 2002 where she is now a visiting instructor. Her work has been exhibited at film festivals and galleries around the country.
Russell, who has exhibited in several DAC shows, explained that the "Pivot Point" title was conceived by the artists themselves. "Our original discussions began with the concept of a different type of exhibit, an exhibit that pushed the envelope in types of media and (the) approach to art," she said.
In order to allow each to focus on his or her individual expression, they all believed strongly that the show would be better without a theme. The five participating artists work very differently from one another, which ads elements of discovery and surprise to the show. Lotze, for example, is building a sculptural piece that meanders through the gallery along the floor. Lopez, also a member of Studio &, will have his art hanging from the ceiling and wall.
Wigton, a Durango native, returned not long ago from the Tyler School of Art in Philadelphia where he earned an MFA in painting. Fresh from a group exhibit in Los Angeles, he works in a variety of mediums and plans to include two large abstract paintings and one large abstract collage. His enthusiasm was palpable when he remarked, "It's not every day you get to participate in a show like this at the Durango Arts Center, and I was very excited to work with the four other artists and Joan."
Lotze said he likes the show because it allows him to explore materials and test the weight of ideas in a variety of ways. In the "Pivot Point" show he does this via cut steel and gathered stones. "I am beginning to think that I am more of a materials junky than a designer," he explains of his unconventional materials. "Many of my works here in Durango have come from fitting designs to the materials that interest me. I use the best medium to carry out my designs." The piece, "Run Off" – which he was still working on as of press time – will be the largest free-standing sculpture he has ever made.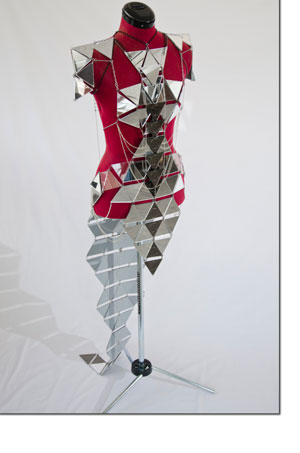 A detailed photo of Minna Jain's mirrored plexiglass dress "I Am Another Yourself." The piece will be worn live by a performance artist for the show's opening./Photo by Brett Masse
Reiterating what the others said about the collaboration, Lopez remarked that he is looking forward to the installation and how the viewers will experience the works. For this show, he will be composing body parts he has created in plaster into a larger, more abstract set. "They are less referential to the body; more associative(and more) geometric," he says.
Lopez also commented on how honored he was to have been asked by Russell to participate in the exhibition. "I am humbled by the ideas and efforts of my cohorts," he said. "It is so exciting to be in a place of vibrant creativity and energy coming from good people."
"Pivot Point" is the manifestation of the group's criteria. The exhibition is fun, fascinating and exceptional. Visitors can credit Russell and the DAC for another stimulating show, and thank DAC's Exhibits Director Mary Puller for her insightful choice of a curator.
As for Puller's mandate, Russell admits that the only guidance she was given was to "Bring in some talented young artists, that was it, a lot of freedom." In turn, the parameters she gave the artists were much the same. "It is their exhibit; their choices how to bring it to fruition," she modestly remarked, "I am mainly their facilitator."