---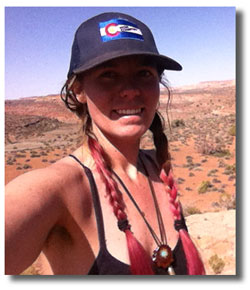 Gennavive, aka Genna, aka G, right before she peed off the boat.
Diver: Gennavive aka Genna aka "G" from Animas Herbal Wellness
Interesting facts: Pirate wear eye patches so they can see in the dark

Dear Diver,
I work three jobs, drive a crappy car, have an even crappier bike, buy all my clothes at the thrift store and share a house with four roommates, but I still can't get ahead. How the heck is anyone supposed to survive in this town, let alone get ahead. Please help before I have to move to Denver!
– Down and Out

Debbie Downer,
First off, where do you work? Maybe you should take a look at the classifieds and upgrade yourself to something better. Second, the best part about living in Durango is the surrounding area, not what your car looks like or what clothes you wear. We were voted "Worst Dressed Town" by USA Today! Most people you see are walking around in what they just went hiking/biking/running/climbing/etc. in that day. If the outdoors isn't your thing, I might consider moving to Denver, they have that fast-paced city life you might be looking for. If you've never experienced starting a 14er while watching the sunrise and that sounds appealing to you, come find me. I'd love to show you what this town has to offer other than shopping and nice cars.
– Diver
Dear Diver,
I just got invited on my first overnight river trip! I am so excited as I have never been on one, but an a little nervous about the water, weather and sleeping outside for three nights. Also, what's this I hear about having to poop in a box? Please Diver, help me navigate the tricky waters of my first trip without looking like a fool or being a big liability.
– New Girl
AO Newbie!
As long as you bring enough beer, your PFD, don't mind sleeping on the ground and being dirty, you should be just fine. I just did my first overnight river trip in March. Although there was no pooping in a box, I did pee off the side of the boat while going through a little whitewater and it was exhilarating! Granted, I have been camping since I was in the womb and have a class III whitewater cert, but honestly you can't really go wrong on the river, especially some good ole flat water. My suggestion: be prepared to go with the flow. When you're on the water, you can't really rush or plan anything and why would you want to? Some of my fondest memories are on river trips! My last piece of advice, stay in the boat! Although we all love watching the newbies swim for the first time, you don't want to have to buy everyone beer. Good luck!

Dear Diver,
We are remodeling our house, and my husband and I can't agree on anything. It has turned into a big tug-o-war. After being together for 10 years, I am afraid we are going to get divorced over something as stupid as ice dispensers or backsplashes. Do we need counseling? Or is this normal? Please help us find some middle ground.
– Kitchen Confidential
Kitchen Wars,
I'd start by saying that arguing for what you want is totally normal, although getting a divorce over ice dispensers is probably less common. My solution: pick a theme and go with it. Modern, farm house, whatever you like. If you can't agree on a theme, well everyone loves stainless steel and marble, that should help solve a lot of problems. But honestly, you've been with your husband for 10 years now and what I've been told of marriage it's about compromise. If he wants something stupid in the kitchen like a rooster cookie jar, let him have it and smile every time you see it because it reminds you of him. It's not worth it to fight over material possessions with the ones we love.
– Diver
---
Seek help from the master of the In-Sinkerator. The diver has the solutions to life's little messes. Send your problems to, "Ask the Diver:"
- 1309 E. Third Ave., Room 3 Durango, CO, 81301
- fax (970) 259-0488
-
telegraph@durangotelegraph.com