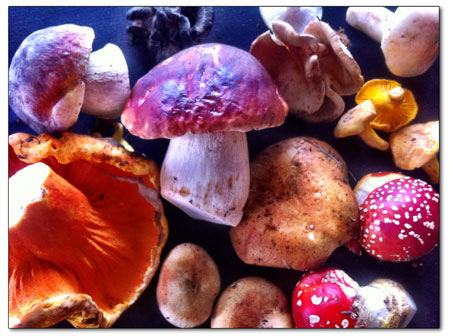 A smattering of local mushrooms wildcrafted by expert Chris Ricci were displayed as part of Durango Mountain Resort's annual Mushroom Festival, which took place Aug. 23. The one-day event featured a mushroom hunt as well as a multi-course dinner featuring all-things mushroom – including, yes, ice cream./Photo by Jaime Becktel
Magical mycology tour
A fall fungal foraging foray into the San Juans
by Jaime Becktel
I think I sort of get it – this mushroom-hunting thing. Following wild mushroom expert John Sir Jesse on a foray over Lizard Head Pass, my foot smashes to pulp a sizeable bolete surrounded by perfectly edible siblings. Kneeling down, I gouge three squatty specimens from their fungal moorings, popping them into a drawstring mesh bag. These wildcrafted mushrooms, my first attempt at foraging, are like spongy treasures, and I hungrily scan the understory fluff for more of their elusive caps.
Four hours of woodland marauding yields fat boletes, baby chanterelles and a mess of lovely hawks wings, all of which I devour with slabs of butter, colossal rations of garlic and generous dashes of black truffle sea salt. Nabbing slimy slices from the cast iron skillet where they sizzle, I delight in the fact that I found them myself and my tongue goes limp from the bliss of their perfectly earthen flavor.
Besides the morning foray, I barely scratch the surface of the Telluride Mushroom Festival. In its 33rd year, the five-day celebration of all things mycological is a coalescing of scientists, environmentalists, foodies, families and friends who travel from across the country and around the world to attend this immersion into the magic of fungi. The festival is an incubator for education and inspiration on the future of mushrooms in medicine, agriculture, art, psychology, recreation, cuisine and the environment. A lively buzz pulsates through the crowds and festivalgoers like Rayne Grant, of Mancos, attending for her third year in a row, get swept up in the wave of merriment. Artist, mother, photographer and "fungal documentarian," Grant is producing the film "Can Mushrooms Save the Planet?"
After viewing a 2008 Ted Talk with renowned mycologist Paul Stamets, Rayne says a light went off in her head.
"I started researching the topic of mushrooms further and discovered that there are so many ways they can be incorporated into our lives. The more I learned about how they can potentially solve many of our environmental problems, the more passionate I became. I'm glad that the Telluride Mushroom Festival focuses on these positive, innovative aspects, pulling together so many well-known speakers from the mycological world."
The weekend after Telluride's Mushroom Fest, Durango Mountain Resort held its own daylong Mushroom Festival. Previously a seasonal foray combined with a gourmet feast, the festival has transformed into more of an informal, educational, family friendly event. Carly VanHof Thompson, assistant food and beverage director for DMR, is pleased with this year's turnout, which 4 included 70 participants in the morning foray and 125 at the sold-out dinner. "Our greatest goal is to continue growing the festival, and we'd like to raise capacity and
include more local vendors in the future," she said. After the morning hunt along the slopes, attendees were treated to a spread of lavish fare as well as talks by local mushroom experts Travis Custer, Gabe Dealle and Chris Ricci, as wells as a cooking demonstration by Chef Sean Clark, of El Moro Spirits and Tavern.
Custer and Dealle, both of San Juan Mycology, are in their second year of business cultivating culinary mushrooms and offering educational programs and courses. Having met at Fort Lewis College, they were introduced to mushrooms through wildcrafting local plants and herbs. "With wildcrafting, you have this realization of the abundance that surrounds you in your local ecosystem and that instills a deep appreciation," Dealle says. "It's all about creating awareness. People have this idea that mushrooms are going to kill them, yet there's more poisonous plants out there than poisonous mushrooms. The key is to learn identification and methods for wildcrafting safely."
According to Custer, most of what we consider "ecologically normal" is due to fungi. "No fungi, no soil. No soil, no food. This lack of understanding is a great example of the disconnect between modern society and the natural world," he says.
At DMR, wild mushroom expert Ricci observes a spread of foraged specimens with a group of onlookers, pointing out a lobster mushroom colonized by an entirely different fungal variety. "Fungus on fungus," says Ricci, who began his journey with mushrooms in high school, initially drawn to them for their entheogenic (religious, shamanic or spiritual) properties. "In my search for wild entheogens over the years, I learned about all the other mushrooms along the way. I want people to understand the forest and the importance of the carbon cycle. Our gardens and agriculture should be modeled on forest ecology and how living plants live on dead plants. In permaculture design, we call that 'forest gardening.'"
Bustling about behind banquet tables laden with gourmet food is Dan Furlong, food and beverage director for DMR. Dan and his team of culinary wizards roll out platter after platter of elegant dishes, each made with a different mushroom variety. Get a load of this lineup:
- For starters: Porcini paté on focaccia; Asian-style wild boar purses with shitake-oyster mushrooms in a coconut ginger sauce; and grilled pheasant sausage with crimini congac sauce. No big deal.
- On the side: Morel and ricotta-stuffed cannelloni with grilled leeks and a cauliflower purée; dried porcini risotto with goat cheese; elk ravioli with porcini mushrooms, currants and parmesan cheese tossed in truffle oil; and mushroom tempura with a spicy aioli by Chef Sergio Verduzco, of East by Southwest.
- The entrées, fit for royalty, include wild mushroom-dusted lamp lollipops with a Palisade peach, chanterelle compote; buffalo Wellington topped with morel sauce; elk tenderloin with porcini port sauce; and a creamy polenta with mushroom ragout by Sean Clark.
- Just when you think you can't possibly down another bite, there's desert: Cream Bean Berry's chanterelle ice cream with a dulce de leche swirl.
Gimme a break. How does one go back to eating regular food after all of this and where can you experience such culinary excellence for a mere 40 bucks?
Katie Burford, owner of Cream Bean Berry, was faced with the challenge of creating a mushroom-infused ice cream people would actually eat. An acquired taste for some, mushrooms can carry an earthy, funky – sometimes even a little fishy – essence, which doesn't readily blend with sweets. However, she pulled it off – the wild mushrooms subtly blending into creamy caramel perfection.
"When I'm making a new flavor combination, I explore the universe of what others have done before me," she says. "I discovered that people make ice cream using candy cap mushrooms, which are naturally sweet, but I wanted to use something local." For her ice cream, she used chanterelles harvested by Ricci two days before the festival and sautéed them with ginger, butter and peach purée.
Delicious, useful and endlessly fascinating, mushrooms can help us develop a deeper appreciation for the micro and macroscopic integration of life on our planet. Living near the vast expanse of the San Juan Mountains and the wildcrafting bounty they contain, we're lucky to have two thriving mushroom festivals in our midst. In the words of mycologist Stamets, "Mushrooms are a gateway, a vanguard species that open the door for other biological communities … building carbon banks and renewing the soil."
Get to know these little buddies. There's saprophagic fungi secreting digestive enzymes that break down organic matter, gorging on decay to build black gold soil. There's super sci-fi parasitic fungi like Cordyceps that devour insects from the inside out, invading their bodies and sprouting forth elongated fruit bobbles from the insect's forehead. Mycorrhizal fungi live in a symbiotic relationship with the root systems of vascular plants, creating a multi-directional transfer of nutrients in the soil. This symbiosis between fungus and plant is essential for soil chemistry and the creation of thriving ecosystems.
"There's a whole world of local food available to us, and knowing more about wild edibles and food systems is a push in the right direction. The mushroom festivals provide the perfect venue to explore that," says Dealle.
So, grab a basket and a field guide and venture into the mountains before Indian summer turns cold – you might still find a smattering of fungal wonders blooming about the forest floor. If you miss the brief flicker of their candle before autumn settles in, make note in your calendar for next year to visit at least one of the area's mushroom festivals.
For more visit www.telluridemushroomfest.org or www.durangomountainresort.com.