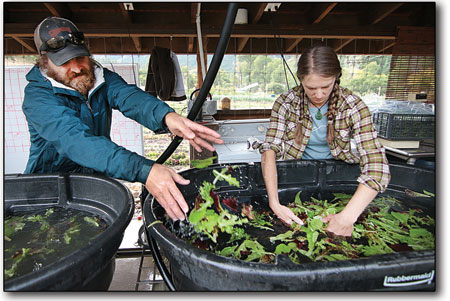 Gabe Eggers, left, and Stacey Carlson wash off freshly harvested lettuce from the Twin Buttes Gardens, ready to be bagged on Tuesday morning and given to Zia Taqueria the same day./Photos by Jennaye Derge
Rooted in the community
Producers, buyers work to build a local food system across the region
by Tracy Chamberlin
Underneath the restaurant kitchens and farmer's fields of Southwest Colorado, a network of growers, ranchers, distributors and owners are putting down the roots of a local food system.
"We know that it can happen," explained Denise King-Stovall, manager and board member for the Local Brands Farm and Ranch Cooperative.
JusttheFacts
What: "Meet the Farmers" event
When: 5-7 p.m. Wed., Sept. 17
Where: 6512' Restaurant and Lounge, 152 E. College Ave.
More info.: www.local-first.org or 247-9083
After watching some 4H winners wonder what to do with their winning livestock, King-Stovall decided to help find a way to bring the animals to market. Those efforts eventually led to the Local Brands cooperative, which officially came into being in early 2011 and focuses on the dairy and meat aspect of the local food system.
In the beginning, the goals were simple: Conserve open spaces, preserve the agriculture lifestyle and culture, and help farmers find a greater market.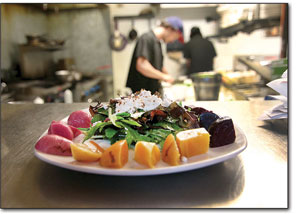 Cooks prepare food in the kitchen of BREW Pub & Kitchen, while a salad made entirely of local produce waits in the window./Photos by Jennaye Derge
Going into its fourth year, King-Stovall thinks they've done that. The next step is to create a processing plant and distribution center, for which they've just completed a feasibility study.
Things also started small for Ole Bye, distribution manager for the Southwest Farm Fresh Cooperative, a recent addition to the growing local food system.
It began with a pickup truck in Telluride, a few coolers, and an idea to distribute local produce to local restaurants. "It grew out of that nucleus," Bye said.
The co-op, which now services restaurants and wholesale buyers in Durango, Cortez, Mancos, Rico and Telluride, was officially formed last year. It's still working out the business model and marketing issues, but Bye said the nuts and bolts are up and running.
For Bye, the benefit of having a local food system is that customers know the farm and where the food is coming from. But creating that model comes with challenges. In these parts, it's about money and Mother Nature.
The issue with money is finding the pricing sweet spot between how much customers are willing to pay and how much is needed to keep the farm afloat.
Chad Goodale, communications and outreach manager for Twin Buttes Gardens in Durango, said pricing can be a challenge because restaurants are also businesses.
Twin Buttes serves Durango restaurants as well as individual subscribers, who pay a set amount for 18 weeks of fresh produce.
Some, like Goodale, think the customer is willing to pay a little bit more for fresh, high-quality ingredients from local suppliers.
"People might scoff at a $12 hamburger, but once they eat it, they don't scoff at it the second time. They recognize the value," explained Erik Maxson, owner and brewer at BREW Pub & Kitchen.
Maxson has been a part of the Durango restaurant community for years. When he opened his own brewery and restaurant in March 2013, he wanted to find local products for his customers. From ingredients for the kitchen to the latest batch of beer, local products permeate every page of the menu.
Because of the demand on the customer side, restaurants are using more local products and the circle grows.
Linda Illsey, owner of Linda's Local Food Café, thinks eventually the sticker shock can be overcome. With plenty of supply 4 coming from local producers and headed for local restaurants, stores and kitchen tables, all that money will stay local, keeping the system sustainable and affordable.
She said her café is set to close this year. Living close to the profit margin left her little room to survive the losses experienced during this summer's construction of the 160/550 continuous intersection.
Eat Local Events
In an attempt to promote and develop the local food system, Local First, a nonprofit organization supporting locally owned, independent businesses, is hosting a variety of events and activities for the annual Eat Local Celebration.
All month long, local lunches can be gobbled up with Campus Garden Grown Lunches! Part of FLC's Real Food Challenge, the event features produce grown by students in their organic, on-campus garden and the Old Fort Farm. Lunches take place from 11:30 a.m. - 1 p.m., daily at the Student Union dining hall. For more on Eat Local Celebration events and more, visit www.local-first.org.
Fri., Sept. 12
- Western Slope Fresh Hop Party, 3 p.m. - close, Carver Brewing Co., 1022 Main Ave.
Wed., Sept. 17
- "Hops Harvest & Beer Brewing," take home fresh-harvested, hand-crafted taster pint, $5/person, 4-7 p.m., Environmental Center at Fort Lewis College. 247-7091.
Sat., Sept. 20
- Eat Local Scavenger Hunt, 9-11 a.m., begins at the Durango Farmers Market, First National Bank parking lot.
- Open House & Pie Competition, $5/person, submitting a pie (sweet or savory) gets a free ticket, 4-6 p.m., Ohana Kuleana Community Garden, E. 30th Street and 6th Avenue.
Tues., Sept. 23
- "Glean & Ice Cream!" Harvest unwanted fruit from neighborhood trees and make ice cream, 3 p.m. Register at 247-7091.
Tues., Sept 30
- "The Art of Fermentation Workshop," bring one pint jar with lid, tickets $15, registration required, 6:30-8 p.m., Manna Soup Kitchen, 1100 Avenida del Sol. www.thegardenprojectswcolorado.org.
Sun., Oct. 5
- Apple Days Festival, all day, Buckley Park.
Without those summer profits to keep the fires burning this winter, she's decided to close the café. But, she won't be closing her doors to the idea of a viable and sustainable local food system. Illsey said she plans to move to Ann Arbor, Mich., to learn more about how to make it work, eventually returning to Durango.
In many ways, she said she's been successful, creating relationships and building a community base for a local food system. "Nobody loses if we have our own food system," Illsey said.
Besides the economics of production and distribution, local producers and buyers have the fickle weather of the Four Corners to contend with.
"Climate is the major challenge," Goodale said.
Drought, hail or early frosts can offset the growing schedule for an entire season or make it too costly to feed livestock.
Goodale said Twin Buttes didn't see a single drop of rain this June. What it did see was huge temperature swings and a late frost, which made for a relatively short growing season. They often wrapped plants in protective coverings, to keep them out the cold. The rub was that all those coverings had to be taken off before the sun came up and essentially cooked the produce in the bags.
It's a lot of extra labor, but it's those types of innovative measures that can keep the fresh food coming and the farms in business just a little bit longer.
"Everything is contingent on the weather," said Katie Burford, who sells fresh, handmade ice cream as the owner of Cream Bean Berry. "That's why ice cream is appealing."
With so many flavor combinations and possibilities, Burford can absorb whatever's available at the moment. The biggest challenge for the proprietor of artisanal ice cream in is the dairy.
According to Burford, James Ranch is the only local dairy farm. This summer, the two worked together to create a truly local food system. The ranch provided the raw milk, Burford made it into ice cream and delivered the final product back to the ranch for guests of the Harvest Grill to enjoy.
"We have passed so many hurdles but … there's still a long way to go to have a truly local food system," Burford said.
Some needs just can't be met. Bye said, for example, citrus is one thing the Four Corners wasn't made to produce. It's another reason a regional model is something worth working toward.
"It's easy to dwell on the challenges," he added. "It's also important to dwell on the opportunities and the way the business is growing."
Meet and greet
Local buyers, producers get together
At the heart of the local food system are the connections between ranchers, farmers, restaurateurs and customers.
"Relationships are the bedrock," explained Ole Bye, distribution manager for the Southwest Farm Fresh Cooperative, one of the recent additions to the area's growing local food system.
He's helping to organize the "Meet the Farmers" event on Wed., Sept. 17, as a way for producers and buyers to meet face-to-face and develop the network that local food systems are based upon.
"Anytime buyers and producers can get together, it's a great opportunity to learn about each other's lives and create opportunities in business," he said.
One of the farmers attending the event is Kellie Pettyjohn, owner and operator of The Wily Carrot farm in Mancos.
Pettyjohn, who's also a co-op board member, has been operating the Wily Carrot for four years, and said it's a lot of work but she loves it. Her farm is transitioning from the farmers market to a wholesale business model, making the co-op the right fit for her.
The cooperative works as a hub between the producer and the buyer. With one phone call, Pettyjohn can get her vegetables from the field to the table.
– Tracy Chamberlin