---
Hip-hop hoopla, Eddie Turner and bluegrass bash
by Chris Aaland
Here in baby land, we try to catch live music whenever humanly possible. In between diaper changings, bottle feedings and the constant "WAH! WAH! WAAAAAH!" sonic explosions that erode your eardrums faster than standing in front of a stack of Marshall amps at a Drive-By Truckers concert, we relish each opportunity. This week, as always, presents some choices that are guaranteed to bring the noise.
The Animas City Theatre hosts a big ol' hip-hop bill Tuesday with Solillaquists of Sound (Davinci & Swamburger), Whiskey Blanket, Grim & Darling and Bullhead*ded all slated to appear. Swamburger is an MC, visual artist, beat maker and promoter; Davinci is a producer and performer who has programmed for Lauryn Hill. And Whiskey Blanket is no stranger to Durango, returning in celebration of its 10th anniversary. The multi-talented trio integrates live violin, cello, harmonica and turntablism into haunting beat-scapes, only to drop their instruments and double as emcees. They toss in a drum machine, harmonica, keyboard, some slick three-piece suites and a decade of shared experience.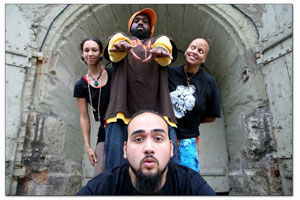 Two members of Solillaquists of Sound play a hip hop bill at the ACT on Tuesday.
Eddie Turner & the Trouble Twins are back at Crash Music at the historic Aztec Theatre at 7:30 p.m. Friday. Turner, who is best known around here as Otis Taylor's former lead guitarist (with whom he made five albums), played Crash Music as well as the Durango Blues Train earlier this summer. He has three solo records to his credit, including 2010's award-winning "Miracles and Demons." In addition to his solo stuff and recordings with Otis Taylor, Turner was also a guitarist for the legendary Colorado rock group Zephyr in the 1970s and a member of Tracy Nelson's Mother Earth.
The Great American Beer Festival came and went and, per usual, our little neck of the woods was well represented on the medal podium. Ska won gold for True Blonde and Steamworks took bronze with Backside Stout. Not to be outdone, Telluride Brewing won gold for Face Down Brown while Pagosa Brewing earned silver for its Peachy Peach.
BREW Pub & Kitchen brings back its award-winning Erik IPA this week. Like its namesake, Erik is full-bodied with smooth caramel malt and exquisitely rich hop notes. Enjoy a pint while watching Lawn Chair Kings play there at 6 p.m. Friday.
Band Wagon Music hosts its fourth annual Locals Appreciation Celebration from 1-5 p.m. Saturday, with prizes, food and beverages, a hula hoop contest and more in their parking lot. Numerous local musicians that have recorded in Magic Bus Studios will perform, including the Pickadees (a group of young bluegrass pickers), Whale Logic (eclectic rock), Power Tribe (jam/rock/funk), FlatWater Band (New Mexico-based redneck country) and assorted local singer-songwriters.
Mark your calendars for the Durango Bluegrass Meltdown's annual fall fundraiser, to be held on Thurs., Oct. 16, at the Wild Horse Saloon. Four bands – Running Out of Road, Sugar Creek, Six Dollar String Band and La La Bones will play for one low admission. Doors open at 5 p.m., with music from 6-10.
The Community Concert Hall again partners with The Metropolitan Opera to screen performances of "The Met: Live in HD" during the opera's 2014-15 season. As in previous years, The Met's performances will be shown in the Vallecito Room of the College Union. The season kicks off Saturday with the classic "Macbeth," which you may recall that some dude name Shakespeare had something to do with. I didn't even have to Google that, thus reaffirming the quality of the state education I received at Harvard on the Hill. Just like Super Ted's Super Trivia's kicks off at 6:12 p.m. each Tuesday, "The Met: Live in HD" has a bizarre start time each Saturday morning: 10:55 a.m.
Moe's madness includes an MC battle ($100 cash prize!) Friday, Juicy Money on Saturday and the live tunes of Dancing Down the River on Sunday, with music starting at 8 p.m. each night.
Elsewhere: Bacon brings the funk to tonight's Ska-B-Q (Thursday, Oct. 9) in Bodo Park; and Black Velvet plays the annual benefit for the Manna Soup Kitchen from 5-8 p.m. Saturday at the Discovery Museum/Powerhouse Science Center.
KDUR's fall membership drive is in its last few days. Pledge by Friday by calling 247-7262 or visiting kdur.org.
In honor of the fund drive, KDUR's head honcho, Bryant Liggett, provides this week's Top Shelf Top 10 list. Liggett is unquestionably Durango's biggest music trivia geek, so I awaited this list's arrival with much anticipation. I even correctly guessed three or four of the albums. There's no filler on Liggett's list, but certainly a few surprises. No Wesley Willis? No Ramones? For shame. But who am I to question greatness. Here is Liggett's Top 10. All other Top 10 lists are unworthy:
1. Minutemen, "Double Nickels on the Dime," 1984. The working class trio of "punks" were more punk than anyone, exhibiting free jazz, funk, new wave and even folk on what has gone on to become one of the definitive indie records.
2. The Who, "Quadrophenia," 1973. While "Tommy" is the rock-opera poster album, Townsend's second rock opera is what showcased the Who as a powerhouse band, with efforts from a rhythm section that will never be matched.
3. Old 97's, "Wreck Your Life," 1996. The Dallas quartet's second release is a heartbreaker album of sing-along country and cowpunk.
4. Bad Brains, "Rock for Light," 1983. Every song is a sonic assault of textbook American hardcore.
5. Frank Zappa, "Hot Rats," 1969. Zappa was too weird for hippies and too hip for the rest of the world. "Hot Rats" is a wonderful collection of jazz fusion and psychedelic rock.
6. Uncle Tupelo, "No Depression," 1990. Punk rockers embrace their parents' country records and a genre is born.
7. Fuzz, self-titled, 2013. Garage rock, stoner rock, psychedelic rock all wrapped up in one nice little record with prolific garage rocker Ty Segall on drums.
8. Metallica, "Ride the Lightning," 1984. The definitive metal record that stands high atop thousands of metal records.
9. Neko Case & Her Boyfriends, "Furnace Room Lullabye," 2000. One of Case's earliest and strongest records, a collection of haunting, ambiguous folk and country.
10. Funkadelic, self-titled, 1970. In the '70s, a group of doped-out African-Americans melded the American psychedelic movement with urban funk and for that, I'm thankful.
Beat is the father of your rock and roll? Email me at chrisa@gobrainstorm.net.